MWF Lahore rolls out first mobile hospital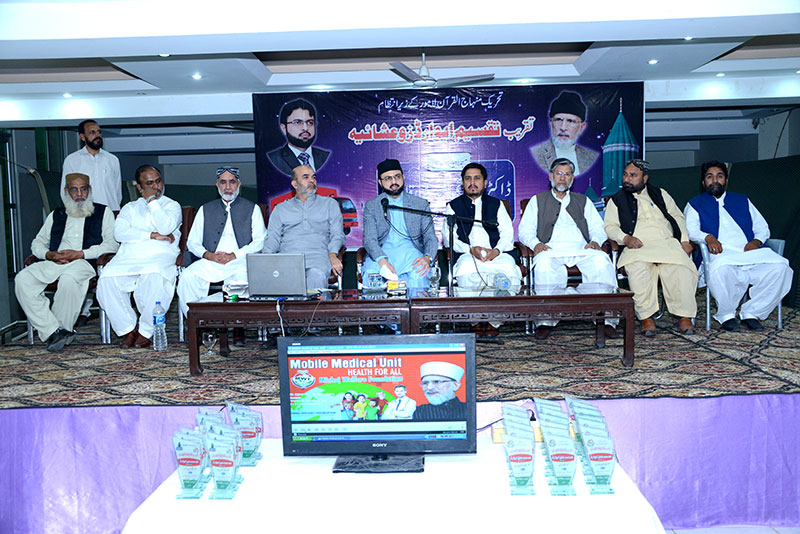 Dr Hassan Mohi-ud-Din Qadri, Chairman of the MQI Supreme Council has said that other than the attributes and qualities that distinguish a man from others, the works of public welfare for the humanity are also very important. He said that Allah Almighty says in the Holy Quran that saving the life of an individual is akin to saving the life of an entire humanity. In the same way, taking the life of one person is like killing the whole humanity. He said that Ramazan is the month of forgiveness, penance, sharing of sorrow and generosity and the purpose of fasting is to acquire piety. He said that in addition to abundance of worship, one should spend generously in the way of Allah Almighty.
Dr Hassan Mohi-ud-Din Qadri made these remarks while talking to a group of distinguished businessmen who contribute handsomely in the way of Allah. Memorial shields, awards and certificates were distributed among the participants on the occasion. He said that the holy month of Ramazan imparts the lesson of patience and brotherhood and the needs of the poor and needy are met profusely in this month. He said that we should do as many things for the well-being of the people around us as we can during this month. He said that the spirit of the month lies in fulfilling the requirements of being a creation of Almighty and those of our fellow human beings. He said that the holy month provides us with an opportunity to transform our lives and make a fresh beginning.
The Chairman of the Supreme Council said that Minhaj Welfare Foundation under the banner of the MQI is doing an excellent public service in the fields of education and health. He said that lucky are those people who consider the service of humanity as a form of worship. The MQI Lahore chapter announced to set up a state-of-the-art mobile hospital on the occasion.
Briefing the meeting, Sanaullah Khan, president of MWF Lahore, said that the organization has established a mobile hospital equipped with modern facilities to provide medical services to the people living in far-flung areas. He said that this modern hospital will be inaugurated in the coming few days. He said that the hospital is equipped with such facilities as laboratory, and X-Ray. It will have the services of qualified doctors, surgeons and other allied staff available to it to provide best medical care to the people. He said that provision of quality medical services to the women, children and the elderly at their doorstep is our mission. He said that two new mobile hospitals will be added in the second phase and the process of public service will go on.
Hafiz Ghulam Farid, Ishtaiq Hanif Mughal, Hafiz Safdar Ali, Mahmood Aziz, Iqbal Gujjar, Ahmad Sagir, Asghar Naz, Hafizullah Javed Irshad Tahir and Mian Hanif were also present on the occasion.