Gujrat: Inaugural ceremony of the 'Quranic Encyclopedia' held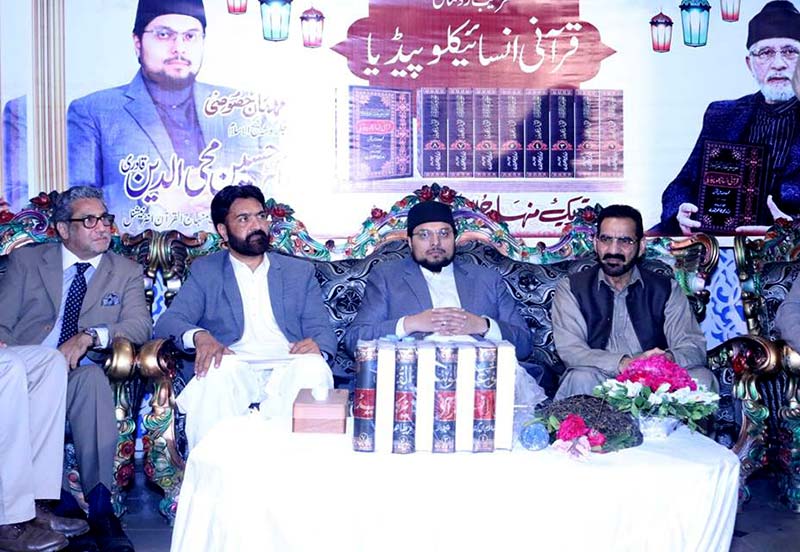 The inaugural ceremony of the 8-volume Quranic Encyclopedia compiled by Shaykh-ul-Islam Dr Muhammad Tahir-ul-Qadri, which is a treasure of knowledge containing 5000 topics, was held under the banner of the Minhaj-ul-Quran International Gujrat on March 16, 2019. President MQI Dr Hussain Mohi-ud-Din Qadri presided over the ceremony and delivered his keynote address.
Those present on the occasion included Mian Imran Masood former education minster punjab, Sohail Ahmad Raza, Dr. Rashid Laghari, Allama Zaheer ud Din, Rizwan Dildaar, Dr, Saleem, Mazhar Devna, Javid Raza and renowned people belonging to different walks of life in addition to a large number of the PAT and MQI workers.
Speaking on the occasion, Dr Hussain Mohi-ud-Din Qadri said that thanks to the efforts of MQI, the scholarly traditions of our ancestors with regard to the study of the Holy Quran are being revived today, adding that the results of this struggle have also started to appear. He said that the Encyclopedia has opened new doors of understanding in terms of the Quranic studies and it is helping understand the Word of God.
Other speakers praised the scholarly work of Shaykh-ul-Islam Dr Muhammad Tahir-ul-Qadri and said that the Encyclopedia is a great service of Islam and its most prized treasure. The ceremony ended on Dua for peace and security.