Dr Hassan Mohi-ud-Din Qadri addresses organizational training workshop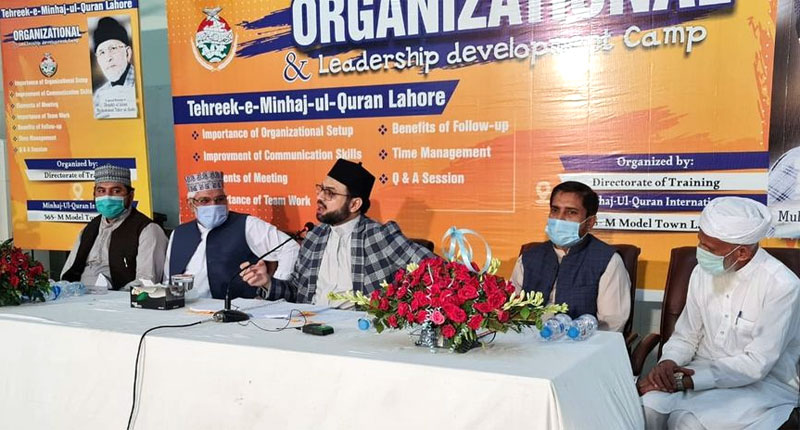 Minhaj-ul-Quran International (MQI) Supreme Council Chairman Dr Hassan Mohi-ud-Din Qadri has said that the corrupt people are unacceptable in the non-Islamic societies, what to speak of an Islamic state. He said that the 63 years of the Holy Prophet's (pbuh) life is a reflection of truthfulness and trustworthiness. He said the first civilized, constitutional state of human history was the state of Medina in which the rights and obligations of the leadership and the voters had clearly been determined. He said the first quality of the leadership was its being 'Sadiq' and 'Ameen' and truthful.
Dr Hassan Mohi-ud-Din Qadri asked the people and their representatives to make the study of the blessed life of the Holy Prophet (peace and blessings be upon him) their routine and usual practice. He said the great leader is the one that renders sacrifice. He said he who fulfills his personal needs with the taxpayers' money and keeps a lid on his own sources of income is a dishonest person, not a leader. He said it is unfortunate that such characters have overwhelmed Pakistani society and politics in the name of democracy today.
Dr Hassan Mohi-ud-Din Qadri made these remarks while addressing a training workshop jointly hosted by MQI Lahore and the Directorate of Dawah and Training. Prof Muhammad Saleem Ahmad Chaudhry, Minhaj-ud-Din Qadri, Hafiz Ghulam Farid, Ishtiaq Hanif Mughal, Hafizullah Javed, Haji Amjad, Chaudhry Afzal Gujjar, Noreen Alvi, Allama Khalil Hanfi, Mir Ahsan Munir, and Asghar Sajid addressed the workshop. A large number of the officeholders including heads and general secretaries of PPs of Lahore attended it.
Dr Hassan Mohi-ud-Din Qadri further said that the leader is always the first one to offer sacrifice, is functional, civilized, and stays away from deceit, lies, and fraud in life. He said every human being plays the role of a leader in his space whether it is a home, office or business. He added in the same breath that these qualities of being truthful, honest and punctual and mild-mannered should be part of our character. He said one gets the right path through spiritualism and morality.
Dr Hassan Mohi-ud-Din Qadri congratulated MQI Lahore and the Directorate of Training on holding a productive workshop. He said such workshops are helpful in educating people and building their character.