MQI Lahore takes out a procession to welcome Rabi-ul-Awwal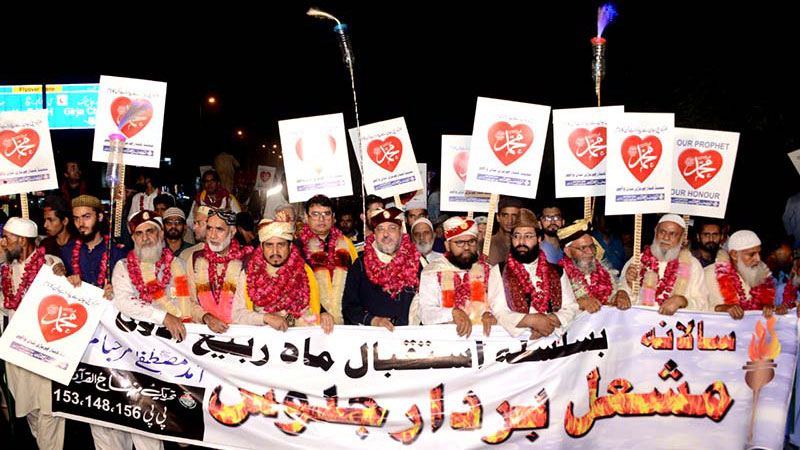 MQI Lahore took out a procession from Mughalpura chowk to Baghbanpura Bazar in connection with the holy month of Raib-ul-Awwal, which was led by Naib Nazim-e-Aala Muhammad Rafique Najam, vice president PAT Raja Zahid Mahmood, central Secretary Information Noorullah Siddiqui, MQI Lahore president Hafiz Ghulam Farid, president MYL Mazhar Mahmood Alvi, Ishtiaq Hanif Mughal, president Minhaj-ul-Quran Aziz Bhatti Town Shahbaz Hussain Qadri, and Aslam Pervez Qadri, Sheikh Wakeel Ahmad, Muhammad Hanif Qadri, and Tariq Altaf.
The procession passed through various routes and concluded at Bazar Baghbanpura. The people belonging to various walks of life including children and women attended the procession in a large number. They were reciting aloud the Durood sharif. They were warmly received wherever they passed. Muhammad Azhar Chaudhry, president of traders' union, Mian Ijaz Chan, Sheikh Asif Rafique, Seth Muhammad Arshad, Chaudhry Muhammad Aslam, and other political and religious leaders. They threw rose petals on the participants of the procession. The route was decorated with welcoming banners. The nearby buildings were lit with electric lights to reflect the festivity of the holy month.
The traders of Shalimar Link Road also joined the procession in the form of a large delegation. They included Hafizullah Javed, Haji Muhammad Farrukh, Muhammad Irshad Tahir, Sanaullah Khan, Ghulam Asghar Siddiqui, Pir Syed Inamullah, Pir Gulzar Shah, Muhammad Aslam Tahir, Haji Muhammad Amjad Qadri, Tahir Mumtaz, Mian Dawar Miraj,
Addressing the participants, Engineer Muhammad Rafique Najam said that Allah Almighty sent the Holy Prophet (SAW) as the Prophet of mercy for the whole humanity. He said that a new era began with the arrival of the Holy Prophet (SAW) in the world. He said humanity became aware of its values, civilization, and consciousness. He said we renew our faith by celebrating Mawlid-un-Nabi (SAW).
MQI Lahore president Hafiz Ghulam Farid, while speaking on the occasion, said that the Holy Prophet (SAW) gave the lesson of equality, brotherhood, and democracy to the world. He said his pious life is a source of guidance for humanity. He said MQI will celebrate International Mawlid-un-Nabi Conference at Minar-e-Pakistan as part of its mission of celebrating this holy month.
The procession came to an end with the Milad feast and dua for national peace and progress.