Danish-e-Asr Seminar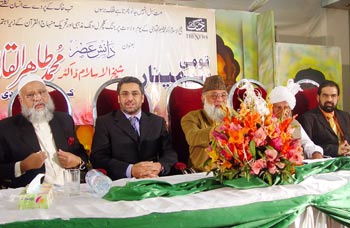 56th birthday of Shaykh-ul-Islam Dr Muhammad Tahir-ul-Qadri was celebrated with unfathomable love and reverence on 17th February. Tehreek Minhaj-ul-Quran organized memorable seminar on his teeming brain and wisdom at Grand Hotel Lahore. The provincial education minister, Mian Imran Masood, honored the ceremony as chief guest and the Shaykh-ul-Islam's honourable teacher Mawalana Abdur Rasheed Rizvi Jhangvi presided over the seminar. Many intellectuals from various schools of thoughts also participated to register their valuable thoughts and experiences as a tribute to the man of excellent virtues of present time. Farooq Amjad Meer,the Member of National Assembly, Khawajah Moeen ud Deen Mahboob Kurayjah from Kot Mithan Sharif, Secretary General Minhaj-ul-Quran International Dr. Raheeq Ahmad Abbasi, President Pakistan Awami Tehreek and Ameer-e-Tehreek, Minhaj-ul-Quran International Maskeen Faiz-ur-Rehman Durrani, Ali Ghazanfar Kararwi, Vice Secretary General, Minhaj-ul-Quran International Shaykh Zahid Fayyaz, Dr Abdul Majeed Awan, well renowned scientist of international repute and ex-principal of Government College, Lahore, Dr. Fayyaz Ranja,Medical Superintendent, MEO Hospital, Lahore, Dr Shabih-ul-Hassan, an eminent literary figure and chairman Almi Majlis e Adab (International Assembly of Literature) Khalid Parwaiz, President Urdu Bazar, Lahore, Dr Awais Farooqi, Dr K K Jozaf, Muhammad Saqlain, Ex- skipper of Pakistan Hockey Team, Firdaus Jamal and Usman Peerzada actors of national repute. Among other central leaders of Minhaj-ul-Quran International, Peer Khalil ur Rehman Chishti, Personal secretary to Shaykh-ul-Islam GM Malik, Anwar Akhtar Advocate, Jawad Hamid, Shahid Latif Qadri, Muhammad Aqil Malik, Sajid Mahmood Bhatti, Ghulam Rabbani Taimour, Prof Zulfiqar Ali, Dr Ali Akbar Qadri Al-Azhari, Dr. Karamat Ullah, Dr Tahir Hamid Tanoli, Dr Shahid Mahmood and Abdul Hafiz Choudhry. On the behalf of the Minhaj University, Mufti Abdul Qayyum Khan Hazarwi, Shaykh-ul-Hadith Allama Miraj-ul-Islam participated in the ceremony along with other teachers. An audience of hundreds-men and women attended birthday celebrations. The function started at 11 O'clock with the recitation of the Holy Quran.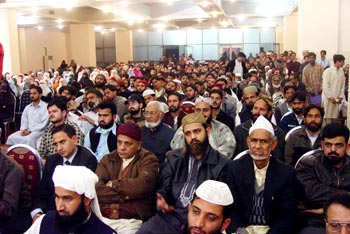 After the recitation of the Holy Quran and the praise of the Holy Prophet (SAW), Allamah Abdul Qaddus Durrani and Allmah Mudassar Awan welcomed the guests and thanked the audience.


Dr Raheeq Ahmad Abbasi, Nazim-e-Ala Tehreek Minhaj-ul-Quran was the first who delivered a speech about uncountable virtues of Shaykh-ulIslam. He brought out many hidden aspect of his life before the audience in his short speech. He proceeded to comment that Shaykh-ul-Islam has the potential as a guide to lead the Muslim Ummah. His accomplishments, at an early stage of his life, have become a part of history. He further said that he is the only man who can bring our country out of backwardness and poverty. He is also symbol of unity and promoter of tolerance and love. He kindled the love of the Holy Prophet (SAW) into millions of heart from every corner of the world.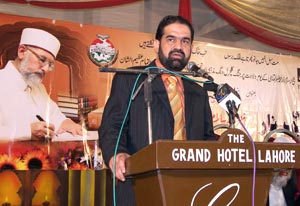 MNA Farooq Amjad Meer, a veteran lawyer, said: "The person whose birthday we are celebrating today is my teacher. So our relationship started since my youth. I studied Islamic law under him for three years. I am proud that I became a student of the teacher whom the world recognizes as Shaykh-ul-Islam."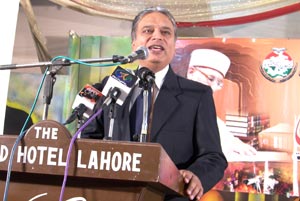 Naib Nazim e Ala Sheikh Zahid Fayyaz said: "Dr Muhammad Tahir-ul-Qadri is such a person as he is loved and venerated by all types of people in the world. Presence of his organized network and workers in over 80 countries bear witness to the fact that his services to the cause of Islam have been immense. In Europe, Dr Muhammad Tahir-ul-Qadri has influenced the character of youth to such an extent as he turned them away from wine; today those who used to drink wine are seen prostrating themselves for tahajud. This is the model of the revolution for which he travels around the world. In foreign countries, especially in Europe, the network of MQI is spreading at unprecedented speed. All these changes took place because of Shaykh-ul-Islam."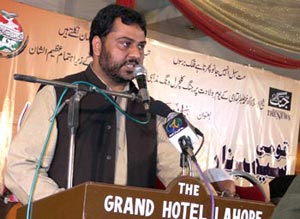 Dr Fayyaz Ranja and Khawajah Moeen ud Deen Mahboob Kurayjah said: "Tahir-ul-Qadri is not a property of a single school of thought. Today you would find everyone claiming he is my leader` because he is Shaykh-ul-Islam and he is Shaykh-ul-Islam for all the people. During his fifty-six year long life, he did such religious, revivalistic and deological work that would be remembered as long as the world lasts."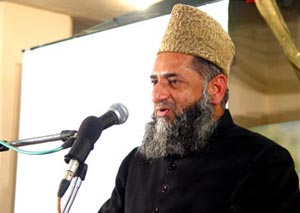 Khawja Moeen-ud-Deen Mahboob Kurayjah said: "Dr Muhammad Tahir-ul-Qadri is a heroic figure the like of which are born after centuries. Like a flower whose fragrance is for everyone, Dr Muhammad Tahir-ul-Qadri also belongs to all. It`s high time we recognized him."


Dr Abdul Majid Awan said: "Today Shaykh-ul-Islam is the most popular scholar with the Muslim world. Nor is there a greater leader and intellectual in Islamic community. It is a great honour for us that we are recognizing his services in his life which is not a tradition.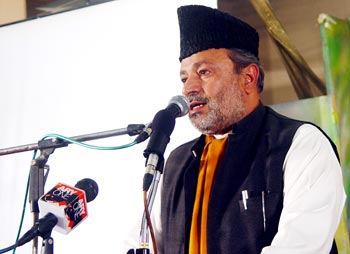 Dr Shabih-ul-Hasan remarked: "The honour with which Shaykh-ul-Islam is treated come to him because of his love for Holy Prophet (SAW) and acting upon his teachings sincerely. Anyone desiring to become like him should tread the way he did."
The guest of honour and teacher of teachers, Mawlana Abd-ur-Rasheed Razvi Jhangvi said in his address: "Today we are lucky to be present here in connection with the birthday of a true lover of the Holy Prophet (SAW). I started teaching the Shaykh-ul-Islam when he was very young but I never saw him missing his tahajudd (night prayer).
Not to talk of his neglecting the lesson or absence, he might never have imagined these things. As a student he was deeply loyal to me. And the world has rewarded by him bestowing the title of Shaykh-ul-Islam on him. Dr Sahib was a person of great humility and even today this quality exists in him and has not lessened a little. All this is divine grave and favour on him. I pray to Allah for his long life and success in Mustafavi mission."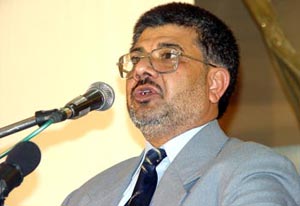 Sahibzada Maskeen Faiz-ur-Rehman Durrani said: "The intellectual and revivalistic services of Shaykh-ul-Islam must be spread international level. Shaykh-ul-Islam is the capital of the Islamic world, which is not the property of any particular group; he is the trust of all of us. It is the collective obligation of ours to spread his intellectual teachings around the world. If we fail to do this, history will not forgive us indeed."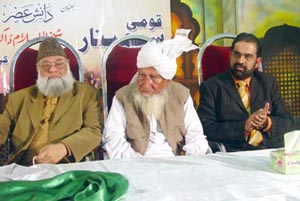 Actor and director Firdaus Jamal said: "I am linked with Shaykh-ul-Islam in that, like him, I am also Qadri. My and Dr Sahib`s spiritual grandfather is the one and the same person. I am proved of this connection with him. Today Tahir-ul-Qadri we call him Shaykh-ul-Islam is not an individual rather he has become beating of hearts of hundreds of thousands. My spiritual director Hadhrat Khadi Shah Sahib, peace be upon him, gave him this title twenty five years back."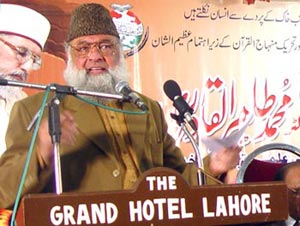 Actor Usman Peerzada said in his speech: "Although I am a professional man and associated with artists, I study the books by Tahir-ul-Qadri. The need of the hour is reaching out to the world with his message."
Ex-Captin Pakistan Hockey Team Muhammad Saqlain said: " I have toured around the world. I have visited many places, but the spiritual peace and satisfaction I realized at Minhaj-ul-Quran`s Gosha-e-Durood. I never experienced anywhere. The establishment of Gosha-e-Durood is a crown of glory which rest on the head of Shaykh-ul-Islam alone because of him we gathered here today. Shaykh-ul-Islam is a true and real lover of Holy Prophet (SAW). Also, we firmly believe that it is lovers who sit in the company of lovers."
Before Muhammad Saqlain left the dice, he sang the praise of the Holy Prophet (SAW) "Every is sacrificing without seeing..."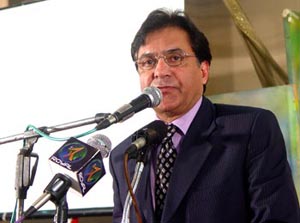 Provincial education minister Mian Imran Masood said: "take any walk of life and there you will witness his unique services. I pay him tributes. His good deeds for the cause of education are simply unforgettable. Keeping in view his services and modern and cheap education, the Government of the Punjab awarded character ship to The Minhaj University. The ceremony arranged for the sake of Dr Tahir-ul-Qadri`s birthday makes demands on us to renew our commitments to the cause of the nation and the homeland."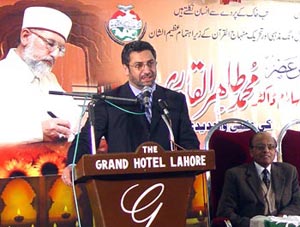 Among the speakers were Dr Awais Farooqi, Sayyed Ali Ghazanfar Kararwi and Khalid Parwaiz. At the end of the program a birthday cake, weigthing 1500 pounds, was also cut. It was a very special one. Mian Imran Masood, Dr Raheeq Ahmad Abbasi, Muhammad Saqlain, Maskeen Faiz-ur-Rehman Durrani, Anwar Akhtar Advocate and office bears of tehreek Minhaj-ul-Quran collectively cut the cake. Later it was cut on behalf of Minhaj-ul-Quran Women League. Haidri brothers, from college of Shariah and Modern Sciences, sang the Tehreeki song ono the occasion. The program closed with supplication to Allah, after which the guest and the audience were served with cake.
Afterwards the honourable guests were shown the books and audio/video cassettes in the gallery of the Grand Hotel. They took deep interest in Dr Qadri`s intellectual accomplishments. Shaykh-ul-Islam`s 350 books, on 50% discount, and over 5000 lectures in audio/video/CDs on special discount, were available for common people. People purchased the books and cassettes in large quantities. Domestic and foreign correspondents were also present on the occasion.