MQI Lahore holds Workers Convention, oath-taking ceremony of newly elected officials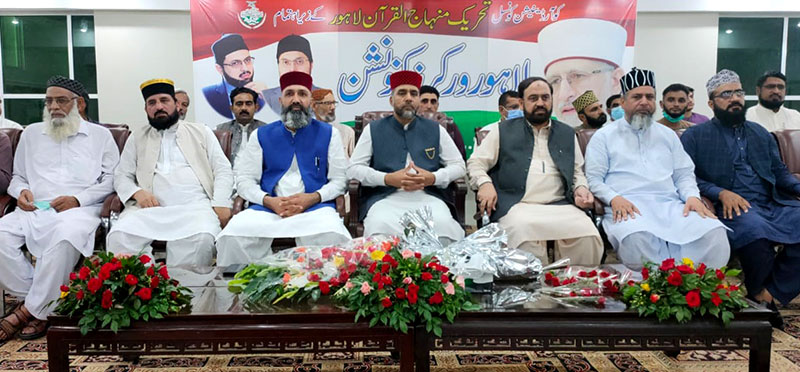 Workers Convention was held at the central secretariat under the banner of MQI Lahore chapter. Naib Nazim-e-Aala Allama Rana Muhammad Idrees, while speaking on the occasion, said that sectarianism has damaged Muslims around the world. He said that MQI is a strong voice for the unity in the ranks of Ummah that is working to persuade people to take recourse to the Holy Quran. He said that MQI is particularly focusing on the youth to urge them to get themselves connected to their religious roots.
Allama Rana Muhammad Idrees said that it is responsibility of all workers, and associates of MQI to spread Shaykh-ul-Islam's message of love, peace and brotherhood throughout Lahore. He said that MQI scholars are spreading the real teachings of Islam to every member of society.
The event was attended by the central leaders, district and PP office-holders and workers in large numbers. The oath-taking ceremony of the newly PP office-bearers was also part of the Workers Convention. The representatives of all MQI forums participated in the ceremony.
President MQI Lahore chapter Allama Nafees Hussain Qadri congratulated all the workers on the conduct of the Workers Convention and stated that the 38th International Mawlid-un-Nabi (pbuh) Conference will be held at the plains of Minar-e-Pakistan. He asked the workers to start preparing for the mega MQI event. He said that we should welcome the month of Rabi-ul-Awwal with all festivity and religious fervor, stating that Shaykh-ul-Islam Dr Muhammad Tahir-ul-Qadri will address the international Milad gathering.
Dr Sultan Mahmood Chaudhry said in his speech that people belonging to all walks of life will be invited to the International Mawlid-un-Nabi (pbuh) Conference. He said that love of the Holy Prophet (pbuh) is the basis and most prized treasure of our faith. He said that the Holy Prophet (pbuh) came to the world with the message of love and peace for all humanity.
Nazim Lahore Ishtiaq Hanif Mughal, president Youth League Lahore Haji Farrukh Qadri, president MSM Ali Qureshi, president Ulama Council Allama Rafique Randhawa, and president women league Noreen Alvi also spoke at the oath-taking ceremony.