23 couples tie the knot at MWF's mass marriage ceremony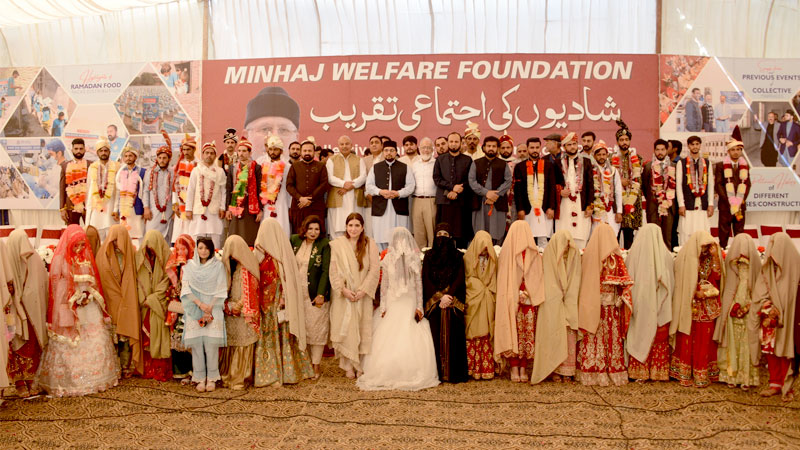 Addressing a mass marriage ceremony held under the banner of Minhaj Welfare Foundation, President MQI Dr. Hussain Mohi-ud-Din Qadri has said that Islam is not a religion of individualism but of collectivity. He said those who have been blessed with affluence are duty bound to help those in need. He said that spending in the way of Allah and brotherhood occupy a special place in Islamic teachings. He congratulated Syed Amjad Ali Shah, Director of Projects and Institutions, and his team on the excellent arrangements for the mass marriage ceremony.
23 couples including a Christian couple tied the knot at the ceremony. Both the brides and bridegrooms were given household stuff worth hundreds of thousands of rupees and gifts by MWF. Ms. Fizzah Hussain Qadri and other MWL leaders handed over jewelry gifts to the brides. Director Syed Amjad Ali Shah thanked the donors. Dr. Abid Aziz was awarded a shield for his central role in such welfare endeavors.
Brig. (r ) Iqbal Ahmad Khan, Sabahat Rizvi Advocate, Ghulam Mohi-ud-Din Dewan, Engineer Muhammad Rafique Najam, Shahzadi Gulfam, Dr. Abid Aziz, Ch Muhammad Hayat Hundal, Jahan Ara Wattoo, Chaudhry Shafique, Shahid Mustafvi, and Rana Shahzad expressed their views on the occasion. The arrangements of marriage feast for one thousand guests were made. GM Malik, Jawwad Hamid, Shahid Latif, Noorullah Siddiqui, Tayyab Zia, Qari Riasat Chaddhar, Imtiaz Awan, Ayub Ansari, Rana Nafees Hussain Qadri, and Rana Ateeq received the marriage parties along with their guests and showered rose petals on them.
The members of Minhaj Ulama Council solemnized the Nikah of the couples. The ceremony was attended by Barrister Amir Hassan, Pervaiz Butt, Syed Altaf Hussain Shah, Shahzad Rasool, Sohail Ahmad Raza, Shahzad Khan, Haji Muhammad Ishaq, Sheikh Muhammad Wakeel, Hafiz Abdur Rehman, Haji Khalid Mahmood, Mirza Sarfraz Baig, Sohail Akhtar, Muhammad Saleem Chaudhry, Ch Abdur Rauf, Hafeez Chaudhry, Hafeez ur Rehman, Sidra Karamat, Umme Habiba Ismail, and Ayesha Mobashar.
Secretary Lahore High Court Bar Association Sabhat Rizvi Advocate said that helping the needy and poor, particularly arranging the marriage of the daughters of the poor households, is a great form of worship in this day and age. She congratulated Shaykh-ul-Islam Dr. Muhammad Tahir-ul-Qadri and Minhaj-ul-Quran International on excellent public service.
Social activist Jahan Ara Watto, while speaking on the occasion, said that his father, Mian Manzoor Ahmad Wattoo, and their family have a special relationship of love and devotion towards Shaykh-ul-Islam. She said that she has often been invited to these mass marriage ceremonies and it gives her immense pleasure to be part of such events that are arranged for the sake of humanity.
Syed Amjad Ali Shah said that the donors who have been donating for such welfare activities deserve to be greeted, for it is their contribution which makes such service possible. He particularly mentioned the role of Dr. Abid Aziz. Prof Dr. Hussain Mohi-ud-Din Qadri distributed shields among the people who took part in the arrangements and appreciated their spirit of public service.
In his welcome note, vice-president Brig. (r ) Iqbal Ahmad Khan said that MWF has been arranging such mass marriage ceremonies and it is a matter of great pride for the organization to help our poor brothers and sisters. He said that MWF will continue to hold these functions in the future too.
Dewan Mohi-ud-Din said that Shaykh-ul-Islam has combined the religion and the public service together. He said that taking care of the orphans and becoming a source of happiness for the poor is the essence of the teachings of our great religion.
The nikah of the Christian couple was solemnized according to their religious rites. Sohail Ahmad Raza and Shahzad Khan congratulated the Christian couple on their marriage and expressed best wishes for their marital life.