CWC meets with Dr Hassan Mohi-ud-Din Qadri in the Chair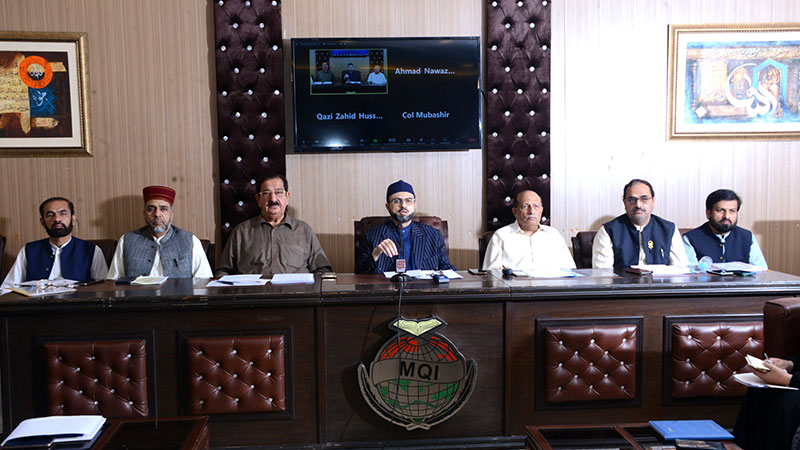 Addressing a meeting of the Central Working Council (CWC), Chairman MQI Supreme Council Dr. Hassan Mohi-ud-Din Qadri has said that intolerance and extremism have grown in society at such a level that they can be eliminated through the promotion of knowledge and moral training. He said that education is a precondition for the protection of fundamental human rights. He said that MQI is an educational movement, which has to its credit the establishment of splendid educational institutions across the country.
Dr. Hassan Mohi-ud-Din Qadri said that more than 1.5 lac students including the females are getting top-quality education from the MQI institutions. He said that every solution to our problems lies in the Holy Quran and Sunnah. He said since the day we have deviated from the path of Islam, a litany of crises have enveloped us with the result that we do not know how to manage our way out of them.
Chairman Supreme Council said that no development goal can be achieved without imparting education and training to the youth and making them the pivot of national growth story. He said that social media is controlling the minds of the youth, adding that it is important that they are reconnected to the teachings of the Holy Quran and Sunnah.
"I urge the youth to identify their aim in life and know their potential to achieve it. The self-discovery is possible only by establishing the connection with Islam," he emphasized.
CWC meeting was attended by Brig. (r ) Iqbal Ahmad Khan, Khurram Nawaz Gandapur, GM Malik, Noorullah Siddiqui, Jawwad Hamid, Muhammad Rafique Najam, Allama Rana Muhammad Idrees, Raja Zahid Mahmood, Sidra Karamat, Umme Habiba Ismail, Ayesha Mobashar, Rana Nafees Hussain Qadri, Mian Abdul Qadir, Naeem-ud-Din Chaudhry Advocate, Shahzad Rasool Chaudhry, Haji Muhammad Ishaq and others.