No place for extremism and violence in Islam: Dr. Hussain Mohi-ud-Din Qadri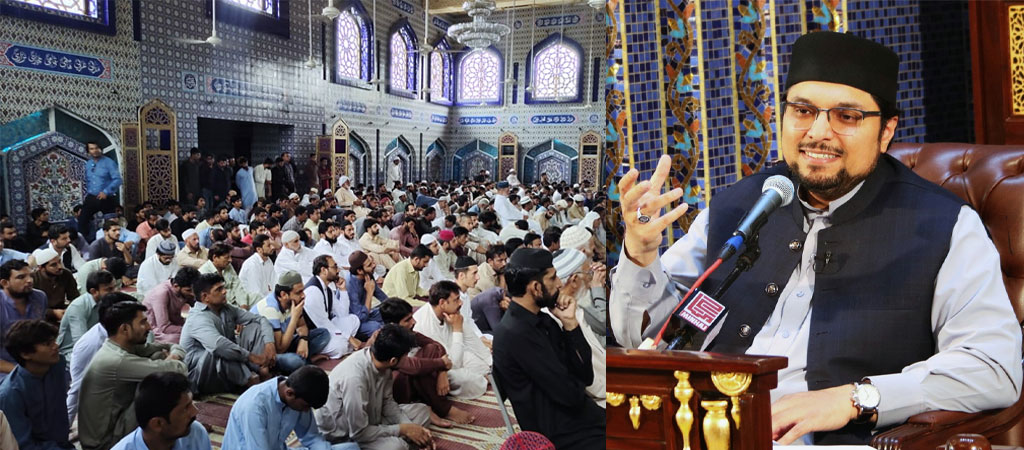 Addressing a big Friday congregation at Jamy Shaykh-ul-Islam, Prof. Dr. Hussain Mohi-ud-Din Qadri, President of MQI, said that there is no place of violence, extremism in Islam. He said that the path of the Holy Quran and Sunnah is the path of piety, tolerance, patience, and peace. He said that offering prayers five times a day, though an obligatory duty, is also a cure to address the mental tension and stress. He said that Allah Almighty gifted Muslim Ummah with Namaz as a means of salvation from all kinds of sorrow and for acquiring blessings, and increase in sustenance, adding that whosoever acts upon this "wazifa", the doors of blessings open on him.
Dr. Hussain Mohi-ud-Din Qadri referred to a command of Allah wherein He said that one should be patient and establish prayers at a time of grief and trial. He said that Allah Almighty has made Namaz and patience the means of support for us and who can have true or and more firm resolve than the Almighty.
President MQI said that the youths should ensure that they offer prayers five times a day. He said that Namaz is a strong bulwark against all evils and is a source of winning the pleasure of Allah and His Prophet (PBUH). He said that such habits have been adopted by people in Pakistan as well as in Islamic societies, which have nothing to do with humanity; what to speak of Islam. He said that it is because of these strange habits that the society has fallen victim to suffocation, division and lack of peace. He said that Islam has taught us the path of moderation to make life easy and prosperous, adding in the same breath that we have given up on the path of moderation. He said that we have not been moderate in spending money. We spend more than we earn and it is for this reason that we have to take loans that ultimately lead to miseries in life. He said that Islam has given a solution to this problem, which is to stay within the available resources.
Dr. Hussain Mohi-ud-Din Qadri said that if we include the golden principles of Islam in our lives we can get rid of financial difficulties. He said that all the relations that Allah Almighty has created for our peace and tranquility, we have started making fun of them, stating that the most sacred relationship is that of a wife and husband. He said that this relation is a protector and guarantee of the survival of coming generations and we feel no qualm in ridiculing this relationship on social media. He said that we resort to meaningless jokes and this way we are destroying the institution of family. He asked the people to protect themselves from these evils and value the relationships. He said that the blessed life of the Holy Prophet (peace be upon him) is a role model for us, stating that we should study his life and take a leaf from it to reform ourselves. He said that it is only through this way that we can come to know how the Prophet (PBUH) of mercy spent his days and nights.