Shaykh-ul-Islam speaks on attributes of an effective preacher | "al-Balagh al-Mubeen" training workshop
An effective preacher always does what he preaches: Shaykh-ul-Islam Dr. Muhammad Tahir-ul-Qadri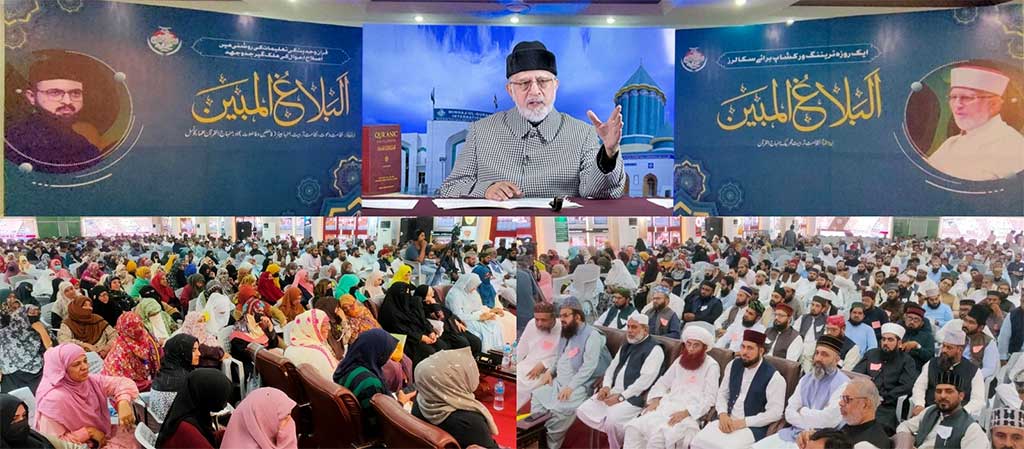 Addressing a one-day training workshop entitled "al-Balagh al-Mubeen", Shaykh-ul-Islam Dr. Muhammad Tahir-ul-Qadri threw light on the attributes and qualities of an effective preacher and 'Daaii'. He said that a preacher is someone who acts upon what he preaches and encourages others with his actions rather than words. He said that preaching loses its meaning and value if he who calls people to the path of piety and goodness does not act upon the teachings. He said that such behavior and conduct is more harmful for the religion than that of those who do not practise religious teaching. He said there is a difference between invitation and speech, adding that if preaching is not meant for Islam, then it is merely speech and a display of oratory, an art anyone can learn. He added that for a preacher to become a source of inspiration, he should be someone who acts upon the teachings of the Holy Quran and Sunnah.
Dr. Tahir-ul-Qadri said that the Holy Quran says that those whom Allah Almighty has given the wealth of knowledge and Iman should use this to invite people to the right path. He said no speech is better than the one delivered to promote the message of love, peace and interfaith harmony, which form the core of Islamic teachings.
Shaykh-ul-Islam said that an effective preacher is a person who spreads the teachings of love, dialogue, peace, knowledge and harmony and does not project a parochial and narrow point of view of a particular school of thought. He said that such behavior is inimical, stating that an evil can't be eradicated by an evil. He asked the people to stay consistent in their preaching and avoid the criticism that comes one's way. He said a day would come when those indulging in blame games would be disappointed.
Dr. Tahir-ul-Qadri said that Allah Almighty ordained the faithful to seek the aid of patience and Salah. He said that patience has been placed ahead of Salah. Allah says that He is with those who exercise patience. He said that patience is key to the process of preaching. He said that perseverance can help attain the impossible, adding that if one remains true to one's duty, the critics would yield one day. He cautioned people against the temptation to 'pay back' and said that a negative behaviour cannot be cured through negativity; rather a bad deed should be responded to by a good deed. He emphasized that when people would not notice any discrepancy between actions and words, they would automatically be inspired.
Noorullah Siddiqui, Secretary Media MQI, presented a resolution that paid rich tribute to Shaykh-ul-Islam for completion of English translation of the Holy Quran, the successful arrangement of Al-Hidaya 2023 and completion of scholarly work on Hadith consisting of eight volumes, which the participants of the workshop endorsed. Allama Ghulam Murtaza Alvi conducted the proceedings of the program. Allama Rana Muhammad Idrees Qadri, Muhammad Farooq Rana, Zaheer Ahmad Naqshbandi, Jamil Ahmad Zahid Qadri, Allama Ahmad Waheed Qadri and Ayesha Shabbir delivered lectures on the etiquettes, relevance and importance of 'Dawah' in the workshop.
In addition to religious scholars, those who attended the workshop included Dr. Mumtaz-ul-Hassan Barvi, Allama Dr. Mir Asif Akbar Qadri, Raja Zahid Mahmood, Allama Naeem Anwar Naumani, Muhammad Jawwad Hamid, Chaudhry Irfan Yousaf, Muhammad Abbas Naqshbandi, Aftab Ahmad Khan, Naeem-ud-Din Ch Advocate, Allama Ashfaq Ahmad Chishti, Allama Nafees Hussain Qadri, Chaudhry Shahzad Rasool, Shahid Latif Madani, Mian Answer Mahmood, Maulana Muhammad Hussain Azad, Mian Sarwar Siddique, Dr Farah Naz, Sidra Karamat, Anilya Ilyas, Umme Habiba Ismail, and Irshad Iqbal.