The Holy Prophet's (PBUH) message of unity & faith need of our times: Dr۔ Hussain Mohi-ud-Din Qadri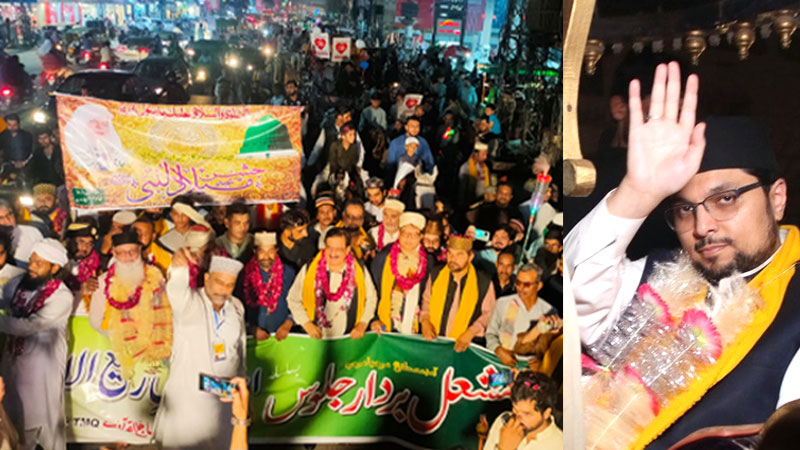 A welcome procession was taken out from Mughalpura square to Shalimar square to celebrate the advent of the holy month of Rabi-ul-Awwal. MQI President Prof. Dr. Hussain Mohi-ud-Din Qadri led the procession wherein the people were carrying lamps. Khurram Nawaz Gandapur, Amjad Hussain Chaudhry, Shahbaz Hussain Bhatti, Noorullah Siddiqui and others were also present on the occasion.
Traders and local notables welcomed the procession at different points and showered rose petals on the people. In his address on the occasion, Prof. Dr. Hussain Mohi-ud-Din Qadri said that the Holy Prophet (PBUH) unified a dispersed society, which was in disarray, into a relationship of mutual affection and love. He (PBUH) healed the broken hearts and ordained the faithful to hold onto the rope of Allah and not fall victim to divisions.
Dr. Hussain Mohi-ud-Din Qadri said that it was the power of the message of unity and oneness that Islamic message of peace and love extended to faraway lands. He said if we wanted our lives to be blessed with peace and tranquility and dignity, then we would have to break the idols of intolerance, hatred, revenge, and extremism that we have built in our hearts and minds. He said we needed to bridge the gap between our words and actions, adding that the Holy Prophet's (PBUH) message of the world being One Nation was the answer to the prevailing ills facing humanity.
Hafizullah Javed, Haji Muhammad Farrukh, Muhammad Arshad Tahir, Pir Syed Inamullah, Pir Syed Gulzar Shah, Muhammad Aslam Tahir, Haji Amjad Qadri, Sheikh Wakeel Ahmad, Tariq Altaf and others were among the prominent participants.
Khurram Nawaz Gandapur informed the gathering that the International Mawlid-un-Nabi (PBUH) Conference will be held at Minar-i-Pakistan on the intervening night of 11th and 12th of Rabi-ul-Awwal in Lahore. He invited the people to attend the Conference along with their family members and relatives.