PAT to dissociate itself from General Elections: General Council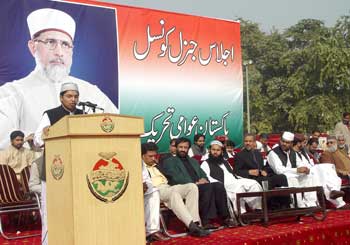 Translated by: Amanat Ali Chaudhry
The meeting of General Council of Pakistan Awami Tehreek was held on November 25, 2007 under the chairmanship of its central President Miskin Faiz-ur-Rahman Durrani in order to formulate new party policy in respect of upcoming general elections 2008. The resolution based on the party policy regarding upcoming elections was moved by PAT Secretary General Anwar Akhtar Advocate, which the General Council approved with consensus, while party Chairman Dr Muhammad Tahir-ul-Qadri endorsed the resolution. According to this resolution, Pakistan Awami Tehreek believes in democracy and electoral process but the present flawed system in vogue in the country was characterized by corruption and thus was anti-thesis of democracy. The country is being led to destruction and decimation in the name of democracy.
The present electoral system does not recognize ability, competence and capacity to serve the countrymen in the earnest; rather its foundation is laid on massive injection of ill-gotten money, oppression, duress, rigging and vested interests etc. In view of these realities, the General Council of PAT decided that Pakistan Awami Tehreek would keep itself aloof from the elections 2008 and declared to dissociate itself from them. PAT would not field its candidates for the elections nor would it be part of any electoral alliance. PAT demanded the replacement of the present expensive and corrupt system with the parliamentary electoral system based upon proportional representation.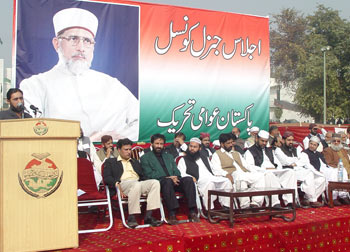 Endorsing the resolution passed by the General Council of PAT, Chairman Dr Muhammad Tahir-ul-Qadri said in his telephonic address that the representative government of the public majority does not emerge from the current electoral system. This system currently in vogue in the country gives birth only to weak governments along with attendant rifts in the political system. The people are increasingly getting disillusioned and disenchanted with the present system and it has utterly failed in resolving the national crises. We cannot afford to see the country drifting into the abyss of destruction. Therefore changing the exploitative system emerging from present electoral system is dire need of the hour. Dr Muhammad Tahir-ul-Qadri said that parliamentary system of proportional representation under the democratic principles of Islam was in the best interest of the nation as government being installed by this process could represent aspirations of people as a democratically elected representative government. Therefore in the larger public interest, Pakistan Awami Tehreek is of the considered view that the present electoral system should be replaced with the electoral system based upon parliamentary proportional representation and elections be held under this system so that Islamic, revolutionary and democratic government could be put in place.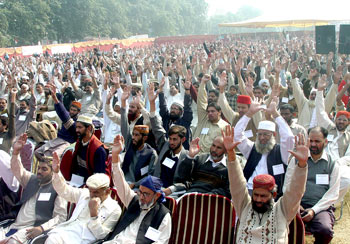 Expressing his views in the General Council, member of Supreme Council of MQI, Sahibzada Hussain Mohy ud Din Qadri said that salvation of the country and nation lay in the adoption of inexpensive and transparent system of elections. Although the system of proportional representation partially and indirectly applied to the women and minorities in federal and provincial legislatures but if change at wider level was required, the parliamentary system of proportional representation needed to be enforced fully and comprehensively.
Nazim-e-Ala of Minhaj-ul-Quran International (MQI) Dr Raheeq Ahmad Abbasi in his presentation to the General Council said that people should support Pakistan Awami Tehreek for the change of the system rather than dissipating their energies on the change of faces. Pakistan Awami Tehreek will continue its peaceful democratic struggle for the change in the system.
Expressing his views in the General Council, Naib Nazim-e-Ala Sheikh Zahid Fayyaz said that PAT was a party with huge network whose glaring proof was the great attendance of office bearers from across Pakistan in such a large number.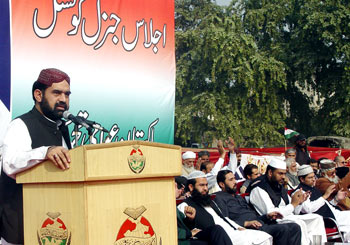 Chief Coordinator /spokesman PAT G. M. Malik and Deputy Secretary General Sohail Ahmad Raza conducted the proceedings, while those who spoke at this occasion included Pir Sayed Khalil-ur-Rahman Chishti, Sayed Ali Ghazanfer Kararwi, Chaudhry Muammad Sharif, Dr Shahid Mahmood, Sayed Ali Raza Rizvi, Ahmad Nawaz Anjum, Brig. (R) Iqbal Ahmad, Col. (R) Muhammad Ahmad, Sajid Mahmood Bhatti, Aqil Malik, Allama Haji Imdadullah, Prof Zulifqar Ali, Jawad Hamid, Naeem Ali, Dr Tanvir Azam Sindho, Muhammad Ishtiaq Chaudhry, Mian Zahid Islam, Iftikhar Ali Kilcha, Khalid Mahmood Durrani, Sardar Zahoor Khosa, Lehrasib Khan Gondal, Chaudhry Afzal Gujjar, Ghulam Farid Saddique, Naeem-ud-Din Chaudhry and Qazi Fiaz-ul-Islam. The General Council meeting was attended by office-bearers of central, provincial, divisional, district and tehsil levels.
At the end, offering his concluding remarks Miskin Faiz-ur-Rahman Durrani said that struggle be waged on sustainable basis for the complete enforcement of parliamentary system of proportional representation in order to get rid of current corrupt electoral system.