56th birthday of Shaykh-ul-Islam Dr Muhammad Tahir-ul-Qadri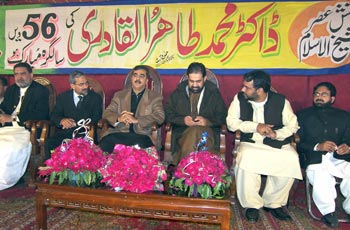 The fifty sixth birthday celebration function was held on the evening of 19th February 2007 at central Secretariat of Minhaj-ul-Quran International. Dr. Raheeq Ahmad Abbasi Secretary General of MQI presided over the function while Mr. Yousuf Raza Gillani ex-Speaker National Assembly and Central Leader of Pakistan People Party was Chief Guest at the function. Among other Shiekh Zahid Fayyaz Deputy Secretary General MQI, Anwar Akhter Advocate Secretary General PAT, Sajid Mahmood Bhatti Director Youth Affair, G M Malik Director Foreign Affairs, Shahid Lateef Qadri Director Organizations and Anwar-ul-Mustafa representative of MQI UK were present at the occasion.
While addressing on the occasion speakers paid tribute to the efforts of Dr. Tahir-ul-Qadri for promotion of true Islamic teachings and services for humanity at Global Level. Dr. Raheeq Abbasi said that by establishing Minhaj Welfare Foundation and Minhaj Education Society Dr. Qadri had laid down foundations for social welfare activities and promotion of education and awareness at global level. He said that Dr Qadri is only leader whose organization has spread in every nook and corner of Pakistan and in more than eighty countries of world in a period of twenty five years. He is only living personality whose birthday is celebrated at that vast level in more than eighty countries of the world and this is a proof of his appreciation of his efforts and services at global level.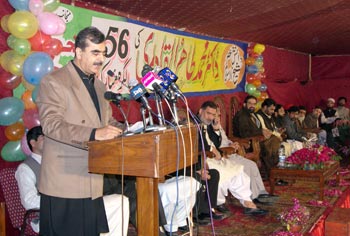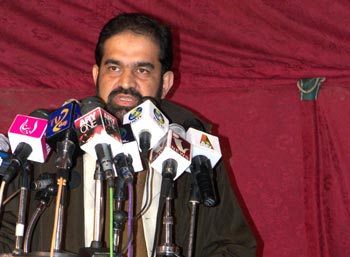 Mr. Yousuf Raza Gillani said that Dr. Qadri is a great asset of Muslim Ummah and entire Humanity. He is torch bearer of love peace and tranquility at international level and his efforts for inter and intra faith harmony are tremendous. He is a man of principles and is the only politician in the history of Pakistan who has resigned from the National Assembly on the basis of principles and for the cause of democracy. If we could not appreciate his personality the nation will never forgive us, he added.
A fifty six pound birthday cake was cut by Mr. Yousuf Raza Gillani, Dr. Raheeq Abbasi, Sheikh Zahid Fayyaz and other central leaders of MQI and PAT and the function ended at the prayer by Mr. G. M. Malik.