MQI delegation attends Christmas celebrations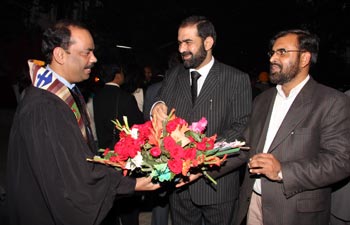 On the special invitation of Pastor Majid Abel, a three member delegation of Minhaj-ul-Quran International led by Nazim-e-Ala Dr Raheeq Ahmad Abbasi took part in Christmas programme and celebrations marking the 155th foundation of No-Lakha Church. Other members of delegation were Muhammad Mustafa (G.M. Malik), Director Foreign Affairs and Sohail Ahmad Raza, Deputy Secretary General PAT. The programme was attended by hundreds of men and women belonging to different religions in addition to Chaudhry Abdul Ghafoor, provincial minister, Munwar Hassan of Jamat-e-Islami, Bishop Samuel, Mr Pardan Bashan Singh, Dr Munwar Chand and priest Marqas Fida.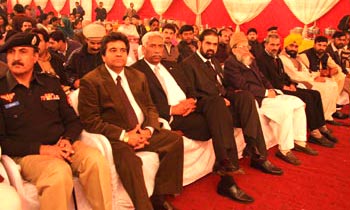 Dr Raheeq Ahmad Abbasi congratulated the Christian community on upcoming Christmas and felicitated Pastor Majid Abel for arranging beautiful gathering. He said Islam taught peace, brotherhood, love and mutual harmony. The leader of MQI, Dr Muhammad Tahir-ul-Qadri, believes in dialogue among civilizations and faiths. He said such meetings provide opportunity for bringing people together. "Harmony among different religions at this point in time is need of the hour for establishment of international peace," he concluded.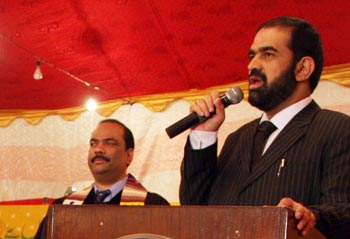 Muhammad Mustafa (G.M. Malik) also felicitated Pastor Majid Abel on the successful conduct of celebrations marking the foundation of No-Lakha church, which provided a platform for people belonging to different religions for interaction and sharing of ideas. He said Shaykh-ul-Islam Dr Muhammad Tahir-ul-Qadri is known worldwide for his services for the promotion of global peace. He established Muslim-Christian Dialogue Forum in 1998 for creating more understanding and sharing of ideas between Muslims and Christians. He said MQI was organizing a Christmas programme in its central secretariat on December 18, 2008.