Minhaj-ul-Quran Women League distributes food in Hospitals on Eid-ud-Duha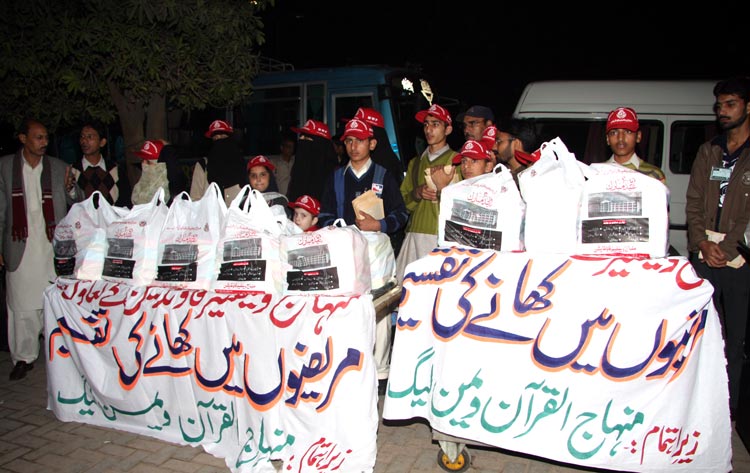 The Minhaj-ul-Quran Women League (MWL) is dynamically engaged in playing its role to serve humanity in all walks of life. It is toiling hard in welfare pursuits as well in collaboration with the Minhaj Welfare Foundation (MWF) for last many years. Eid-ul-Adha is a special occasion when MWL does not forget the ailing humanity lying in hospitals and conducts visits to enquire welfare of the patients, distributes among them Food Packages, delivers to them Eid Mubarak and good wishes and special supplications of Saykh-ul-Islam Dr Muhammad Tahir-ul-Qadri and the entire Minhaj Leadership.
On 9th December, 2008, the happy Eid-ul-Adha occasion, the Minhaj-ul-Quran Women League (MWL) organized with collaboration of MWF food distribution among the patients in three major hospitals in Lahore, Social Welfare Complex and Dar-ul-Shafqat. All the members of MWL worked with great zeal and enthusiasm to make the activity a great success. The team remained in hospitals on all the three Eid days. They included President MWL Mohtarma Fatima Mash'hadi, Secretary General MWL Mohtarma Sumaira Rafaqat, Mohtarma Razia Shaheen, Mohtarma Kishwar Shaheen, Mohtarma Aneela Ilyas, Mohtarma Sadaf Iqbal, Mohtarma Sajida Sadiq and Mohtarma Saima Fazal. The mail coordinators of the activity Mr. Abdur Rahman Siddiqi, Mr. Tuaqir Ahmed Qadri and Mr Ilyas Dogar extended their hearty cooperation in facilitating the sisters.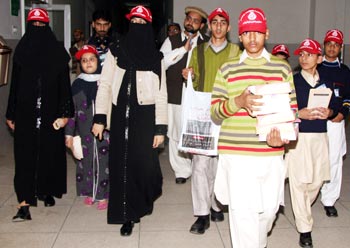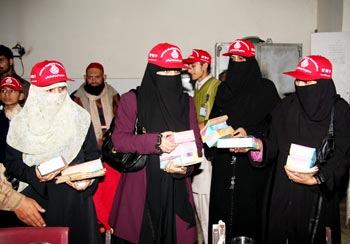 On the first day food was distributed among the patients in Jinnah Hospital Lahore. There were 700 patients admitted there on the occasion. On the same day the MWL team also visited Social Welfare Complex and Dar-ul-Shafqat Township Lahore and distributed food among 500 orphans and children of unknown parenthood. The honorable members of MWL attended all the patients one by one, extended to them Eid greetings, shared their pain and sympathized them and prayed for their early recovery and good health. The patients admired the Minhaj-ul-Quran Women League's very kind gesture appreciated their human concern and thanked them.
On second day of Eid lunch was distributed in MAO Hospital Lahore while dinner was distributed among patients in General Hospital. There were 1000 patients in MAO while 800 patients in General Hospital. The members MWL also visited the Doctors wished them happy Eid and presented them gifts comprising books, cassettes and CDs of Shaykh-ul-Islam Dr Tahir-ul-Qadri. The doctors applauded the sentiments of sympathy, generosity and human concern of the MWL members and expressed their gratitude for their so kind gesture for the ailing humanity.
Reported by
Kishwar Shaheen