Christmas program by Muslim Christian Dialogue Forum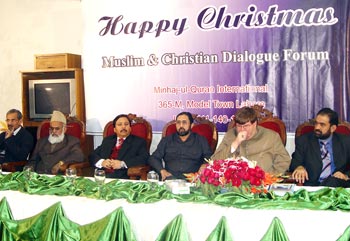 In its continued efforts to bring unity among followers of different faiths, Minhaj-ul-Quran International (MQI) has an annual interfaith program at the time of Christmas at its central headquarters in Lahore. This year again the local Christian community was invited to celebrate Christmas at the MQI secretariat with their Muslim friends. Another great aim of this annual event is to show to the Christian minority of Pakistan and the wider Christian community, the true moderate face of Islam and to wash away misconceptions propped up by extremists who claim to represent the true Islam.
This event took place on the 27th of December 2007. The chief guest was Mr. Brain De Hunt, Principal officer American Consulate Lahore. Other guests included priests Marqas Fida and Chaman Sardar together with many other representatives from the Christian community.
The program began by recitations from the Holy Quran and Holy Bible. Brig. (r) Iqbal Ahmad Khan, Deputy Ameer Minhaj-ul-Quran International, made the introductory remarks.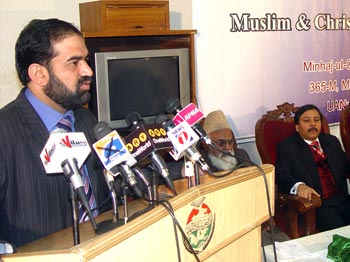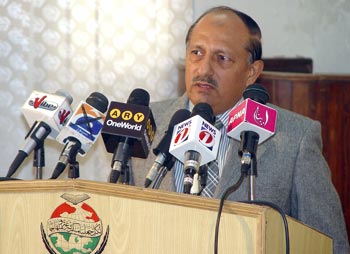 Dr Raheeq Ahmad Abbasi, Secretary General Minhaj-ul-Quran International (MQI) said that commemorating the birth of Prophet Isa (peace be upon him) is a part of our faith. He added: Islam regards and respects other religions with love and peace. Islamic teachings instruct us to live in peace and harmony with all communities of the world demonstrating a true climate of brotherhood. Islam also expects tolerance from its followers. Shaykh-ul-Islam Dr Muhammad Tahir-ul-Qadri has provided a practical example of the true message of Islam by showing solidarity with our Christian brothers. Every year Minhaj-ul-Quran International celebrates Christmas with our Christian brothers to show solidarity and unity between us, and this shall continue. Islam is a faith of piece and does not allow any kind of terrorism; we totally condemn all kinds of terrorism that are going on around the world.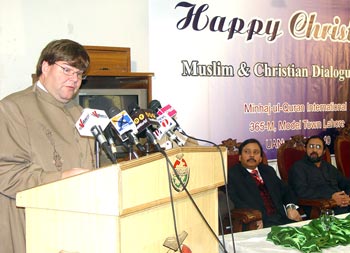 Mr. Brain De Hunt, Principal officer of American Consulate Lahore, in his talk said that he is very happy to attend this program. He added: There is a need to promote mutual tolerances between religions. The Quran and the Bible both preach a message of peace for mankind. If we share in each others joys like we are doing today, then society would be a place of peace through the world. The holding of such programes brings us closer together and eradicates misconceptions. Minhaj-ul-Quran International under the leadership of Dr Muhammad Tahir-ul-Qadri is promoting unity among world religions. Dr Tahir-ul-Qadri is an enlightened leader and his teachings are helpful in restoring peace to the world. Such efforts of Dr Tahir-ul-Qadri towards the establishment of world peace will always be held in high esteem.
Bishop Abdrew Francis was unable to attend the program, his message was read out by Javed William. Priests Marqas Fida and Chaman Sardar, in their talks, praised the efforts of Dr Tahir-ul-Qadri with regards to inter religous harmony.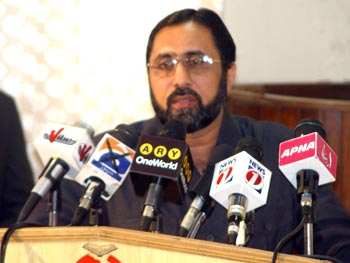 Anwar Akhtar Advocate, Secretary General Pakistan Awami Tehreek (PAT) said: World peace is only possible though Muslim-Christian unity. Dr Muhammad Tahir-ul-Qadri is a torch bearer of Muslim-Cristian unity, part of which he set up the Muslim Christian Dialogue Forum (MCDF) in 1997 in collaboration with Pakistani Christian leaders.
Muhammad Mustafa (G.M. Malik); principal secretary to Dr Tahir-ul-Qadri and secretary general MCDF said: Dr Tahir-ul-Qadri has successfully wiped out misconceptions about Islam while at the same time reducing the distance between followers of different religions. Centres of Minhaj-ul-Quran International across the globe are disseminating inter-religious harmony, peace and brotherhood.
In conclusion, Mufti Abdul Qayyum Khan Mufti Azam Pakistan, prayed for world peace and unity among communities. A candle was lit to signify peace. A Christmas cake and Christmas dinner was prepared for the honourable guests and participants.