Muhammad Naeem Anwar Nomani felicitated over completion of PhD
Karachi University approved the award of PhD degree to Muhammad Naeem Anwar Nomani, the member of Supreme Council (MQI), on January 15, 2009. The topic of his thesis was "Research study of Hadith-narrators of Punjab in the gradual evolution of Hadith sciences" (1947-2002). Renowned literary and scholarly figure and writer of many research books, Prof Dr Jalal-ud-Din Ahmad Noori al-Baghdadi, Dean, Faculty of Islamic Studies of Karachi University, was his supervisor.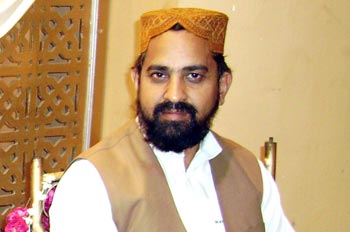 The unique aspect of this thesis is that it incorporates the entire work on Hadith Sciences undertaken by Shaykh-ul-Islam Dr Muhammad Tahir-ul-Qadri and this forms the foundation upon which the edifice of thesis is built up. The books and other sources from which the material has been drawn include legislative and interpretative status of Sunna from 'Muqudma Seert-ru-Rasool, al-Khutaba-tus-Sadeeda, al-Minhaj-us- Savi, Jama-us-Sunna, his lectures on Dura Sahih Bokhari, Dura Sahih Muslim, status of the Prophethood broadcast on QTV and material published in monthly Minhaj-ul-Quran on the same subject. In short the whole research work of Shaykh-ul-Islam Dr Muhammad Tahir-ul-Qadri in all forms is part of the thesis. Thus this constitutes the first ever PhD degree on the research work of Hadith sciences undertaken by Shaykh-ul-Islam Dr Muhammad Tahir-ul-Qadri.
The educational journey of Dr Muhammad Naeem Anwar Nomani started from Minhaj University and finished in Karachi University characterized by stopovers at Punjab University, Islamic University Bahawalpur, al-Azhar University, Egypt. He is engaged in teaching activities in Karachi University for last 8 years.
Dr Nomani has served at a number of positions in MQI such as senior research scholar FMRi, Deputy Director FMRi, lecturer COSIS, founder-president of Minhajian and Amir of MQI, Karachi Division. Presently he is serving as Director of Minhaj Shariah College for Women and in-charge MQI Karachi. He is also the author of a known book on Shaykh-ul-Islam namely Moullim-e-Aser. Jamia Minhaj-ul-Quran is going to be launched in August 2009 under his supervision.
Expressing his extreme happiness over Dr Nomani's educational accomplishment, Shaykh-ul-Islam Dr Muhammad Tahir-ul-Qadri congratulated him on hone. He also directed the Minhaj Publications to publish this research work immediately. In the meantime, central leaders of MQI, teachers of University, research scholars, Minhajians and associates of MQI across the world have congratulated Dr Naeem Anwar Nomani on his achievement and prayed to Allah to grant his endeavours in the way of revival of Islam.
Contact: 0300.3368206