Quranic recitation & Naat competition inaugurates week-long celebrations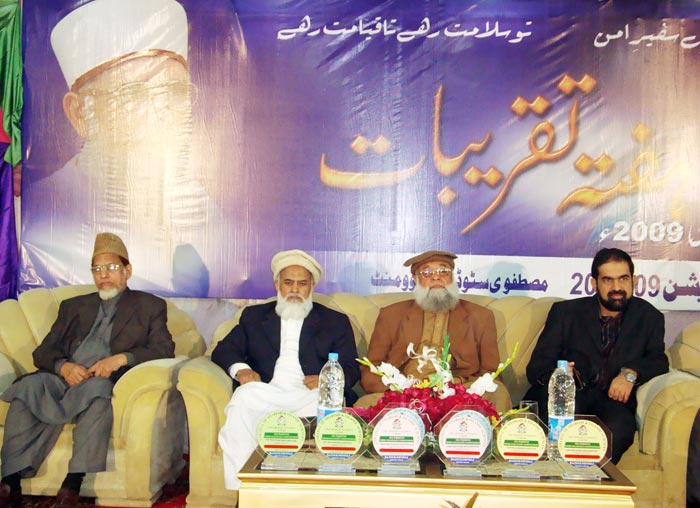 All-Pakistan inter-collegiate celebrations began in the College of Shariah & Islamic Sciences (COSIS) of the Minhaj University on February 9, 2009 in connection with the upcoming 58th birthday of Shaykh-ul-Islam Dr Muhammad Tahir-ul-Qadri, ambassador of peace and human development. The Quranic recitation & Naat competition kick-started the week-long celebrations under the banner of 'Bazm-e-Minhaj', a representative organization of students. COSIS Principal Dr Raheeq Ahmad Abbasi presided over the programme, while renowned folk singer Muhammad Arif Lohar was the guest of honour at the occasion.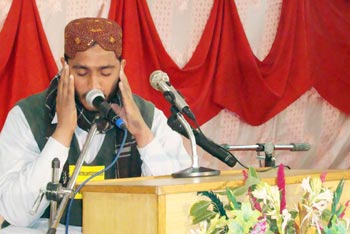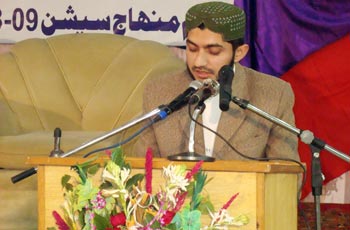 Shaykh-ul-Hadith Allama Muhammad Miraj-ul-Islam, Prof Syed Jameel-ur-Rehman Chishti, Mufti Abdul Qayyum Khan Hazarvi, Sahibzada Miskin Faiz-ur-Rehman Durrani (Amir-e-Tehreek), Sheikh Zahid Fayyaz (naib Nazim-e-Ala), Dr Khadim Hussain Khursheed (Islamic Research Centre), Dr Masood Mujahid, G.M. Malik (Director Foreign Affairs), Saadat Ali (Amir MQI, UAE), Muhammad Abbas Naqashbandi, Rana Akram Qadri, Muhammad Ilyas Azami, Shahzad Rasool Qadri, Muhammad Bilal Mustafavi and Sajid Gondal were also present among the distinguished guests.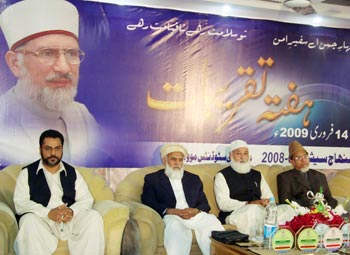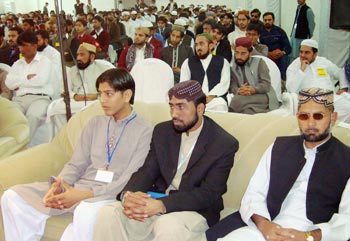 More than 60 people belonging to different colleges and universities from across Pakistan participated in the competition. Qari Syed Khalid Hameed Kazami of COSIS, Hafiz Muhammad Riaz of Dar-ul-Aloom Muhammadia Ghousia, Lahore, and Qari Faizullah of Jamia Moeen-ul-Islam, Sargodha, got first, second and third positions respectively in the Quranic recitation competition. Hafiza Mehwish Tabassum was given a special prize. Muhammad Noman Madani of Dar-ul-Aloom Muhammadia Ghosia, Lahore, Qari Anser Ali Qadri of COSIS, and Shumaila Abbas of Minahj Girls College won first, second and third positions respectively. Asma Imdad of Punjab University and Rikh Fatima of Queen Merry College were given special prizes.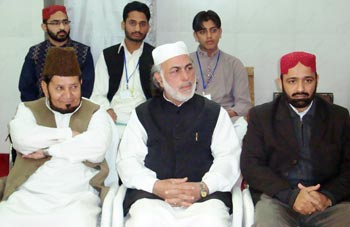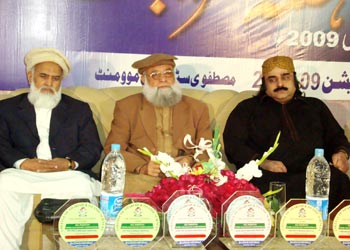 Speaking at the occasion, Muhammad Arif Lohar said that he was immensely pleased to have come to COSIS. This is the institution where students are prepared at every level. He said that Shaykh-ul-Islam Dr Muhammad Tahir-ul-Qadri had popularized the universal message of Islam and human rights, global peace and productive knowledge in this materialistic age. His services for the cause of unity within the Umma were recognized.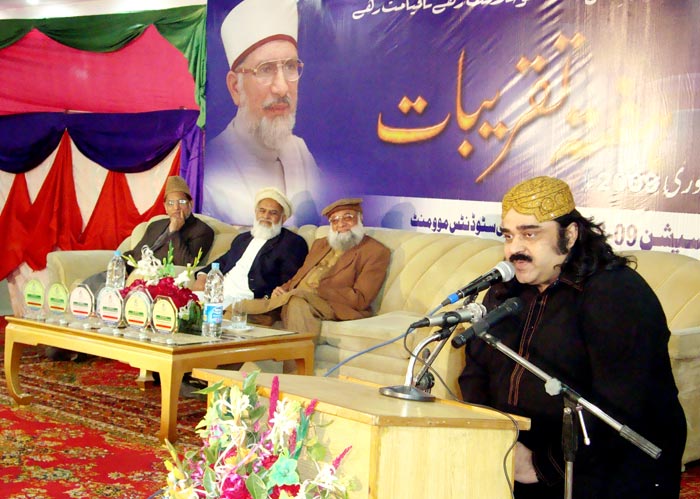 Prof Syed Jameel-ur-Rehman Chishti said that Dr Muhammad Tahir-ul-Qadri had played due role in reviving the love for the Holy Prophet (saw) in this material age. He said we do not elevate the name of the Prophet (saw) through Naat-khawani because Allah Almighty has Himself elevated his status. He appreciated Minhaj University for its service in the way of religion by inculcating spiritualism in the students.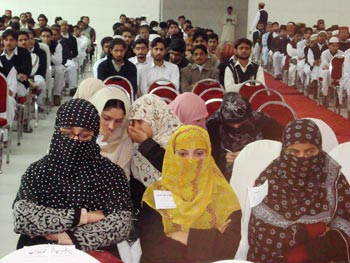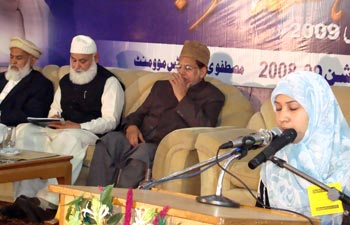 At the end of the programme, COSIS Principal Dr Raheeq Ahmad Abbasi distributed prizes, shields and certificates among the position-holding students. Appreciation certificates were also distributed among all participants. The vote of thanks presented by President of Bazm-e-Minhaj Hafiz Anser Ali Qadri concluded the proceedings of the programme.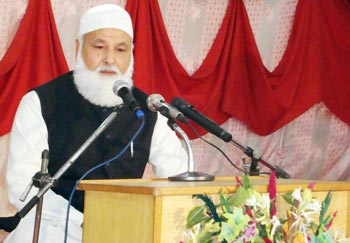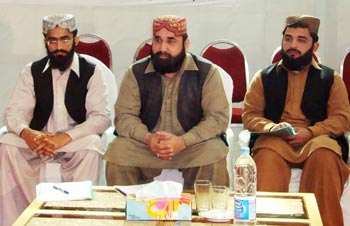 Highlights
The proceedings of the programme got underway sharp at 10 a.m. with recitation from the Holy Quran followed by Naat.
The stage was decorated very beautifully and a gallery was set up for jury on the left side.

Seats for male and female participants were set up at the right and left sides of the stage respectively.
A reception camp was installed at the entrance of college for the respected participants coming in from different educational institutions.

The hall was brightened up with artificial lights.
Muhammad Waqas Qadri conducted the proceedings.
Renowned singer Muhammad Arif Lohar was given a standing ovation upon entrance in the hall.

Qari Allah Baksh Naqashbandi, Qari Tariq Mahmood and Qari Muhammad Nadeem were jury team for Quranic recitation competition, whereas Irshad Chishti, Akhtar Hussain Qureshi and Shakeel Ahmad Tahir were the jury for Naat competition.
All respected guests were served sumptuous dinner at the end.