International Ambassador of Peace Seminar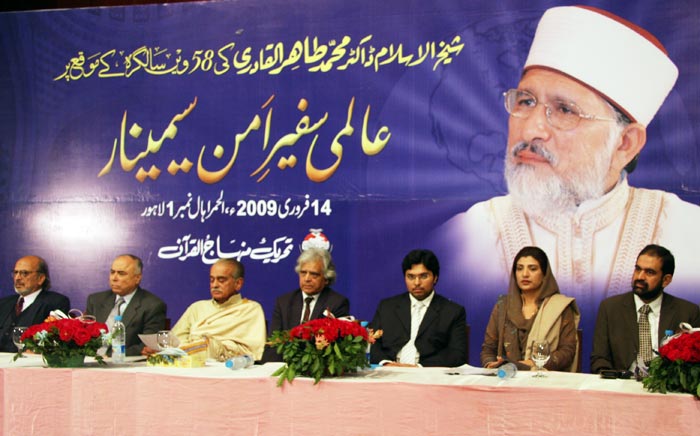 In continuation of the ongoing week-long celebrations marking the 58th birth anniversary of Shaykh-ul-Islam Dr Muhammad Tahir-ul-Qadri, International Ambassador of Peace Seminar was held under the aegis of Minhaj-ul-Quran International on February 14, 2009 at the al-Hamra hall. Former governor of Punjab, Ghulam Mustafa Khar, presided over the programme, whereas Sahbizada Hussain Mohi-ud-Din Qadri, member of Supreme Council (MQI), and Ms Farzana Raja, Federal Minister and chairman Benazir Income Support Programme (BISP), graced the occasion as the chief guests. The speakers included people of national eminence such as former foreign secretary Shamshad Ahmad Khan, former chief secretary Punjab Javed Qureshi, intellectual, security analyst and political commentator Dr Hassan Askari Rizvi, Secretary General MQI, Dr Raheeq Ahmad Abbasi, PAT Secretary General Anwar Akhtar Advocate, ANP leader Ehsan Wain and renowned actor Shujaat Hashmi. In addition to naib Nazim-e-Ala Sheikh Zahid Fayyaz, Director Foreign Affairs G.M. Malik, Shahid Lateef Qadri, Muhammad Jawad Hamid, Sohail Ahmad Raza, Muhammad Aqil Malik, Shahzad Rasool Qadri, Abdul Hafeez Chaudhry and Prof Zulifqar Ali, a large number of people, both men and women, belonging to different walks of life participated in the seminar.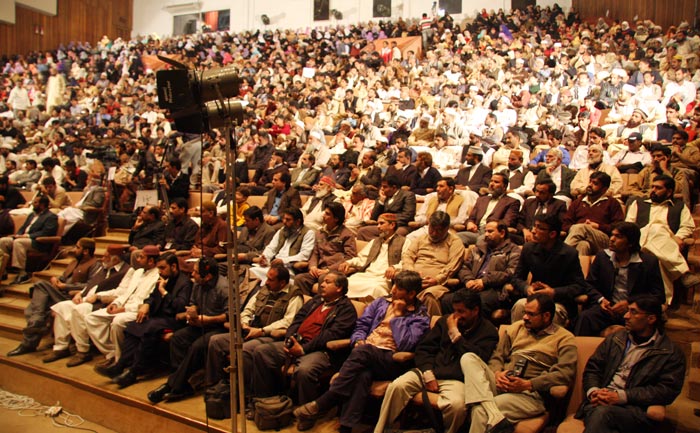 A special prayer for late Pir Syed Naseer-ud-Din Naseer, who died on Friday due to cardiac arrest, was made in the beginning of seminar.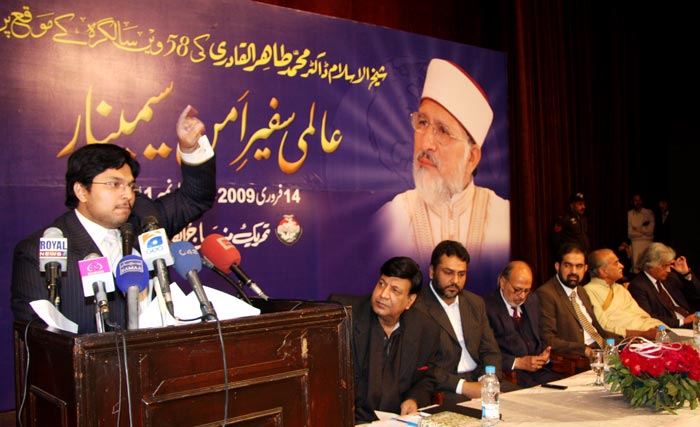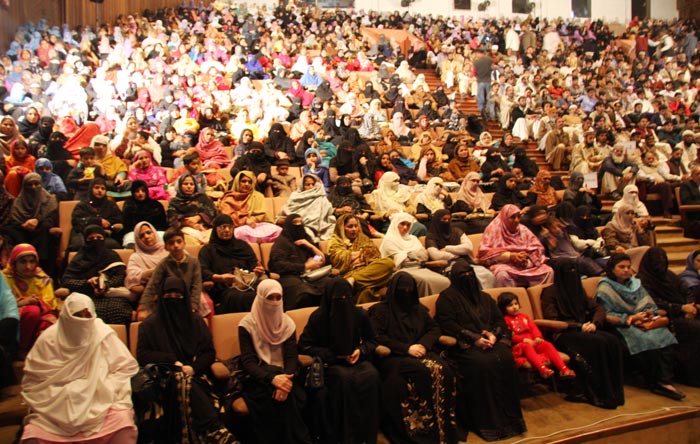 Federal Minister Farzana Raja said in her speech that Dr Muhammad Tahir-ul-Qadri was making an important contribution by highlighting the true face of Islam in this day and age marked by confusion and misinterpretation. The mention of his services for global peace, human development and interfaith dialogue was like showing a candle to the sun as these are known to all and sundry both in Pakistan as well as abroad. She said that she was witness to the fact that Shaheed Mohtrama Benazir Bhutto was a life member of Minhaj-ul-Quran International and held Dr Muhammad Tahir-ul-Qadri in high esteem. She said that Dr Tahir-ul-Qadri holds prominent position among the contemporary intellectuals and scholars of international repute and his services for the cause of peace distinguish him from others.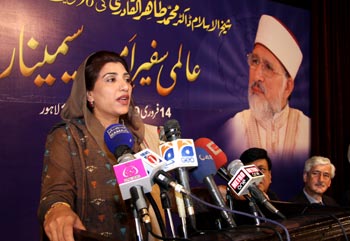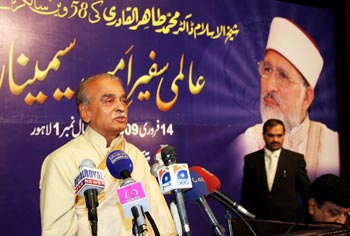 Ghulam Mustafa Khar, former governor Punjab, said in his address that Dr Muhammad Tahir-ul-Qadri was the great man gifted with unique qualities of head and heart. In spite of the fact that he did not belong to any political or wealthy family, he still made his mark reaching the level national and international celebrity. He said that it was matter of great pleasure for him that he signed the BA degree of such a man of eminence as governor. Shakyh-ul-Islam's status and honour owe itself to his love for the Holy Prophet (saw) and his Household. He won fame and high stature in politics but rose even greater in public esteem after he gave up politics.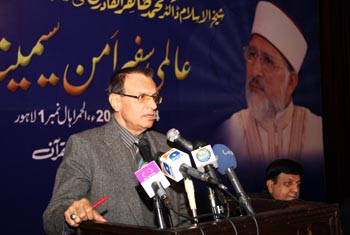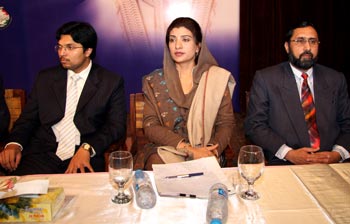 He said Dr Muhammad Tahir-ul-Qadri was the only man whose fame and knowledge grew with the passage of time. "He is above greed, fear and self-interest. He is working hard to change the thinking of the nation. Once this thinking undergoes change, the system and patterns of government would also change," he held. Both country and democracy could not function without a good leader. "The services of Dr Tahir-ul-Qadri in intellectual, educational and scholarly domains are a matter of honour for Pakistan," he concluded.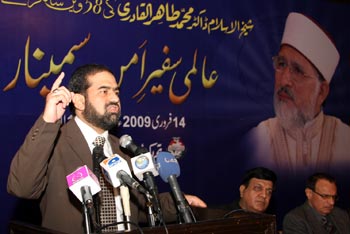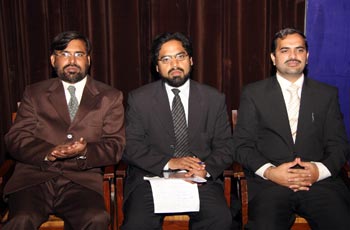 Former foreign secretary of Pakistan and political commentator, Shamshad Ahmad Khan, said that Dr Muhammad Tahir-ul-Qadri was a multi-faceted personality and was like a ray of hope in this murky and dark environment. His services for the promotion of peace deserve appreciation. "He is a scholar, researcher, a lawyer, author and politician at the same time and to top it all, he speaks for the humanity. His services for interfaith dialogue and harmony were historic," he observed. Shamshad Ahmad lamented the fact that human minds were gripped by disorder and not peace. Dr Tahir-ul-Qadri was working for elimination of disorder and chaos by promoting cohesion and integration, he said.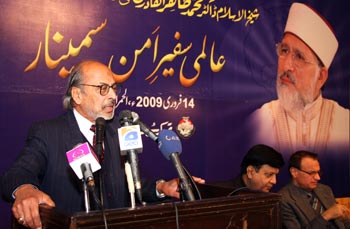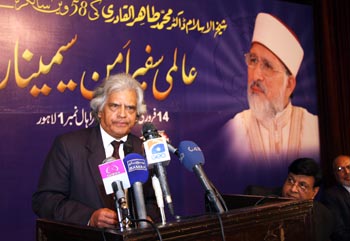 Secretary General MQI, DrRaheeq Ahmad Abbasi, said in his speech that Shaykh-ul-Islam Dr Muhammad Tahir-ul-Qadri was the great man of this century and his diverse contributions would continue to influence the coming centuries. He said that Shaykh-ul-Islam had authored 1000 books, delivered 5000 lectures, set up the branches of his organization in more than 100 countries of the world with 67 Islamic centres and a chartered university, which produced hundreds of scholars including 90 such scholars who were busy spreading peace and harmony across the world. He said that Shaykh-ul-Islam's services in the field of education and welfare were manifest from the establishment of 572 schools, 42 colleges, Orphan Home Care for 500 orphan children and rehabilitative and reconstructive efforts in Tsunami, Kashmir, Balochistan and Bam earthquake and Ghaza under his leadership. He said that the next century would belong not to Bush, Blair or Musharraf but to Dr Muhammad Tahir-ul-Qadri.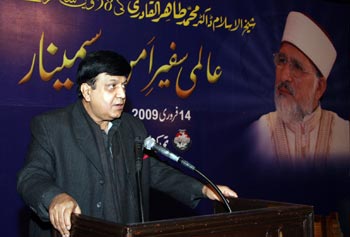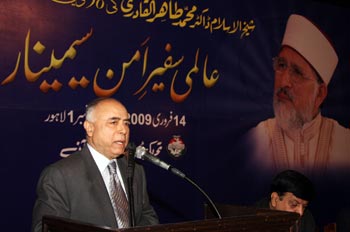 Security analyst Dr Hassan Askari Rizvi said that Dr Tahir-ul-Qadri's services for peace were prominent because he held onto honesty and sincerity for promotion of real message of Islam.
Awami National Party's leader, Ehsan Wain, said that terrorism and extremism could be eliminated by benefiting from the vision of Dr Muhammad Tahir-ul-Qadri.
Video Clips
Speech by Sahibzada Hussain Mohi-ud-Din Qadri - Part-1

Speech by Sahibzada Hussain Mohi-ud-Din Qadri - Part-2

Views by Farzana Raja on Ambassador of Peace Shaykh-ul-Islam Dr Muhammad Tahir-ul-Qadri

Views by Ghulam Mustafa Khar on Ambassador of Peace Shaykh-ul-Islam Dr Muhammad Tahir-ul-Qadri

Views by Shamshad Ahmad Khan on Ambassador of Peace Dr Muhammad Tahir-ul-Qadri - Part-1

Views by Shamshad Ahmad Khan on Ambassador of Peace Dr Muhammad Tahir-ul-Qadri - Part-2

Views by Hassan Askari on Ambassador of Peace Shaykh-ul-Islam Dr Muhammad Tahir-ul-Qadri

Views by Shujaat Hashmi on Ambassador of Peace Shaykh-ul-Islam Dr Muhammad Tahir-ul-Qadri

Views by Ehsan Waien on Ambassador of Peace Shaykh-ul-Islam Dr Muhammad Tahir-ul-Qadri