Milad feasts begin in connection with Mawild-un-Nabi (SAW)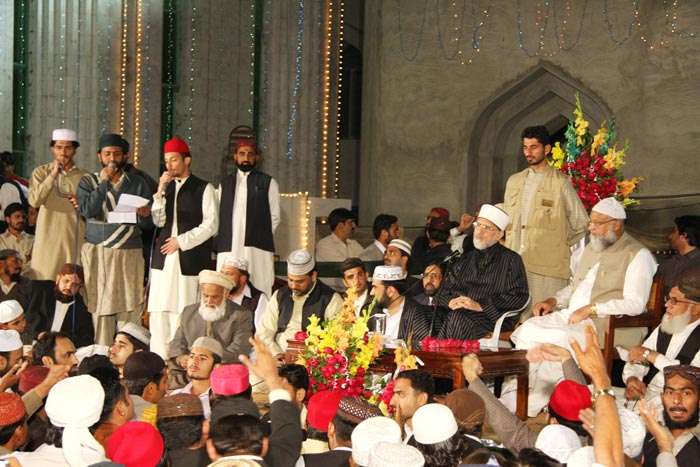 Following the beginning of the holy month of Rabi-ul-Awal, special programmes continue to be organized at the central secretariat of Minhaj-ul-Quran International. Torch-bearing procession is taken out every day after evening prayers followed by a grand Milad feast. The first such programme was held on February 27, 2009 on the 1st of Rabi-ul-Awal. Shaykh-ul-Islam Dr Muhammad Tahir-ul-Qadri presided over the programme, whereas Nazim-e-Ala Dr Raheeq Ahmad Abbasi, Central leader of PAT Pir Khalil-ur-Rahman Chishti, Sheikh Zahid Fayyaz, Sardar Mansoor Ali Khan, Ahmad Nawaz Anjum, Mufti Abdul Qayyum Khan Hazarvi, Prof Muhammad Nawaz Zafar, Raja Zahid Mahmood, Anwar Akhtar Advocate and other leaders were also present among the distinguished guests. A large number of people participated in the Milad feast. A special seating arrangement for women was also in place.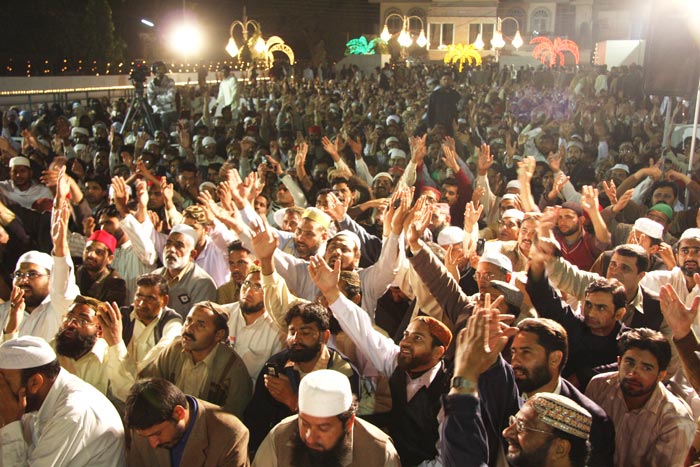 The proceedings of the programme got under way with the recitation from the Holy Quran followed by recital of Naats. Amir-e-Punjab Ahmad Nawaz Anjum felicitated all participants of the programme on the inception of the holy and the blessed month of Rabi-ul-Awal. He said that MQI would celebrate the birth anniversary of the Holy Prophet (saw) with traditional fervour this year too. These national and international celebrations would culminate on the grand International Mawlid Conference to be held on the intervening night of 11 and 12 Rabi-ul-Awal, which is likely to be attended by millions of people across Pakistan and the world.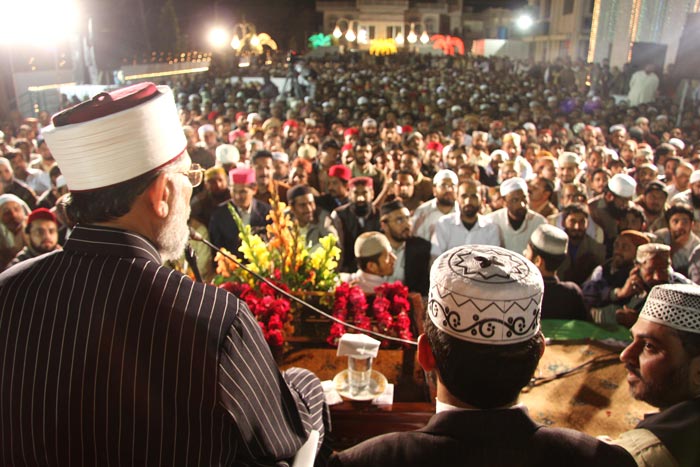 Shaykh-ul-Islam Dr Muhammad Tahir-ul-Qadri also delivered a brief speech. He said we should be thankful to Allah Almighty that He blessed us with the holy month of Rabi-ul-Awal and we should accumulate as many blessings as possible in this month. He said that celebrating Mawilid-un-Nabi (saw) was not creed of any particular group or community or religion. Rather, Allah Almighty Himself commanded us to celebrate it in the Holy Quran. Shaykh-ul-Islam said that the birth of the Holy Prophet (saw) is the greatest blessing of the universe, which should be celebrated with enthusiasm and fervour in commensurate with the importance of event. He said that MQI has founded the tradition of celebrating Mawlid-un-Nabi (saw) as a religious culture and we would spread this culture as much as we can.