Marriage ceremony of the daughter of Shaykh-ul-Islam held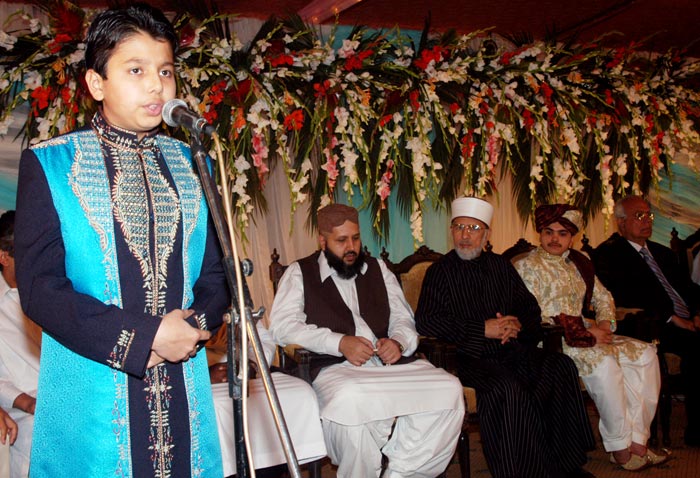 Mohtarma Ayesha Quratulain, the daughter of Shaykh-ul-Islam Dr Muhammad Tahir-ul-Qadri, got married with Muhammad Usman Qadri, the son of Muhammad Hashim Qadri. The marriage ceremony was held in the Minhaj-ul-Quran Park, Lahore, in front of central secretariat on March 14, 2009. Special Servant of the Prophetic Shrine, as-Shaykh as-Sayed Muhammad Bin Ahmad Bin Ali an-Noori al-Madni and Sahibzada Pir Syed Abdul Qadir Jamal-ud-Din Qadri al-Gillani, the son of Hazoor Qudva-tul-Aluia graced the occasion on special invitation.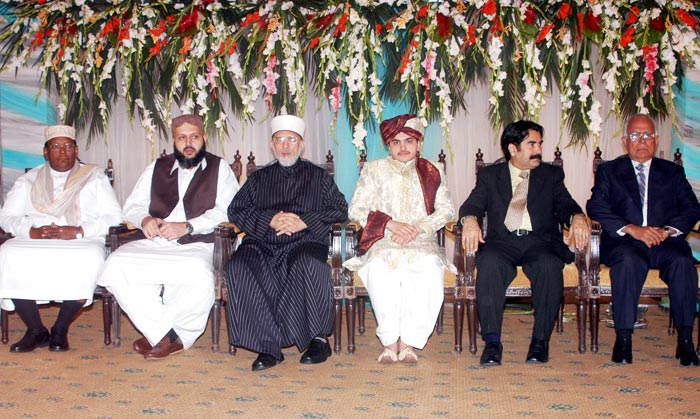 Other distinguished guests who attended the marriage ceremony included Governor Punjab Salman Taseer, PML-Q president and former PM Chaudhary Shujaat Hussain, Secretary General PML-Q Mushahid Hussain Syed, former chief minister of Punjab and federal minister Mian Manzoor Ahmad Wattoo, former chief minister Afzal Hayat, former Governor Punjab Ghulam Mustafa Khar, former provincial ministers Mian Imran Masood, Syed Raza Ali Gillani, Syed Naubahar Shah, former foreign secretary Shamshad Ahmad Khan, Pir Syed Khalil-ur-Rahman Chishti, PAT vice chairman Agha Murtaza Poya, Pir Syed Jamil-ur-Rehman Chishti, Secretary General Jamat-i-Islami Liaqat Baloch, Dr Farid Ahmad Piracha, Dr. Majid Abel, Pastor In charge of Naulakha Presbyterian Church and General Secretary Interfaith Peace Council, former federal minister Dr Khalid Ranjha, senior journalist and editor in chief of Daily Pakistan Mujeeb-ur-Rehman Shami, senior journalist Wasif Ali Nagi, former captain of Pakistan Hockey Mian Akhtar Rasool, Ali Ghazanfer Kararvi and people belonging to all walks of life.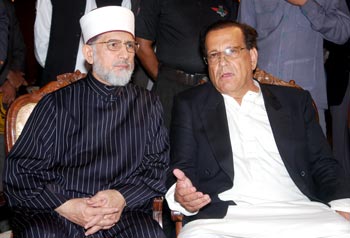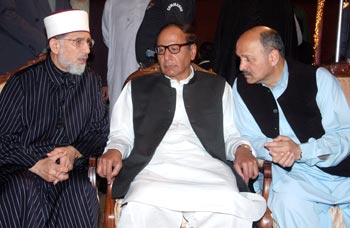 Sahibzada Hassan Mohi-ud-Din Qadri, Sahibzada Hussain Mohi-ud-Din Qadri, Sahibzada Hammad Mustafa Qadri, Miskin Faiz-ur-Rehman Durrani, Dr Raheeq Ahmad Abbasi, Sheikh Zahid Fayyaz, G.M. Malik, Jawad Hamid, Anwar Akhtar Advocate, Waseem Ahmad Hamayun, Dawood Hussain Mashahdi, Allama Ahmad Nawaz Anjum, Sohail Ahmad Raza and other leaders were also present at the occasion.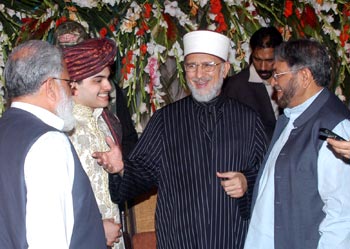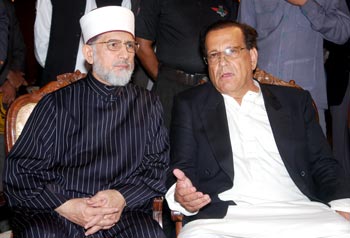 In addition to the central leaders of MQI, Shaykh-ul-Islam received the guests himself. The entire venue was divided into two parts, one reserved for male and other for female guests. Keeping in view the sensitive conditions of the country, foolproof security arrangements were in place around the venue.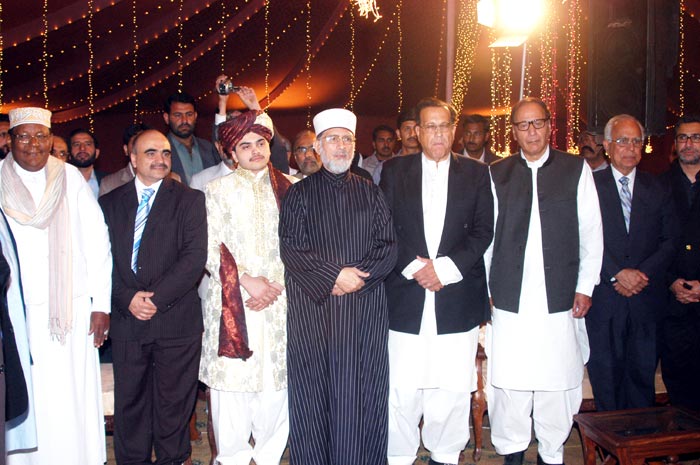 The proceedings of the ceremony got underway with the recitation from the Holy Quran by Sahibzada Hammad Mustafa Qadri followed by Naat. Mufti Abdul Qayaum Khan Hazarvi read out the 'khutaba'.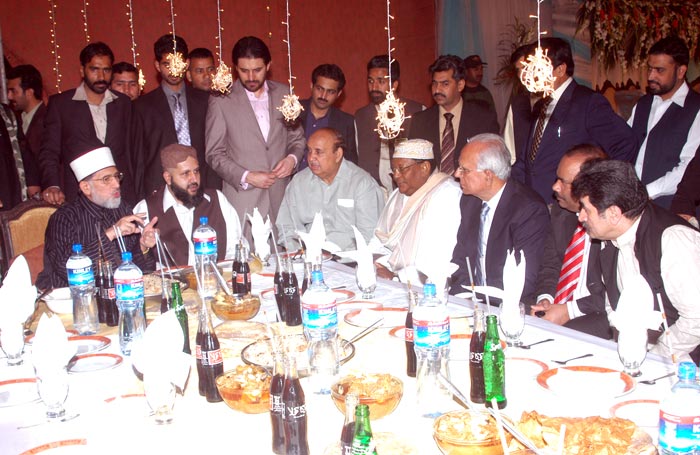 Shaykh-ul-Islam Dr Muhammad Tahir-ul-Qadri thanked the guests and led the Dua himself at the end.