The National Peace Conference Joint Communiqué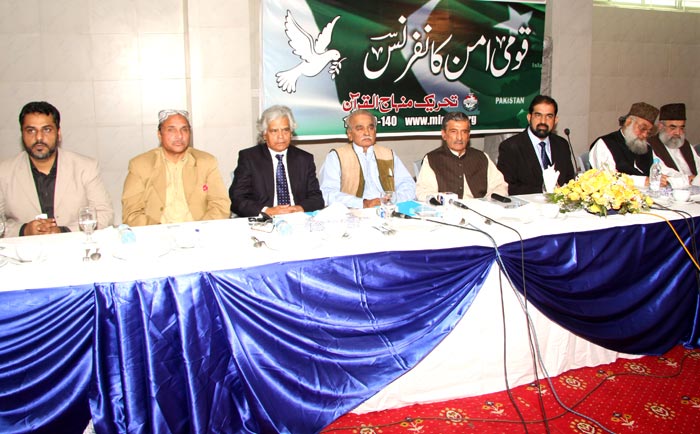 The National Peace Conference was held on April 9, 2009 under the auspices of Minhaj-ul-Quran International and Pakistan Awami Tehreek. The conference was attended by 150 representatives of various political and religious parties, welfare organizations, and other organizations representing different classes of society in addition to lawyers, religious scholars, students, journalists and traders. Dr Muhammad Tahir-ul-Qadri addressed the Conference telephonically. Nazim-e-Aala Minhaj-ul-Quran International Dr Raheeq Abbasi and Naib Nazim Aala Sheikh Zahid Fayyaz discharged their responsibilities as the Conference Secretary.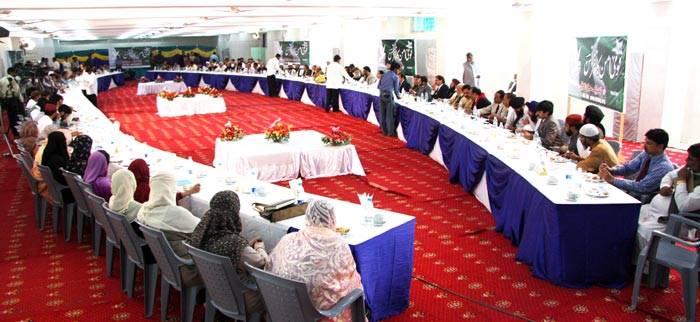 The Conference was vastly attended by dignitaries and politicians like Malik Ghulam Mustafa Khar (Ex Governor Punjab), Ghulam Ahmed Bilour (Federal Minister Railway), Liaqat Baloch (Central Naib Amir Jamaat e Islami), Ihsan Wain (Sec. Gen. ANP), Pir Nazim Shah (Markazi PPP leader), Miskeen Faiz-ur-Rahman Durrani, (President PAT), Anwaar Akhtar Advocate (Sec. Gen. PAT), Ijaz Ahmed Ch. (Vice President Tehreek e Insaf), Ibtisam Ilahi Zaheer (Sadar Jamiat Ahle Hadith), Hameed-ud-Din Al-Mashriqi (Quaid Khaksar Tehreek), Sardar Rauf Kashmiri (Chairman JK Liberation Front), Hafiz Aakif Saeed (Amir Tanzeem Islami), Dr Majid Abel (Pastor In charge of Naulakha Presbyterian Church), Malik Hakmeen (PPPP), Firdos Butt (Ex, President Lahore High Court Bar), Sohail Mahmood Butt (Chairman Anjuman Tajran, Mall Road), Prof. Muhammad Akram Chishti (Centeral Deputy Secretary, Anjuman Asataza), Prof. Muhammad Awan (President Anjuman Asataza) Khalid Parvez (President Anjuman Tajran Urdu Bazaar), Rashid Gardezi (ATI) , Sayyid Raheel Shah (President PSF), Shabbir Siyal (Tehreek e Insaf), Dr Manohar Chand (Krishna Mandar), Padri Chaman, Sayyid Danish (Secretary General, ISO), Sayyid Tufail (President Jammu Kashmir Liberation Front), Sardar Kalyan Singh Kalyan, Sardar Ranjeet Singh (Gorudwara Dera Sahib), Sayyid Nau Bahar Shah (Chairman Shia Political Party), Smeea Raheel Qazi (Ex. MNA), Admiral (R) Javed Iqbal (Central Additional Secretary General, Tehreek e Insaf), Brigadier Iqbal Ahmad Khan, Shadab Raza Qadri (Sunni Tehreek), Adeeb Javidani (Chairman All Pakistan Private Schools Association), Babar Butt (President Tajar Ittehad, Punjab), Khalid Malik (Vice President, Amn Committee), Muhammad Babar (Secretary General, Muttahida Talaba Mahaz), Khwaja Junaid (Ex Olympian), Tayyab Saqib (Pakistan Foreigners Association), Aagha Murtaza Poya, Ali Ghazanfar Karrarvi, Zulfiqa Ali (PSO), Farooq Azad Khan (President Peoples Muslim League), Allama Rana Muhammad Idrees, Sohail Ahmad Raza, Jawwad Hamid, Sajid Mahmood Bhatti, Ahmad Nawaz Anjum, Mian Abdul Qadir, Sayyid Ali Raza Rizwi, Lehrasab Khan Gondal Advocate, Muhammad Ishtiaq Choudhary Advocate, Naeem ud Din Ch. (Coordinator Pakistan Awami Lawers Movement), Fatima Mash'hadi (President Minhaj-ul-Quran Women League), Sumera Rafaqat (Nazima MWL), Maria Kokab (Aurat Foundation), Rehana Kausar, Saima Fayyaz, Tahira Batool, Uzma Bukhari, Faiza Malik, Huma Aziz, Bilal Mustafavi (President MYL), Syed Farhat Hussain Shah (Nazim Ulama Council), Sajid Hameed Gondal (Secretary General, MSM), Miss Uzma Saeed Advocate, Sarfaraz Ahmad Khan, Nasir Iqbal Advocate, Mahboob Hussain Advocate, Wasim Zafar Advocate, Muhammad Afzal Gujjar, Hafiz Ghulam Farid, Mian Iftekhar Ahmad, Raja Muhammad Nadeem, Haji Muhammad Is'haq, Dr Tanvir Azam Sandhu, Shahid Latif, Mir Asif Akbar, Iftikhar Baig, Hafeez Ch, Qazi Faiz ul Islam and other leaders.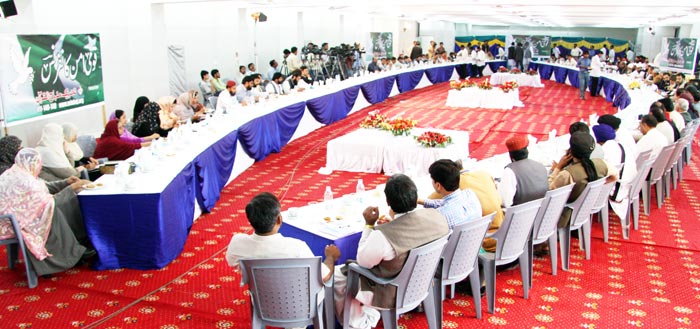 The conference pondered over the internal and external terrorism Pakistan is faced with, the escalating suicide attacks, persistently deteriorating law and order situation in the country, the ever-mounting sense of insecurity, the threats to the solidarity and survival of Pakistan, fast rising economic imbalance and the resultant terrorist tendencies. The leaders and the representatives of various parties presented their views, opinions and analyses of the dismal situation prevailing in the country.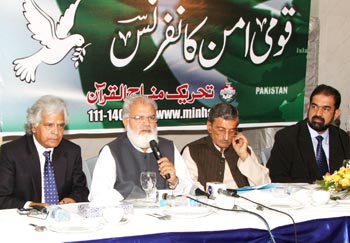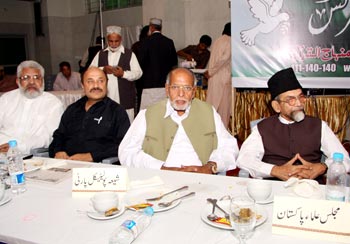 The Conference agreed upon to issue this joint communiqué comprising the following salient points.
The Conference strongly condemns the unending activities of terrorism in Pakistan including the suicide attacks. It declared all the elements involved in these inhuman and barbaric activities anti-Islamic and anti Pakistan. The conference takes exception to the anti-state elements responsible for terrorism in the country and expressed firm resolve to continue condemning all the terrorist activities by all means and at all levels and declares persistent struggle against terrorism till its total elimination from the homeland.

The conference intensely and deeply condemns the perpetual Drone attacks in the Pakistani territory. They are an assault against the independence and integrity of Pakistan, sheer violation of the UNO charter and the worst example of state terrorism.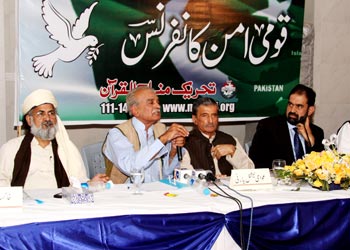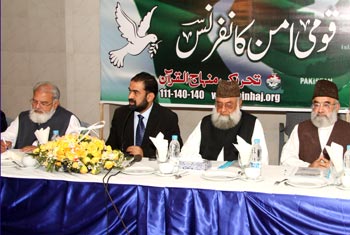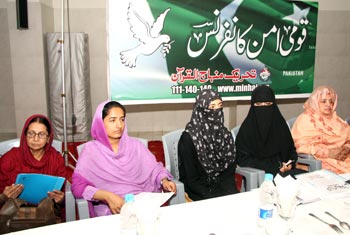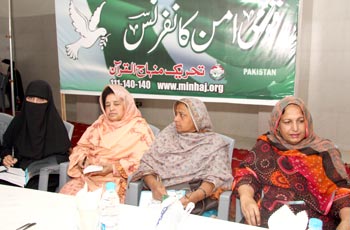 The Conference strongly condemns the ever-increasing open interference in the internal affairs of Pakistan, the statements being issued against Pakistan and its various institutions particularly ISI and conspiracies to link up Pakistan with terrorism.

The world powers are warned that the Drone attacks are direct interference and these and other such negative measures are causing promotion of terrorism and creating sympathy for the terrorists. It is demanded against this perspective that if the world powers and international forums are sincere in eliminating terrorism then this practice should stop forthwith.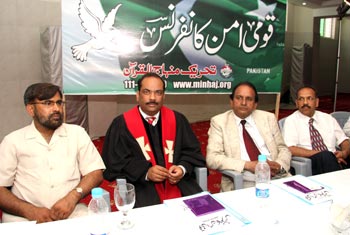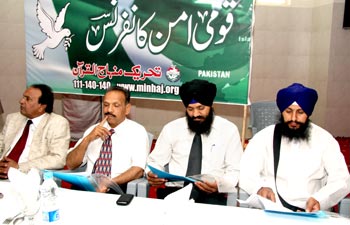 Pakistanis are peace-loving and long for peace all over the world. They have always condemned terrorism in the world severely and strongly. They can never even imagine of aggression against any country or doing it any harm. Liking Pakistan, therefore, to terrorism is most sad and deplorable. The Pakistani nation has been rendering its sacrifices against terrorism persistently since 1980. No one can find its example in the world. The cursed propaganda against Pakistan is, therefore, strongly condemned.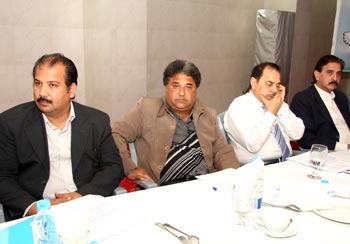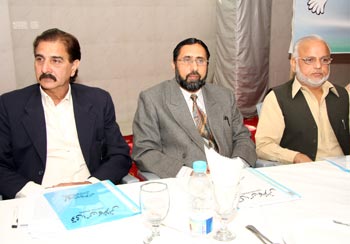 The Government of Pakistan seems to have failed completely in handling terrorism and its elimination. It is therefore strongly demanded that the Government should take immediate steps to implement the following suggestions put forth by the National Peace Conference to make possible an advance towards the immediate and solid solution of the grave problem the nation is so distressingly facing:
The Drone attacks must be brought to an end immediately through all the diplomatic resources, friendly countries, and other world forums and organizations.
The anti-terrorism measures and cooperation by the Government with the world powers in Afghanistan in war against terrorism must be made conditional with complete termination of Drone attacks.
The current apologetic foreign policy based on helplessness must be replaced with an independent foreign policy based on equality, national honor and self-esteem.
The Pakistani embassies in foreign countries should be activated. The Government should appoint competent and patriotic people in its foreign missions. Pakistan should also give a befitting reply against the condemnable and negative propaganda against her and her various institutions.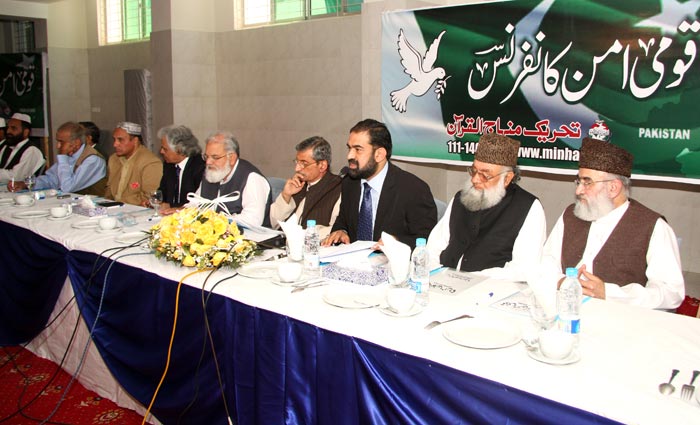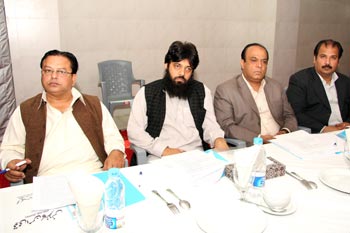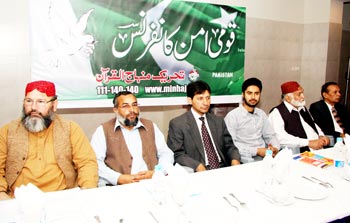 Instant measures need to be taken in a daring but wise way after making a meticulous action plan to expose at international level the foreign elements involved especially a neighboring country's hand in the worst type of terrorism in Pakistan.
The free movement of terrorists and all means of their logistic support must be intervened and ended by deploying the state machinery timely and effectively.
Foolproof arrangements be made to protect and safeguard the terrorists' possible and easy targets like government institutions, religious and public places and gatherings and the security and safety of common man, his life and property must be guaranteed, ascertained and ensured.
The political measures and related methods should be adopted to eliminate terrorism from the country instead of using military power and operations.
Measures should be taken on priority to eliminate unemployment, ignorance and poverty from the backward areas of Pakistan especially the tribal areas.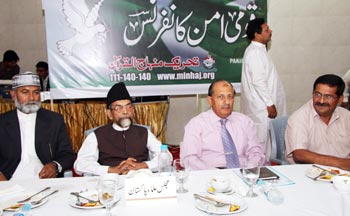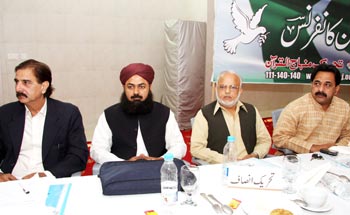 Measures are also required to be taken on priority for political stability in Pakistan, free judiciary, stability of institutions, regard and esteem of constitution and one another's mandate, removal of dearness and price-hike, provision of immediate and low-cost justice and elimination of every shape and form of oppression and exploitation. This will make possible the removal of all the factors responsible to generate terrorism.
Circumstances are being created in the provinces of Frontier and Baluchistan that pose a threat to the very Federation of Pakistan. The Government must unveil the conspiracies in this regard and immediate be taken to put an end to these conspiracies.
A National Policy for the Elimination of Terrorism be formulated in the light of these suggestions and proposals; the entire nation be taken in confidence and measures be initiated to enforce such a policy.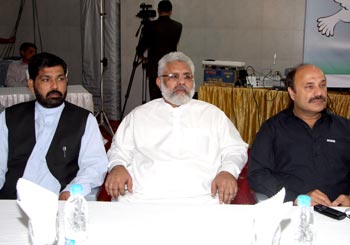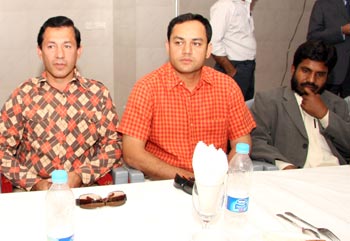 Besides the Government, the entire nation in general and the influential and elite classes of society in particularly including the lawyers, religious scholars, politicians, journalists, intellectuals, teachers, traders, and other organizations should play there respective role effectively in bringing the terrorist tendencies to end.

The media should play a responsible role towards elimination of terrorism. The publicity, broadcast and telecast of such programs and news should, therefore, be avoided as may encourage some form or kind of terrorism. Media is required to keep the national interest, solidarity and good name prior.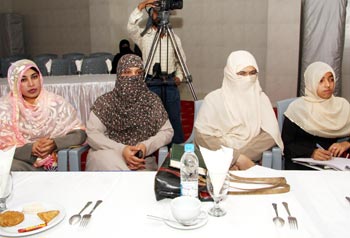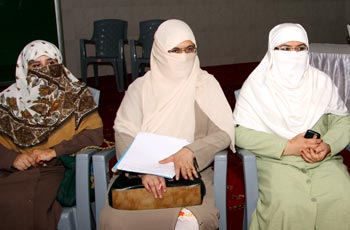 The Government, the NGOs and the welfare organizations engaged in rehabilitations and support of the families and people fallen victim to terrorism should play there role most effectively and achieve instant results.

The elimination of terrorism and safety and security against terrorism must be declared No. 1 priority and all necessary measures in this regard be taken immediately. All the classes of society need to play their role in this regard in the most effective manner.

The National Peace Council was established to diagnose the causes of terrorism, the reasons of its prevalence, determine its reinforcing internal and external elements, precisely delineate a national program for its elimination and devise methods for its effective implementation. The constitution of the National Peace Council is as follows: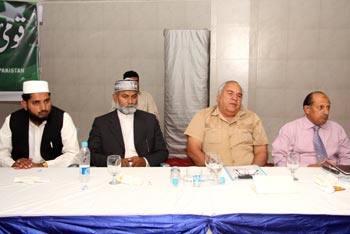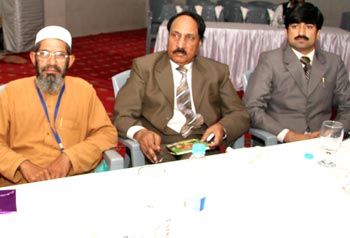 Chairman: Dr Muhammad Tahir-ul-Qadri
Members:
Jahangir Badar (Secretary General PPP), Zafar Iqbal Jhagra (Secretary General PML-N), Mushahid Hussain Sayyid (Secretary General, PML-Q), Ihsan Waien (Secretary General ANP), Dr Farooq Sattar (Convener MQM), Maulana Amjad (Secretary Information, JUI), Ghulam Mustafa Khar (Ex. Governor Punjab), Liaqat Baloch (Vice Amir, Jamaat e Islami), Dr Raheeq Ahmad Abbasi (Secretary General, Minhaj-ul-Quran International), Anwaar Akhtar Advocate (Secretary General, PAT), Ejaz Ahmad Ch. (Vice President, Tehreek e Insaf), Dr Sarfaraz Naeemi, Ibtisam Ilahi Zaheer (President, Jamiat Ahl e Hadith), Hafiz Akif Saeed (Amir Tanzeem Islami), Ghulam Ahmad Bilour (Federal Minister Pakistan Railway), Ali Ahmad Kurd (President Supreme Court Bar Association), Sayyid Nau Bahar Shah (Shia Political Party), Dr Majid Abel (Member Minority), Dr Awais Farooqi (Member NGO / President Focus Pakistan), Miss Firdos Butt (Ex President Lahore High Court Bar), Ch. Khadim Hussain Qaiser (Ex Vice Chairman, Punjab Bar Council), Qari Zawwar Bahadur (Secretary General, JUI), Sohail Mahmood Butt (Chairman, Anjuman Tajran Mall Road), Nazir Ahmad Chohan (Member Tajran), Dr Rafiq Ahmad (Nazria Pakistan Foundation), Sayyid Rashid Gardezi (Member Student / President Muttaheda Talaba Mahaz), Huma Aziz (Member Women / President Pakistan Women Workers Federation), Prof. Muhammad Awan (Member Anjuman Asataza), Sardar Kalyan Singh Kalyan (Member Sikh Minority/ Secretary General Guru Nanak Ji Mission, Pakistan), Dr. Manohar Chand (Member Hindu Minority).

Note:
All other participants will be the members.
All Leaders / Secretaries of the national, provincial, political and religious parties registered with the Election Commission of Pakistan may also be the members.
All parties are requested to submit their proposal within fifteen days. Council will formulate a national action plan within one month on the bases of suggestions and opinions received from all political parties and various classes of society.
Dr Tahir-ul-Qadri's keynote address at "National Peace Conference"
The National Peace Conference Joint Communiqué
Views, Opinions and Analyses by Dignitaries and Politicians
---