Ulama-o-Mashaykh Convention & inaugural ceremony of al-Minhaj-us-Sawi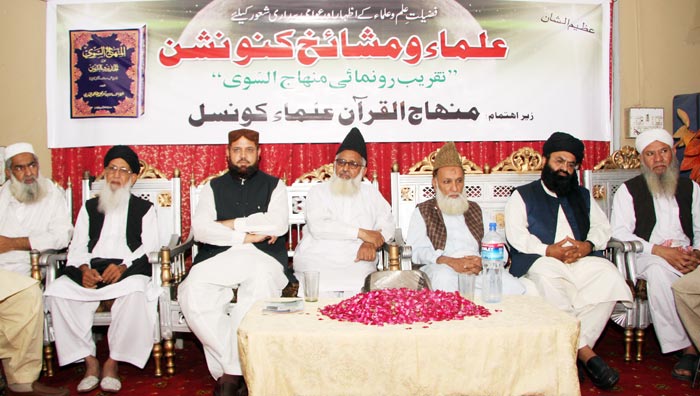 Minhaj-ul-Quran Ulama Council organized a prestigious Ulama-o-Mashaykh Convention & inauguration ceremony of al-Minhaj-us-Sawi in the Shad Bagh on April 16, 2009. Dr Sarfraz Naeemi presided over the programme, whereas Nazim-e-Ala Dr Raheeq Ahmad Abbasi was the guest of honour on the occasion. A large number of religious scholars attended the Convention, the prominent being Allama Mufti Liaqat Ali Saddiqi, Allama Muhammad Nawaz Chishti, Qari Muhammad Lateef Shakir, Allama Sayyid Farooq Hassan Shah, Allama Muhammad Naeem Rizvi, Allama Faqir Raza Qadri, Allama Sayyid Imdad Hussain Shah, Allama Haider Ali Naqshbandi, Allama Ghulam Murtaza Noori, Allama Abdul Aziz Faizi, Allama Muhammad Rafiq Qadri, Allama Muhammad Akram Tayyab, Allama Qari Umar Hussain Alvi, Allama Qari Muhammad Iqbal Hanafi, Allama Zulifqar Ali Mujaddidi, Allama Rahid Mahmood Qadri, Muhammad Saleem Yousufi, Jamshaid Qadri, Allama Saleh Muhammad Shah, and Qari Abdul Ghaffar.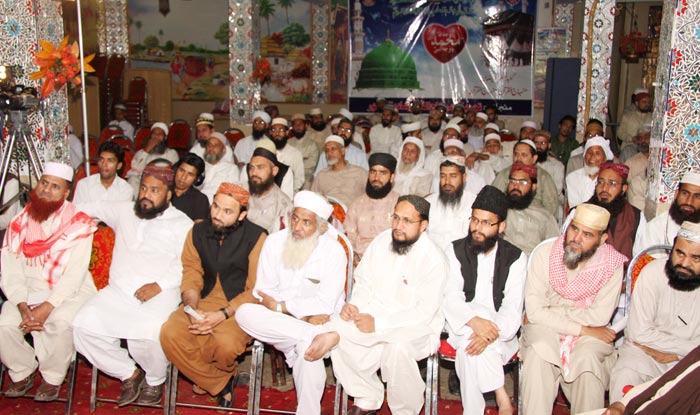 The proceedings of the Convention got underway with the recitation from the Holy Quran followed by recital of Naat. Allama Muhammad Usman Sialvi and Allama Mumtaz Hussain Siddiqi conducted the proceedings of the programme.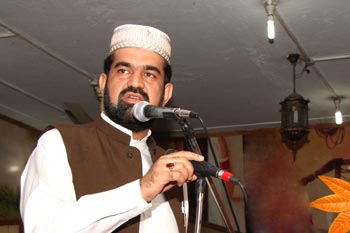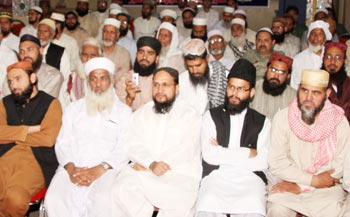 Nazim-e-Ala of Minhaj-ul-Quran International Dr Raheeq Ahmad Abbasi said in his talk that several religious scholars and Ulama performed the arduous task of collection and compilation of the Prophetic traditions on different subjects in their respective ages, which partially fell into different categories like 'Eemaniat', 'Ebadat', 'Ahkamat-e-Elahiyya', and the Prophetic excellence. Khateeb Tabraiz's "Mishkat-ul-Masabih", Imam Manzari's "at-Targheeb wat-Tarheeb" and Imam Nawawi's "Riyad-us-Saliheen" were among the foremost works, which saw light of the day centuries ago. In the contemporary age, it goes to the credit of Shaykh-ul-Islam Dr Muhammad Tahir-ul-Qadri who compiled a comprehensive collection of Prophetic traditions by the name of al-Minhaj-us-Sawi that covers various subjects in accordance with the demands of modern times. Explaining the salient features of the magnum opus, he said:
This book, containing 1100 Prophetic traditions, is spread over about 1000 pages.
The translation of the book in Urdu language has been made as simple as possible for the understanding of common man.
This collection of Hadith, derived from the vast collection of Hadith, is based on modern subjects and is useful for people of every walk of life.
170 authentic books of Hadith have been consulted.
This book lays the basis for correct beliefs, inspires readers to act piously and offers guidance in the practical life.
Nazim-e-Ala asked the Ulama to pay special attention to the need of spiritual training of the youth. Shaykh-ul-Islam Dr Muhammad Tahir-ul-Qadri is a rare ray of hope for the Muslim Umma. His reconstructive work would continue to guide generations for centuries to come.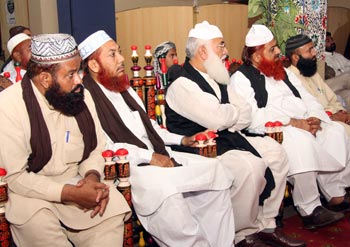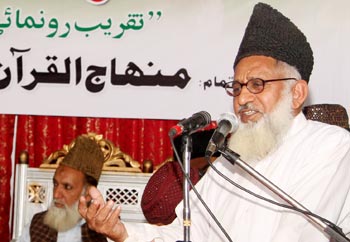 Renowned religious scholar, Allama Dr Muhammad Sarfraz Naeemi, said in his presidential speech that a handful of extremists were imposing their version of Shariah in the country. Shrines were being desecrated and spiritual personalities being killed. He said it was wrong on our part that we converted the religious shrines into business places. Had we carried on the ideological work, we would not have to face such situation. If every Sunni scholar started working like Dr Muhammad Tahir-ul-Qadri, there was no reason why we could not change our fate. He said extremists wanted to play havoc with the country through mayhem and bomb blasts, while we have to prepare peaceful and ideological workers who would work for solidarity of Pakistan and implementation of Islamic system in the real sense.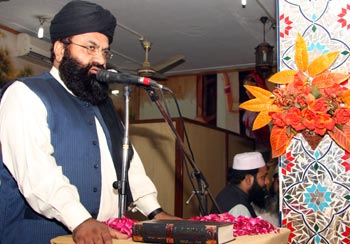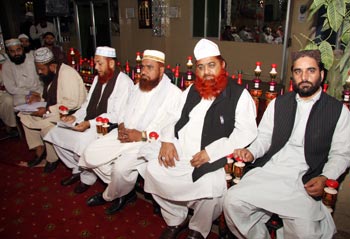 Allama Hafiz Khan Muhammad Qadri, Principal of Jamia Muhammadia Ghausia, Lahore, said in his speech that jealousy was a great vice. Would that we accepted the good work of one another but the treatment we were meted out by the majority of scholars was distressing to say the least. He said it was high time that all of us accepted the leadership of Shaykh-ul-Islam Dr Muhammad Tahir-ul-Qadri without any reservation. The sub-continent is blessed to have expert orator and scholar of eminence like Shaykh-ul-Islam. Those who work are ridiculed. None of us joined Shaykh-ul-Islam in his reconstructive work but still he carried on single-handedly and ended up producing a vast treasure of knowledge and research. He said it was easier to criticize but much more difficult to work hard contribute something constructive.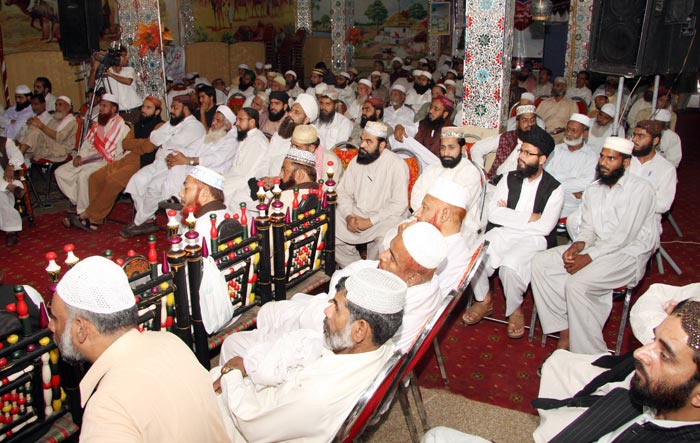 He said it was 'crime' of distinguished scholars like Ghulam Rasool Saeedi who wrote a great jurisprudential exegesis, pir Karam Shah al-Azhar who undertook translation of the Holy Quran and Dr Muhammad Tahir-ul-Qadri who produced thousands of lovers of the Holy Prophet (SAW) through his comprehensive work. He introduced newer concepts in writings and research. It was also to his credit that he produced hundreds of people like himself. Our religious scholars only know how to criticize others. Difference of opinion is one thing but turning it into mutual hatred and enmity quite another.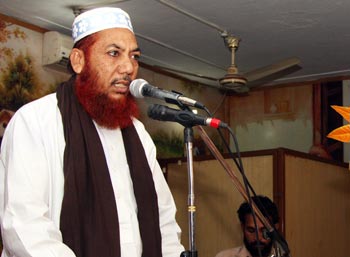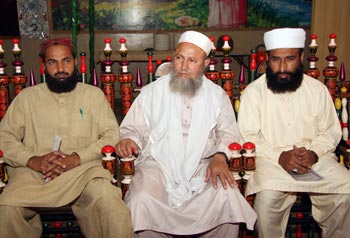 Allama Muhammad Aslam Shakoori, president of Jamaat-e-Ahle Sunnat, said in his talk that Pakistan should be proud of the fact that epoch-making people like Shaykh-ul-Islam lived in this country. He asked the government of Pakistan to implement the Islamic system in consultation with people like him. He said we did not want the Islamic system of extremists. He acknowledged the scholarly services of Shaykh-ul-Islam at the international level.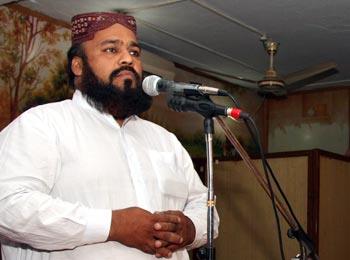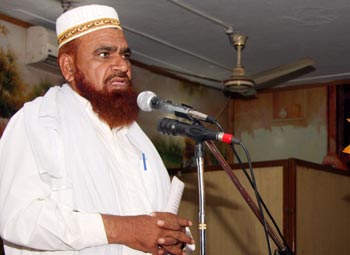 Allama Pir Sayyid Allah Din Shah said MQI was working worldwide for the revival of moral and spiritual values of Islam. The book al-Minhaj-us-Sawi was a great scholarly masterpiece for the Ulama. It is Allah's favour on the followers of Ahle Sunnat Who blessed us with the personality of Shaykh-ul-Islam. He prayed to Allah Almighty to give him long life.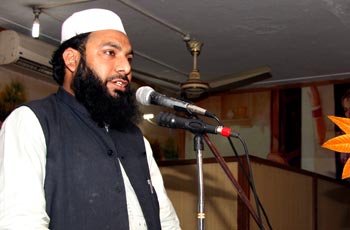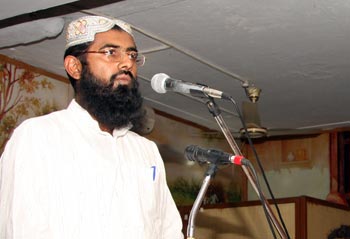 Allama Mufti Muhammad Haseeb Qadri, Nazim-e-Ala Jamia al-Markaz al-Islamia Shad Bagh, said that it was the way of MQI that it describes the greatness and high status of the Holy Prophet (SAW) after that of Allah Almighty. The chief quality of al-Minhaj-us-Sawi is that it is equally useful for people of every mental level due to simplicity of translation.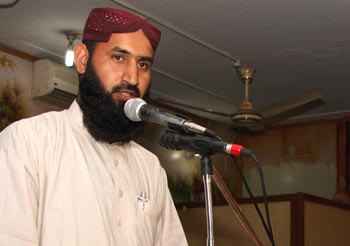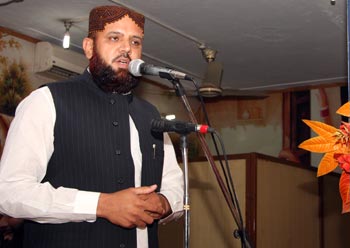 Allama Sayyid Farhat Hussain Shah said in his speech that there was a need to promote culture of forbearance and tolerance in the society today. Islam does not allow the killing of innocent people. The rights given by Islam have not been given by any other religion. Shaykh-ul-Islam is working hard to promote the real spirit of Islamic teaching today.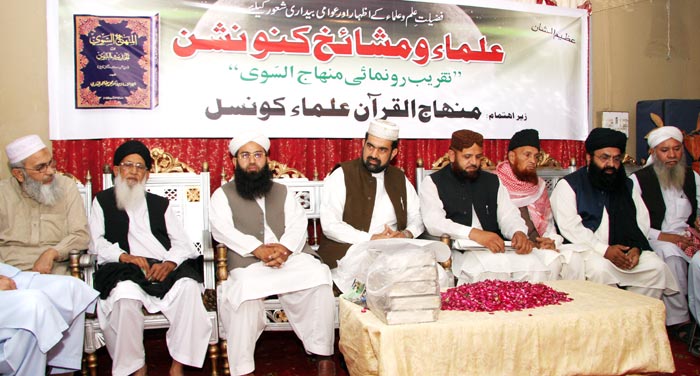 Allama Imdadullah Qadri said that we would have to promote Madaris and create ideological religious scholars instead of producing religious disciples so that we could counter this wave of wrong beliefs and misinterpretation. If we remained lax in the performance of this task, these terrorists would do every thing possible to spoil peace and harmony in the society.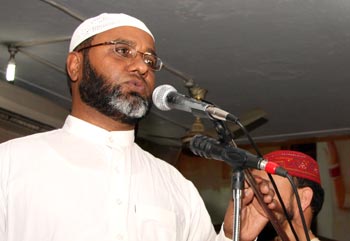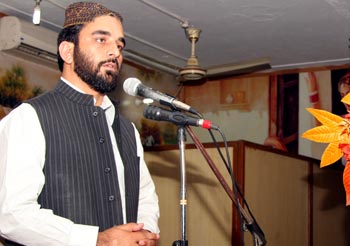 Allama Mir Asif Akbar Qadri said that we, the people belonging to ahle Sunnat, were being reduced to a minority due to our mutual rivalries, biases and hatreds. There is a need to close our ranks today. Shaykh-ul-Islam is defending internationally the attacks on our belief system and values. The religious scholars need to stand by him in the larger cause of defending and promoting the Islamic teachings. He said the book al-Minahj-us-Sawi was very useful asset for the Umma as it corrected the religious beliefs of people in this day and age marked by mischief and disorder.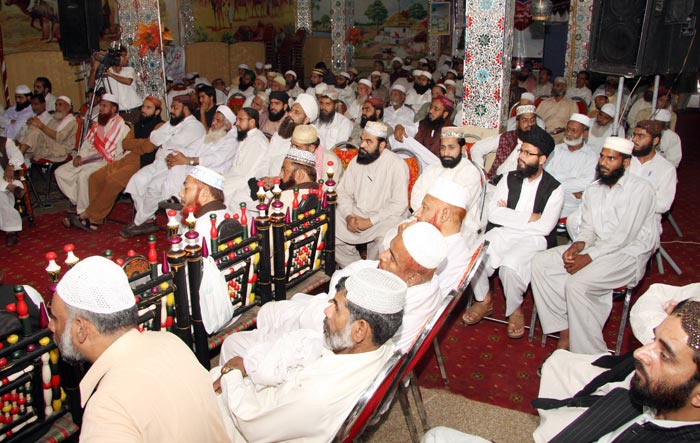 Allama Zulifqar Ali Mujaddidi, Allama Rahid Mahmood Qadri, Muhammad Saleem Yousufi, Jamshaid Qadri, Allama Saleh Muhammad Shah, and Qari Abdul Ghaffar also addressed the convention. Dua led by Mufti Ghulam Rasool Naeemi concluded the programme.