Renowned journalist of Geo TV Iftikhar Ahmad delivers lecture at Minhaj University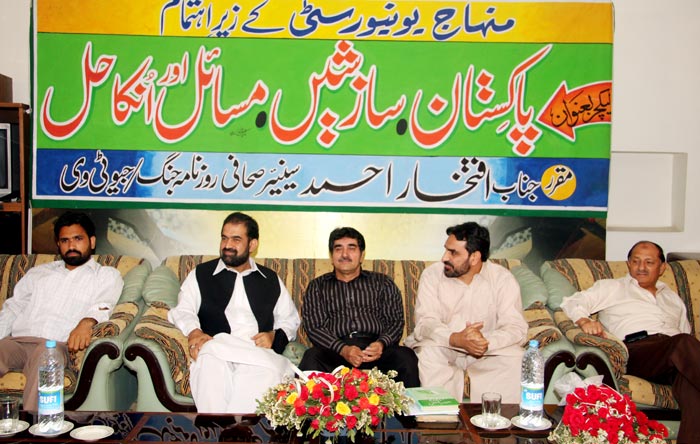 The College of Shariah & Islamic Sciences of Minhaj University organized an extension lecture in the University Model Town campus on May 5, 2009. Renowned TV journalist and anchor of famous programme 'Jawab Deh", Iftikhar Ahmad, was the speaker who delivered his speech on the subject of "Pakistan—conspiracies, problems and their solutions". In addition to staff of central secretariat and students of COSIS, Principal Dr Raheeq Ahmad Abbasi, Vice Principal Dr Zahoorullah al-Azhari, Dr Ali Akber Qadri, Dr Masood Mujahid, Mian Muhammad Abbas Naqshbandi and other teachers of the College also participated.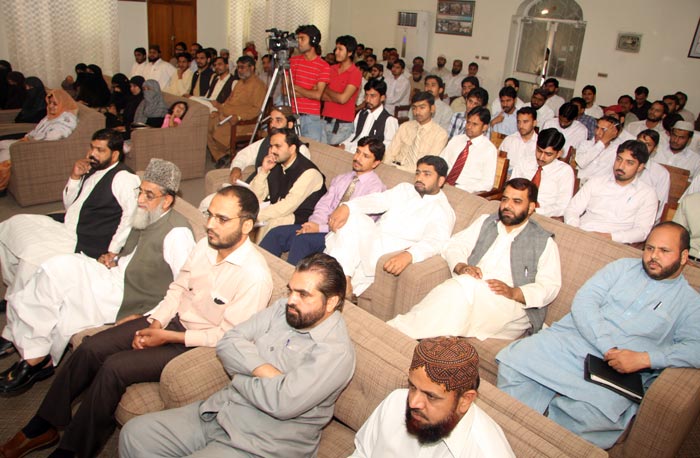 The formal proceedings of the programme got underway with the recitation from the Holy Quran by Qari Sayyid Khalid Hameed Kazmi followed by recital of Naat by Qari Anser Ali Qadri.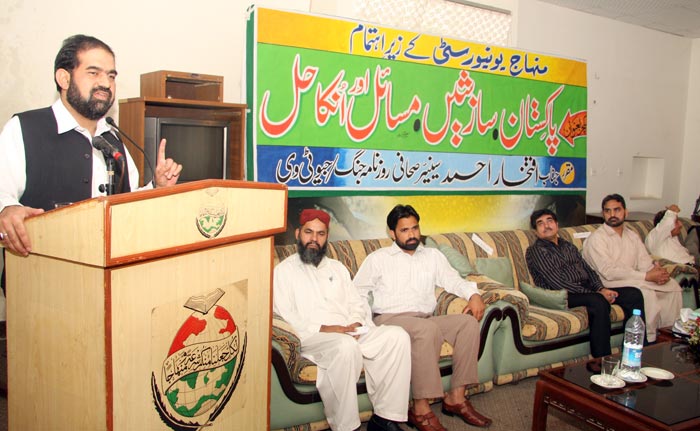 Dr Raheeq Ahmad Abbasi, principal of COSIS, welcomed the respected guest upon his arrival in the central secretariat of MQI. He paid rich tribute to the journalistic services of Iftikhar Ahmad. He said that Pakistan was passing through very difficult times and the concept of nationalism was being ripped apart by a combination of internal and external forces. Dr Abbasi said that Shaykh-ul-Islam Dr Muhammad Tahir-ul-Qadri founded Minhaj-ul-Quran International 30 years ago with a view to creating awareness among the youth and other sections of society so that they could live their life in accordance with Islamic ideology. He urged the people to develop unity in their ranks to foil all conspiracies against Pakistan.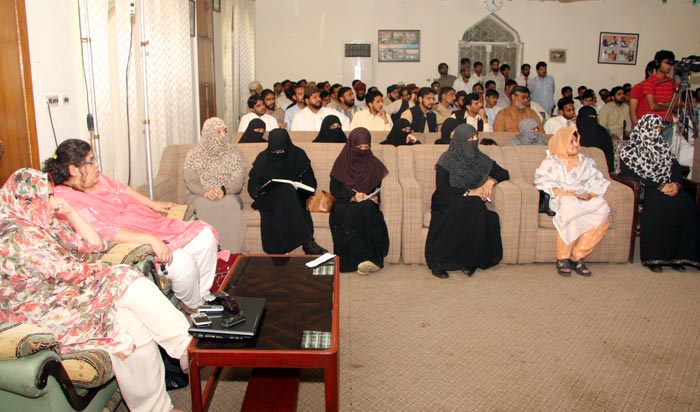 In his keynote speech renowned journalist, Iftikhar Ahmad, said that there are a number of research scholars who give lectures on diverse international topics but are unable to propose any solution to steer Pakistan out of this crisis. Why is it so?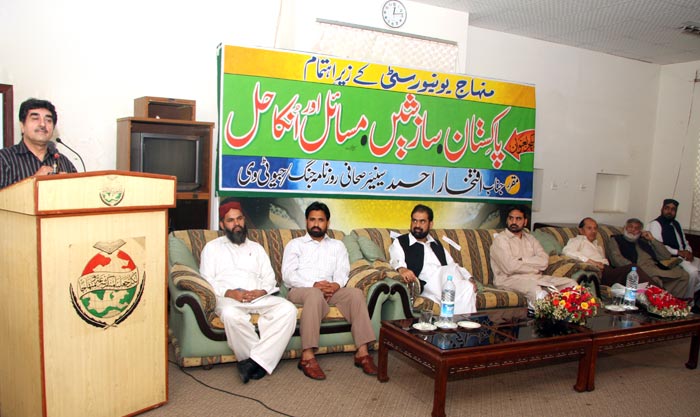 He said that a million people lost their lives at the time of establishment of Pakistan. Our crisis owes itself to lack of this admission. On other hand, people have divided themselves in different sub-national identities. Resources are meant for people but a privileged elite class has occupied them. We have selected such a leadership who do not enjoy any respect as they are hugely compromised.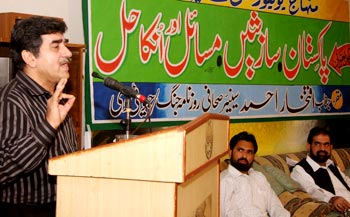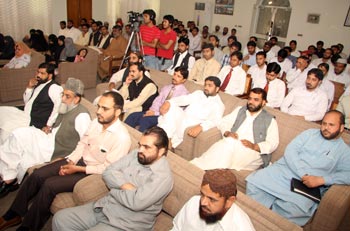 He said no one is ready to accept democratic process today. The Constitution of Pakistan 1973 envisages that the system of Allah and His Prophet (S.A.W) would be implemented but our mode of elections is such where ballot boxes are taken away and rulers are elected through rigging and fraudulent practices.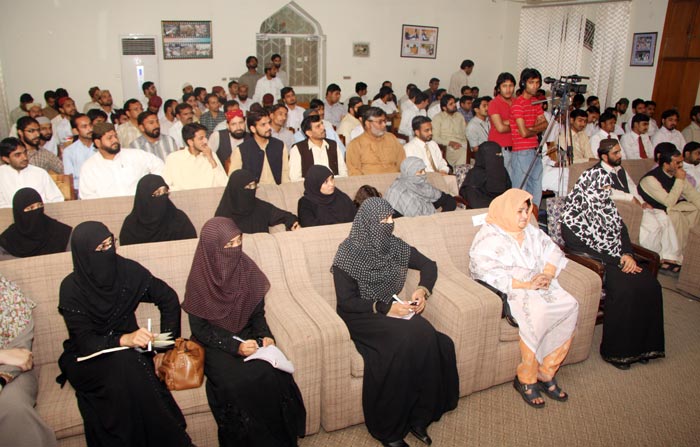 Iftikhar Ahmad said that the American newspapers never tire of predicting that Pakistan is a failed state but it is his faith that Pakistan would stay intact and no harm would come country's way. He said there are people in our society who misinterpret the Quranic injunctions to advance their ulterior agendas. Sufi Muhammad is one of them who neither accepts Constitution nor does he acknowledge democracy as being Islamic.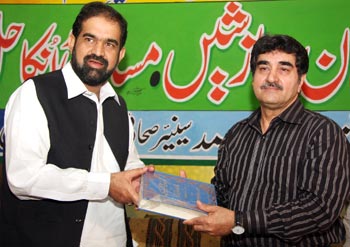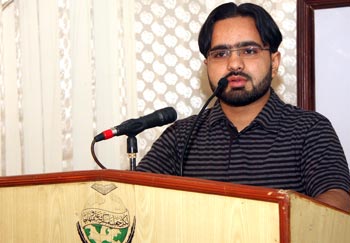 He said that the youth including both male and female happen to be 60 million in the entire population of the country. Therefore it is the responsibility of these people to use their right of vote to bring about peaceful revolution in the country. The youth should elect competent leadership through their vote power. If they learnt how to vote out incompetent people, no Sufi Muhammads or Talibans would be able to impose themselves on society. In the worst case scenario, if people like Sufi Muhammad ascended the throne, Pakistan would be dismembered.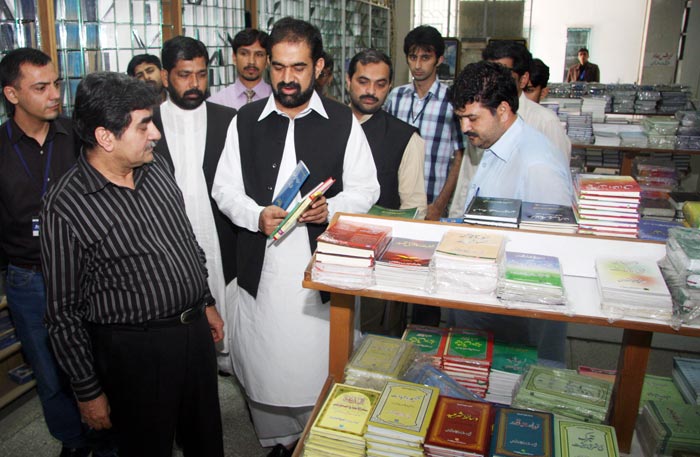 Answering questions of the participants after the lecture, Iftikhar Ahmad said that as long as Pakistan had patriotic people, the country would not come in harm's way. He said when Zulifqar Ali Bhutto established Pakistan People's Party, an American journalist asked him that there was no heavyweight in his party. To this ZAB replied that he would make the common man political heavyweight. Iftikhar Ahmad said that politics got divided into two parts i.e. ideological politics and regional politics. It is because of this reason Pakistan is passing through hard times because competent people cannot get into powers due to regional politics and those people become our political masters who do not deserve it. This is the major problem facing our country. We face the leadership crisis. When we would get a good leader, Pakistan would be on the path of progress and prosperity.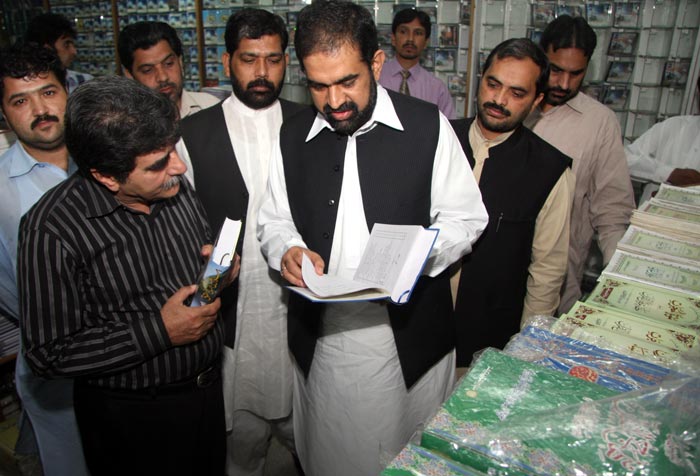 Iftikhar Ahmad said that he believed that it is not bullet but the ballot which would bring about revolution in the country. When the youth would decide to cast their vote, it would result in emergence of good and competent leadership. Iftikhar Ahmad said that women should enjoy freedom as Islam allowed them complete independence to live their life the way they liked. Islamic teachings are universal and who are we to limit her role in society.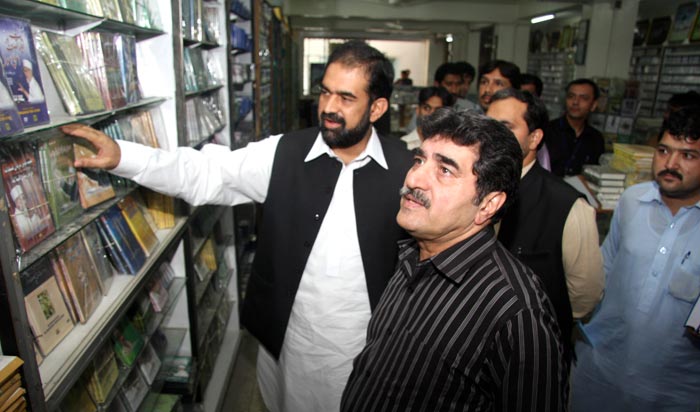 In the end, Iftikhar Ahmad said that the solution of all problems facing the country lay in the Constitution 1973. If the provisions of the Constitution are implemented fully, the fate of our country would change.
Dr Raheeq Ahmad Abbasi concluded the programme with his vote of thanks and said that if the youth learnt to use the power of vote for peaceful and positive change, the country could get good leadership. Muhammad Waqas Qadri conducted the proceedings of the programme.
After the programme, the respected guest called on Dr Raheeq Ahmad Abbasi and discussed matters of mutual interest with him. Later on, he visited different directorates and departments of the central secretariat. Dr Abbasi gifted Iftikhar Ahmad the books of Shaykh-ul-Islam and the 'Irfan-ul-Quran'.