Tahaffuz-e-Pakistan Ulama-o-Mashaykh Convention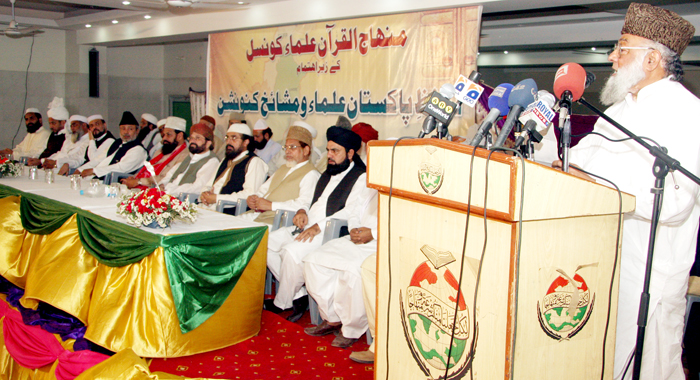 Minhaj-ul-Quran Ulama Council hosted "Tahaffuz-e-Pakistan Ulama-o-Mashaykh Convention" in its central secretariat in Model Town, Lahore, which was attended by prominent religious scholars and Mashaykhs from across Pakistan. The distinguished from among the participants included Pir Sahibzada Miskin Faiz-ur-Rahman Durrani, Pir Khawaja Moin-ud-din Koreja from Kot Mithan Sharif, Pir Sayyid Khawaja Ghulam Qutab-ud-Din Faridi, Pir Sahibzada Nabi Amin, Pir Abdul Haadi Qadri, Pir Makhdoom Sayyid Nafees-ul-Hassan Bukhari, Pir Sahibzada Saeed Ahmad Sabri, Pir Sahibzada Asadullah Ghalib, Allama Muhammad Mi`raj-ul-Islam, Mian Muhammad Hanafi Saifi, Pir Shafaat Rasool Qadri, Pir Sahibzada Faiz Shahid Faizi, Dr Sarfraz Naeemi, Nazim-e-Aala MQI Dr Raheeq Ahmad Abbasi, Allama Mufti Abdul Qayyum Hazarvi, Allama Prof Muhammad Nawaz Zafar, Prof Mian Muhammad Saleem, Pirzada Ali Ahmad Sabri, Sahibzada Muhammad Badr-uz-Zaman Qadri, Allama Sayyid Farhat Hussain Shah, Allama Mir Muhammad Asif Akber, Allama Muhammad Hussain Azad, Allama Ateeq Haider, Allama Abbas Naqshbandi, Allama Masood Mujahid and Prof Allama Muhammad Afzal Qadri etc.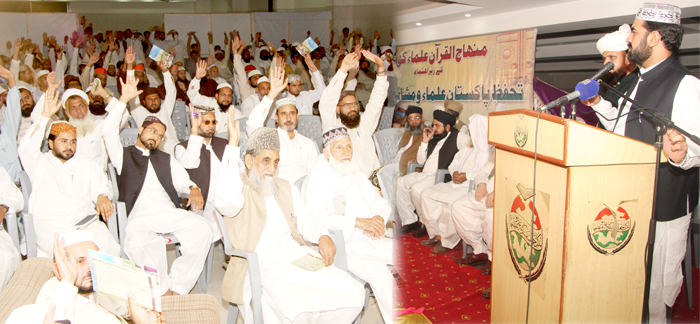 Text of Communiqué adopted at the Convention
Islam is a religion of peace and love and there is no space of extremism and terrorism in any form and manifestation in it. Therefore this Convention condemns all acts of terrorism perpetuated in the name of Islam and dubs them as anti-Islam;


Sufis have been playing key role in the construction of peaceful society, promotion of peace and harmony and propagation of Islam in every age. Their shrines are the cultural symbols and enjoy sanctity. Their desecration and vandalizing is an outright anti-Islam acts. Therefore, such actions are condemned in the strongest possible words. Islam does not allow the desecration of religious places of other religions and all such activities amounting to the same are also considered against Islamic teachings;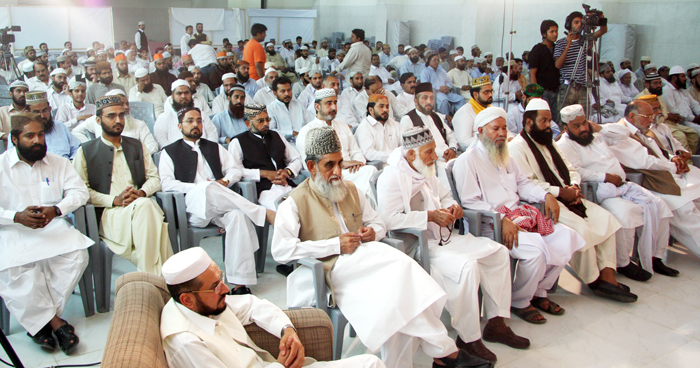 The Constitution of Pakistan 1973 is a complete and comprehensive document, which was adopted and passed with the concurrence of all strands of national opinion, and religions schools of thought. Therefore condemnation of the Constitution and the institutions of judiciary and parliament under it constitutes a clear violation of the Constitution, which cannot be tolerated at all. The Convention strongly condemns such behaviour;


Acquisition of knowledge is mandatory on every Muslim without any discrimination of gender and the definitive text of the Holy Quran proves that considering the women education as un-Islamic and destruction of the educational institutions is a violation of the Islamic teachings and rejection of the text of the Holy Quran. The holder of such belief who insists upon such a backward value system is responsible for defamation of Islam;


Suicide bombings on the innocent people are manifestly prohibited. Islam does not admit of them, rather it considers them an act of barbarism and terrorism. In the similar way, such acts as declaration of war against the army, security forces and law enforcement agencies of an Islamic state, killing of those having dissenting opinion and getting the demands fulfilled on gun-point are manifestly against Islam. The participants also strongly condemn such actions;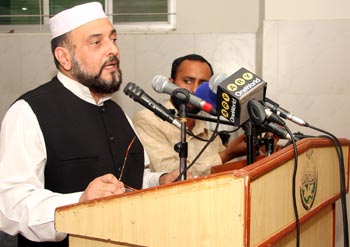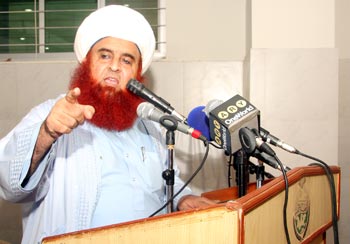 Islam gives a guarantee for respect and dignity of women, provision of equal opportunity for their education, and ensuring their practical role in society. Contrary to these Islamic injunctions, there is no space for self-styled understanding of Islam;


Those holding beliefs and ideology based on terrorism and extremism, rejection of democracy, violation of women rights, desecration of sacred religious places and shrines, mass-killing of humanity, suicide bombing, rebellion against the state institutions, violation of Constitution, occupation of cities by the armed men, and armed struggle against and Islamic state are only a minority group of Pakistan, who have nothing to do with Islam. This is rather a heinous conspiracy to defame Islam, and debunk its bright face. All Pakistanis in general and the religious scholars, Ulama and Mashaykh in particular dissociate themselves from these actions and condemn them in the strongest possible words;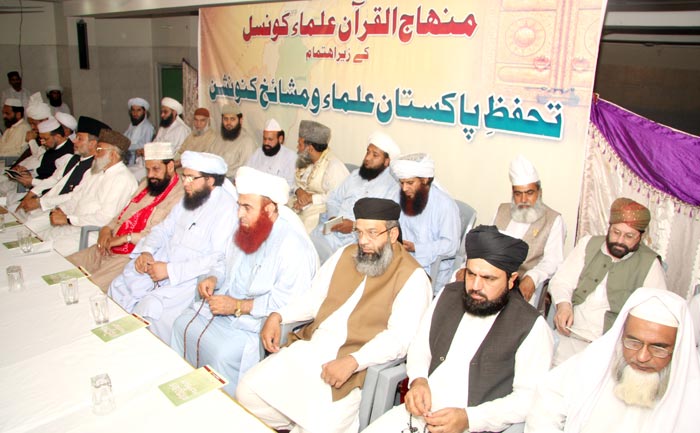 The Government of Pakistan is demanded to immediately implement the following demands adopted at the Tahaffuz-e-Pakistan Ulama & Mashaykh Convention for elimination of extremism, terrorism and establishment of durable peace in the country;
The secret and backdoor elements providing aid, patronage and support to the terrorists should be exposed and necessary steps should be undertaken to eliminate them;


A move for treason should be initiated against those elements belonging to governmental institutions, state machinery, and law enforcement agencies who have soft for the terrorists and militants and the state institutions should be purged of these elements;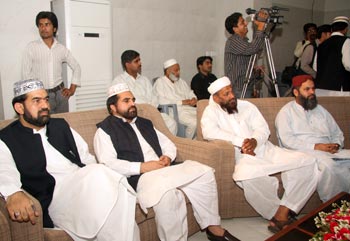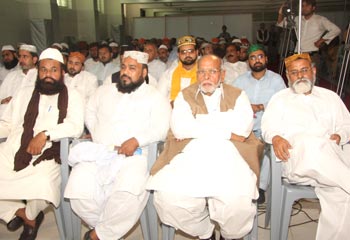 Pakistan's embassies in foreign should be activated and competent and patriotic people should be appointed to effectively respond to the challenges and negative propaganda against the country;


Immediate steps should be taken to expose the external hands especially the interference of our neighbouring country in worst terrorism inside the country and solid plan of action be formulated to stem such incidence;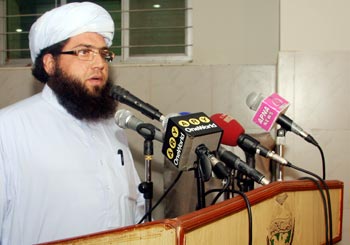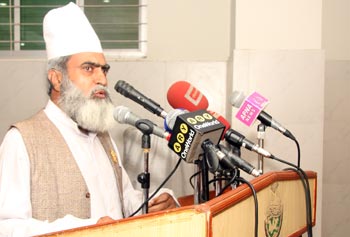 The free movement of terrorists and flow of supply of arms and other support should be disconnected through in-time and effective use of government machinery;


Fool-proof security arrangements should be made for the protection of religious leaderships, public and religious places, religious congregations and state institutions which happen to be possible targets of the terrorists in addition to securing the lives and properties of masses;


Instead of permanently depending on the military option for eradication of terrorism, other means like political engagement should also be explored and this strategy should be maintained;


Steps on priority basis should be taken for eradication of unemployment, poverty and ignorance from backward areas of Pakistan especially the tribal areas and NWFP;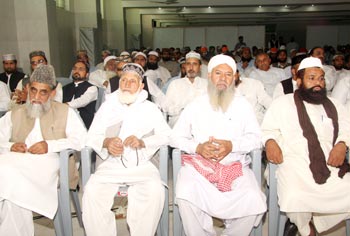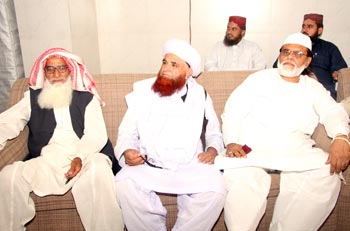 Steps are also needed to be taken on preferential basis for eradication of every form of exploitation, oppression, price hike, provision of cheap, speedy and easy justice, the respect for mandate of each other, strength of institutions and political stability in the country so that all possible factors that cause terrorism should be dealt with appropriately;


Such conditions and circumstances are being created in NWFP and Balochistan, which threaten the federation of Pakistan. The government should unearth all possible conspiracies and chart out effective strategy to deal with them;


All such literature, which can inflame and hurt religious feelings should be completely banned;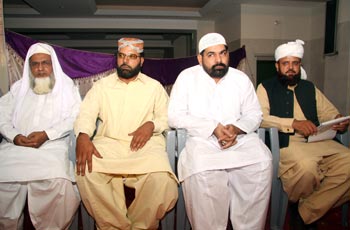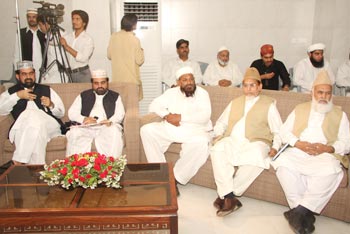 A Nation Conference comprising the representation of all religious, social and political parties of Pakistan should immediately be called in order to consider ways and means to formulate consensus-based national policy aimed at eradicating terrorism and establishing peace and necessary steps should be taken for its implementation by taking the nation into confidence;


In accordance with the methodology contained in the Constitution 1973, such steps should immediately be taken as aim at establishing the real Islamic System in keeping with the broad-based Islamic principles and for establishment of peace, justice, equality among all social classes, provision of fundamental rights, equal opportunities, protection of rights of minorities and Islamic value system and undertaking the legislation in accordance with Islam etc;


In the light of the above points, a comprehensive national policy should be formulated for the elimination of terrorism and this should be implemented by taking the people into confidence. This should be made a permanent part of National Security Doctrine;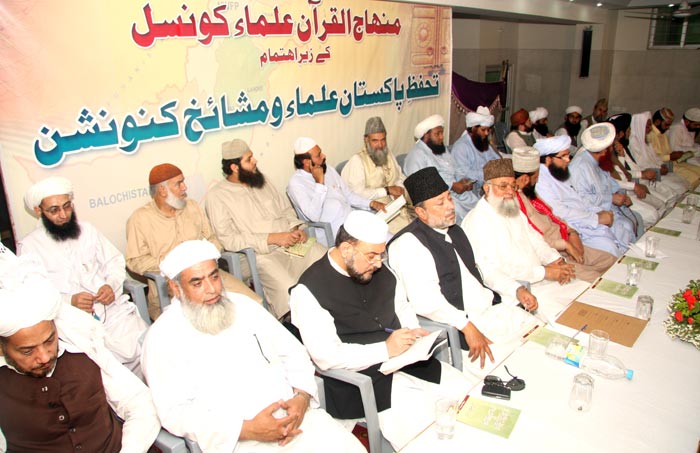 Side by side with the government, the entire nation especially its effective components such as lawyers, religious scholars, Mashaykh, politicians, journalists, intellectuals, teachers, traders and other organizations should also play their full role for the eradication of terrorism and its tendencies etc;


Ulama and Mashaykh had played key role at the time of establishment of Pakistan. Now they also need to play their full role in order to save Pakistan. Ulama-o-Mashaykh Conventions should be held across the country in this regard;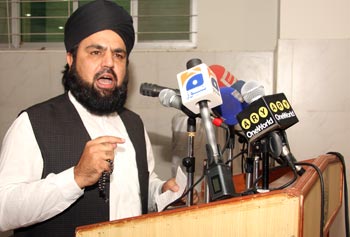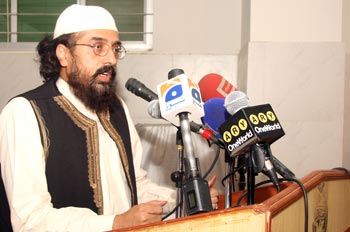 Media should also play more effective role for eradication of terrorism and should avoid broadcast and publication of such programs and news items which may encourage and publicize any form of terrorism either directly or indirectly. Media should keep the national interest, integrity and repute of the country supreme;


The government and other welfare organizations should play their effective role for relief and rehabilitation of people displaced due to ongoing situation in the Malakand division;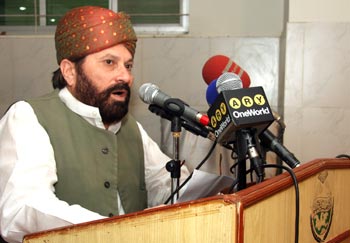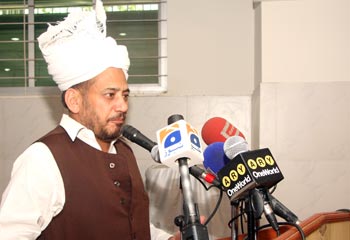 Ulama-o-Mashaykh agreed to the fact that the intelligence and law enforcement agencies of Pakistan did not only make effective policy for elimination of terrorists and terrorism in the last 30 years or so but also adopted double standards about them. One related to their opposition and other hinged on backdoor support, aid and encouragement of these elements. Despite official denial this is glaring reality and it would be next to impossible to deny these linkages. Otherwise these people would not have grown out of their size so soon. This game should be ended now so that peace should be able to return to this blighted land and its people. If foreign powers had been interfering in these matters, up to what level and how much responsibly have the Pakistani intelligence agencies and security organizations been playing their role? This gathering demands an end to policy of dualism at each level in future.