Monthly Spiritual Gathering of Gosha-e-Durood - July 2009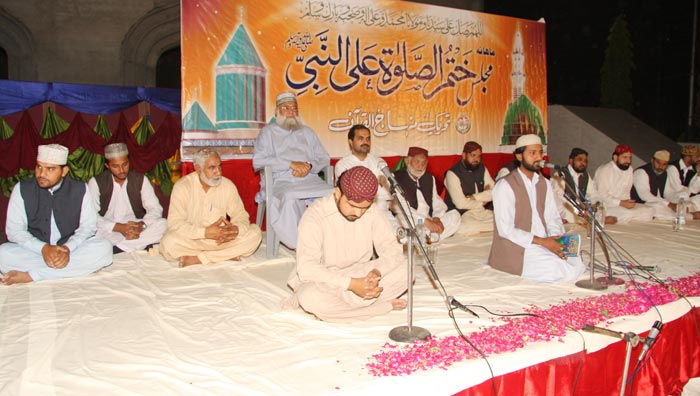 The 43rd monthly session of the spiritual gathering of Gosh-a-Durood under Minhaj-ul-Quran International was held on July 2, 2009, which was presided over by central Amir of MQI, Sahibzada Miskin Faiz-ur-Rehman Durrani. Acting Secretary General MQI, Sheikh Zahid Fayyaz, Ahmad Nawaz Anjum, Anwar Akhtar Advocate, Javed Iqbal Qadri, Mufti Abdul Qayyum Khan Hazarvi, Prof Muhammad Nawaz Zafar, Dr Shahid Mahmood, Allama Farhat Hussain Shah, Jawad Hamid, Sahibzada Muhammad Hussain Azad, Dr Tanvir Azam Sandhu and other central leaders of MQI attended the program.
The programme got underway at 10:30 pm with the recitation from the Holy Quran by Qari Allah Baksh Naqishbandi followed by recital of Naat by Minhaj Naat Council, Abdul Basit Madni, and other renowned Naat-Khawans of the country. Allama Ahmad Nawaz Anjum presented the report of the Gosh-a-Durood and said that the number of Durood offered in the month of June was 36 corers, 18 lakh, 6 thousand, 6 hundred and 78.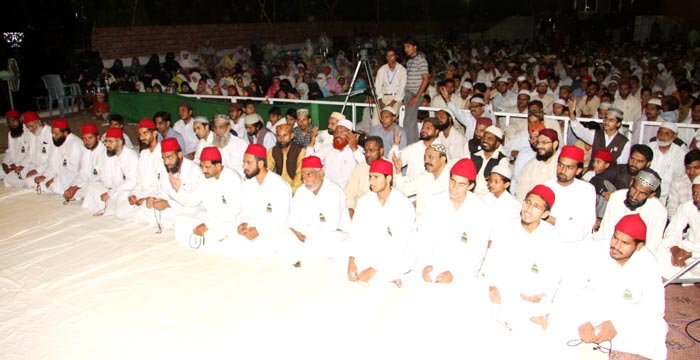 After the Naat Khawani, the telephonic address of Shaykh-ul-Islam started at 12:15 am. He began his speech with the verse no 110 of Sura Ale Imran:
كُنتُمْ خَيْرَ أُمَّةٍ أُخْرِجَتْ لِلنَّاسِ تَأْمُرُونَ بِالْمَعْرُوفِ
"You are the best community brought forth for (the guidance of) mankind: you command righteousness," (110:3)
Shaykh-ul-Islam said that the use of word 'Khair' denoted the invitation to the way of life of the Holy Prophet (saw). He said that pious deeds, the Holy Quran and Sunna, Durood, piety, fulfillment of rights, good conduct and manners all in fact invite to the ideal and beautiful manner of behaviour. He recited the following verse from Sura al-Baqarah:
أُوْلَـئِكَ هُمُ الْمُفْلِحُونَ.
"…….it is they who shall achieve real success." (5:2)
He said that only that nation and society would succeed which would propagate good and forbid evil. The actions of workers belonging to different organizations would be accepted who invite others to the good. Therefore, it was necessary for the success of the invitation that one should first implement what one was going to preach to others. He said that the invitation would be most effective and result-oriented when the person performing this obligation would have it in his own faith. He should be ahead of others in the performance of good and pious deeds and should hasten to submit himself to his Lord and is over and above greed, bias, and materialistic pursuits. It is only in these conditions that his preaching would bear fruit.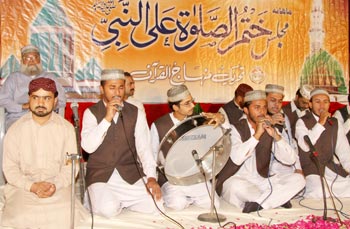 Describing the importance of number 5, Shaykh-ul-Islam Dr Muhammad Tahir-ul-Qadri said that the pillars of Islam are also five, prayers are also five times a day, the joints of bones are five. There are also five matters related to fasting and the same is the case with the Hajj. The pillars of Zakat are also five and demands of faith are five too. He said that it was dire need of the hour that we not only saved ourselves but also our children from the fire of hell. Shaykh-ul-Islam said that it was now the age when religion has started to be regarded as alien. Those who act upon the teachings of the religion also appear to be stranger in the world. People engrossed in the worldly affairs regard them as aliens belonging to some distant lands. That was why real religious scholars felt alienated from the rest of the Pakistani society.
Referring to a Prophetic tradition narrated by Hazrat Zaid Bin Haris, he said that the Holy Prophet (saw) said that no doubt religion emerged as something stranger in solitude. The beginning of the faith took place in solitude. The Holy Prophet (saw) said that my Umma would see such a period where religion would be relegated to solitude and considered alien.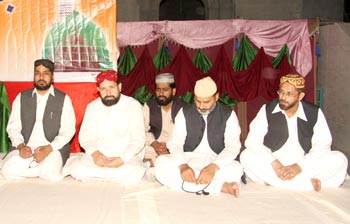 Shaykh-ul-Islam Dr Muhammad Tahir-ul-Qadri said that this age of strangeness had started but those working hard for religion and serving it had immense status. Reforming the religion in such an age when it was being disfigured and debunked was the greatest Jihad. Allah be thanked that Minhaj-ul-Quran International was espousing the same mission and by grace of Allah Almighty it would be successful one day with His and His Prophet's help.
Referring to another Hadith, Shaykh-ul-Islam said that the Holy Prophet (saw) said: I swear by God in Whose Hand is my life. You would have to continue the work of good. If you did not do so, Allah would perpetuate such a torment upon you that your prayers would not be granted. The Holy Prophet (saw) asked: Keep spreading good and forbidding evil lest such a time visits you when your prayers do not get accepted and torment is perpetuated upon you and then disgraced leaders are imposed upon you. You pray but your prayers are not accepted.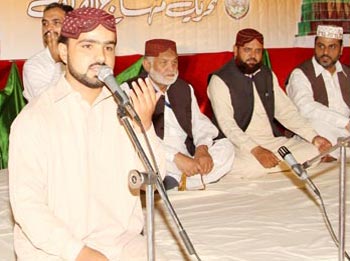 Shaykh-ul-Islam Dr Muhammad Tahir-ul-Qadri said that people were living in such a society today where corruption, killings, and ridicule of religion were rampant. In such a state, Allah subjects such a nation to torment before death. He said people had one way of stopping this vice and it was power of the ballot, which people could use to eliminate vice and corruption from society. If Pakistani nation still wanted to change itself and wanted to see the country back on path of progress and prosperity, it would have to vote out evil people and vote in good people.
Mentioning another Hadith narrated by Hazrat Ali (ra), Shaykh-ul-Islam said that the Holy Prophet said: due to evil deeds of a few people, Allah does not subject entire nation to torment. If vice and evil spreads and everyone sees but does nothing to stop it despite having the power to do so, it would cause torment. Shaykh-ul-Islam said that when torment is perpetuated on people, its consciousness is snatched first. The nation fails to understand as to why it is being subjected to torment.
At the end of the programme, Shaykh-ul-Islam gave a special 'Wazeefa' to the workers and associates of MQI for improvement in the national conditions. Amir-e-Tehreek Miskin Faiz-ur-Rehman Durrani led the special prayer. Allama Muhammad Waqas Wasil, a renowned anchor of Sahr TV, conducted the proceedings of the program.