1st Day of Tanzimaat Camp 2009 MWL Pakistan
| | |
| --- | --- |
| Date: | 27th July 2009 |
| Venue: | Conference Hall Central Secretariat Minhaj-ul-Qura'n International |
| Lecturers: | Sahibzada Hussain Mohi-ud-Din Qadri. |
| | Fatima Mash'hadi |
| | Sumaira Rafaqat |
| | Tahir Hameed Tanoli |
By the grace of Almighty Allah and the blessings of Holy Prophet Muhammad (blessings and peace be upon him) the Minhaj-ul-Qura'n Women League organized its five day training camp for Tanzimaat to train them on both spiritual and moral bases to enhance their output in the field. On the first day of this camp 107 sisters from all over Pakistan joined this camp. The proceedings started with recitation of verses from the Holy Qura'n followed by a beautiful Nasheed and Darood-o-Salam.
Sister Sajida Sadiq (Naib Nazima Minhaj-ul-Qura'n Women League) gave introductory briefing. She extended to the sisters warm welcome and explained to them in detail the aims and purposes of the camp.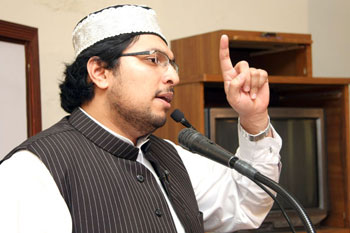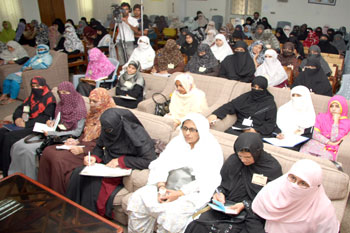 Sister Sabah Fatima Mash'hadi, President Minhaj-ul-Qura'n Women League, delivered a magnificent talk on the topic "Reasons of decline of Muslim Ummah". She in detail pointed out the social evils that have plagued the Muslim Umma these days. She said that for last 2 centuries Muslim Umma has been facing decline in every field of life. The only reason behind all this is that Muslims have forgotten the teachings of Islam. They are not following the Golden principals of the Qura'n. She said that Islam is the most modern religion of this world. If we want to lead the world once again we have to adopt the way of Qura'n & Sunnah. Minhaj-ul-Qura'n Women League is working to rebuild the broken relation of Ummah with the Qura'n under the most enlightened leadership of Shaykh-ul-Islam Dr Muhammad Tahir-ul-Qadri.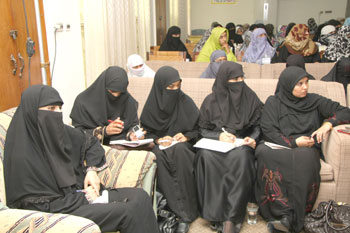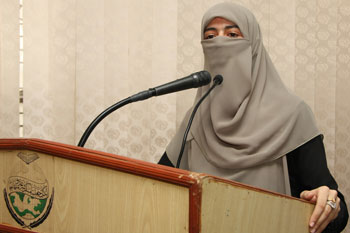 Sister Sumaira Rafaqat, Central Nazima Women League, delivered a beautiful lecture on responsibilities of workers that was highly appreciated by the audience. Highlighting Women Leagues performance and efforts made by Tanzimaat she said that only by spreading a vast network of Halqa-e-Darood and Halqa-e-Irfan-ul-Qura'n we can achieve our coveted goal. Our purpose is not merely holding Mahafil-e-Milaad or conducting workshops and seminars for their own sake; rather, we need to build a strong relation with Mujadad-e-Asar. We need to join the "Jama'at" and then to follow the "Ameer". Minhaj-ul-Qura'n is the most dynamic movement of this century and Shykh-ul-Islam's personality is unmatchable.
Dr Tahir Hameed Tanoli said that relation of a worker with his leader is a categorical imperative for a dynamic movement like MQI. He gave the example of a train and said that only those compartments meet there destiny that are joined to the engine. If a compartment is untied, it will stay there on the track. The engine will reach the destiny anyway. He said that we need to make an unbreakable relation with the Quaid-e-Tehreek and we should have a strong faith in his teachings. Moreover, our today should be better than our yesterday. We need to keep our way towards betterment. An individual's change is the first step towards the change in the society.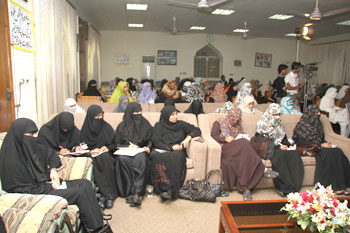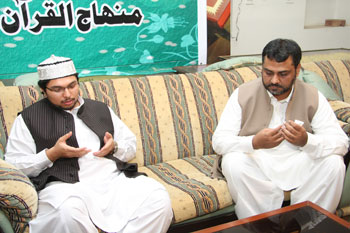 Sahibzada Hussain Mohi-ud-Din Qadri, the beloved son of Shykh-ul-Islam Prof. Dr. Muhammad Tahir-ul-Qadri, delivered his most valuable talk on "Muhammad-ur-Rasool-ul-Allah (blessings and peace be upon him)" and his speech had a magical effect on the audience. He beautifully explained the reason why Almighty Allah bestowed "Nabuwwat" (prophethood) at the age of 40 upon our Holy Prophet. He said that there is a huge difference in Muhammad (blessings and peace be upon him) and Rasool-Allah (blessings and peace be upon him). Muhammad (S.A.W) is a "Zaat" (personality) and Rasool-Allah (S.A.W.) is a "Mansab" (post). He said the personality is to be loved and post is to be obeyed. Almighty Allah gave 40 years to Sahaba (R.A.) to love Prophet Muhammad (blessings and peace be upon him). The reason behind it was that when one loves someone it becomes easy to obey him. He said that love of Prophet Muhammad (S.A.W.) is the pillar of Imaan. If one loves Muhammad (S.A.W.) he will automatically obey Hazrat Muhammad (S.A.W.) He said that in the same way, the love of Ameer is also very much important. When you select someone as your leader you should follow him and have faith in him.
The first day of this camp ended on special prayers and Salam.
Reported by: Sadaf Iqbal