Sahibzada Hussain Mohi-ud-Din Qadri Meets with DFA-Staff
The members of DFA Staff had a meeting with Member Supreme Council MQI Sahibzada Hussain Mohi-ud-Din Qadri at Aiwan-e-Quaid on 9th Aug, 2009. A detailed briefing was presented by DFA in this meeting to Sahibzada Hussain Mohi-ud-Din Qadri regarding the present Structure of DFA, last five years progress reports of foreign sales, membership and donations and about the current network and ongoing activities of Minhaj-ul-Quran International in the foreign world.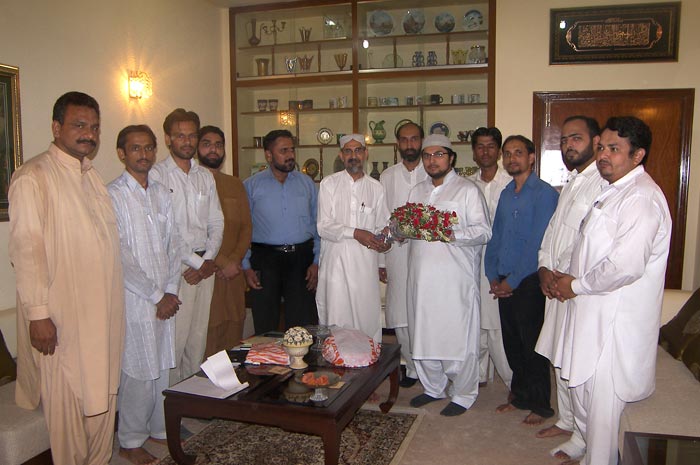 The DFA members including the Director and Principal Secretary to Shaykh-ul-Islam Respected GM Malik, Deputy Director Imtiaz Hussain Awan, Deputy Director (P&D) Sajjad-ul-Aziz, Assistant Director Finance & Welfare Nadeem Ahmad Awan, Assistant Director (Protocol & Coordination) Rana Nafees Hussain, Secretary Sales Fazal Hussain, Secretary Foreign Affairs Mian Muhamamd Ishtiaq, Secretary Communication Ali Hasnain Hashmi, Secretary Membership Muhammad Waseem Raza, Driver DFA Muhammad Aleem and Office Assistants DFA Nasar Hayat Shakir and Shahzad Ahmed attended the meeting.
Sahibzada Hussain Mohi-ud-Din appreciated the performance of DFA and congratulated its staff on their dedicated and valuable services for the foreign network of Minaj-ul-Quran International. Talking to them on various aspects of DFA performance, he urged the staff members to introduce and initiate modern trends in completion of their official assignments and should think out of the box. He gave them very comprehensive guideline for further enhancement in DFA work. He wished them success in their noble endeavors and prayed for greater achievement in the time to come.