Monthly Spiritual Gathering of Gosha-e-Durood - August 2009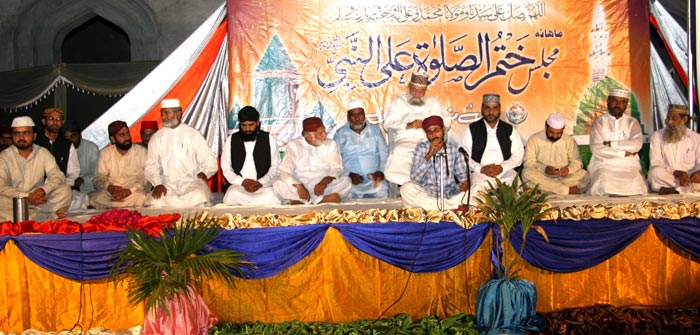 The central 44th programme of monthly Spiritual Gathering for August 2009 was held in the Central Secretariat of Minhaj-ul-Quran International. A large number of people, both men and women, from across Lahore participated in the programme. A separate place was demarcated for the women in the venue. Sahibzada Miskin Faiz-ur-Rahman Durrani presided over the programme, whereas Sahibzada Hussain Mohi-ud-Din Qadri also attended the programme on special invitation. The prominent guests included Sheikh Zahid Fayyaz, G.M. Malik, Mufti Abdul Qayyum Khan Hazarvi, Haji Muhammad Saleem Qadri, Javed Iqbal Qadri, Allama Ahmad Nawaz Anjum, Prof Muhammad Nawaz Zafar, Haji Riaz Ahmad and other leaders.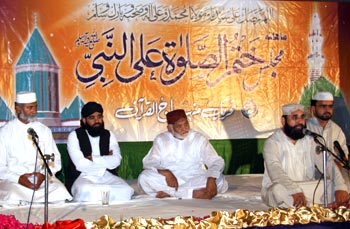 The proceedings of the spiritual gathering got underway at 10:30 pm after the Isha prayers with the recitation from the Holy Quran by Qari Allah Bakhsh Naqshbandi followed by recital of Naat by Minhaj Naat Council, Qari Anser Ali, Abdul Basit Makki, Shahzad Ashiq, Shahzad Hanif Madani and other Naat-Khawans. Allama Ahmad Nawaz Ajjum presented the report of Durood previously offered. The first part of the programme ended at 1:00 a.m.
Arrangements for "Salat-o-Tasbeeh" were made in the central Mosque Minhaj-ul-Quran where Qari Allah Bakhsh Naqshbandi led the prayer. The second part of the programme started at 2 am, which was presided over by Sahibzada Hussain Mohi-ud-Din Qadri, the member of MQI Supreme Council. At 2:30 a.m., Shaykh-ul-Islam Dr Muhammad Tahir-ul-Qadri delivered his address to the gathering. His speech was shown on huge video digital screen.
Shaykh-ul-Islam Dr Muhammad Tahir-ul-Qadri spoke on the topic of 'Repentance'. He said that the message of 'Shab-e-Barat' was that we beseeched our Lord to forgive our sins. Allah Almighty sees His subjects from on High and decides about their important matters like birth and death etc. So whosoever chose to remain awake for worship of his Lord and repented of his sins, it is possible that He may alter his fate by forgiving him for his mistakes and sins. He said he who pleased his Creator and became one of His humble subjects, for him every night has the status of a 'Shab-e-Barat'. He urged the participants to work hard to make every night a night of worship.
Shaykh-ul-Islam Dr Muhammad Tahir-ul-Qadri regretted that evil values such as arrogance, conceit, selfishness and greed had become part and parcel of our lives. These things have damaged our collective life and have alienated us from our Lord. He said that Islamic values were being debunked in the name of liberalism with the result that religion had come to be understood as merely a set of rituals, which were to be performed during specific days and nights.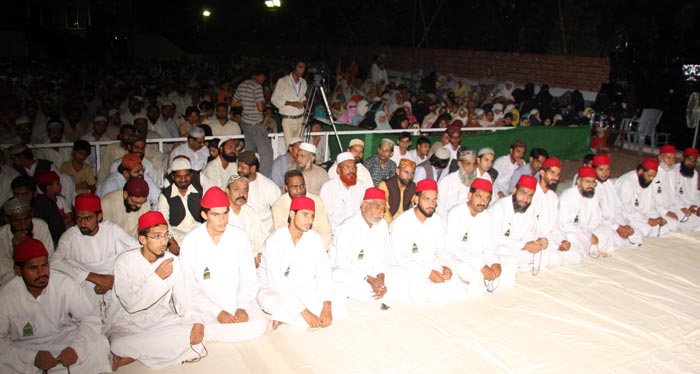 He said Minhaj-ul-Quran International had taken up the challenge of not only correcting the religious beliefs of people but also reviving the Islamic values which were otherwise dying in a materialistic society. He urged the youth to come forward and play their due role in the projection of Islamic message of peace, harmony and dialogue.
The address of Shaykh-ul-Islam Dr Muhammad Tahir-ul-Qadri continued for 1:30 hours. He led a special prayer for the security and progress of Pakistan in particular and the Muslim Umma in general.