Talent Excellence Award Ceremony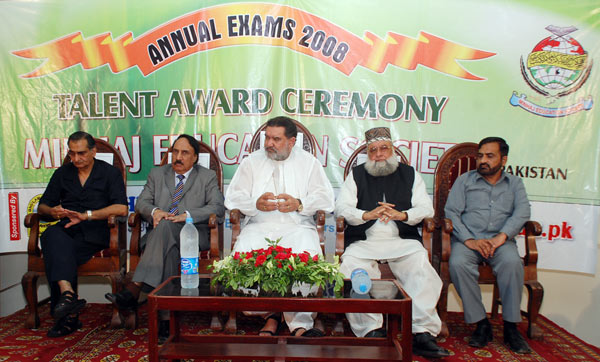 A ceremony to honour the position holders in the matriculate examination held under the Board of Intermediate and Secondary Education was organized in the Ghazali Hall on August 26, 2009 under the banner of Minhaj Education Society. Amir-e-Tehreek, Miskin Faiz-ur-Rehman Durrani, presided over the ceremony, whereas Sayyid Bilal Gillani; the brother of PM Sayyid Yousuf Raza Gillani, was the guest of honour on the occasion. Naib Amir-e-Tehreek Brig. (r) Iqbal Ahmad Khan, Director Foreign Affairs Muhammad Mustafa (G. M. Malik), Chairman Association of private Schools Adeeb Javidani, Prof Muhammad Rafique Sayal, Minhaj Education Society MD Shahid Latif Qadri, Sardar Muhammad Iqbal, Saifullah Bahtti and other leaders were present among the distinguished guests.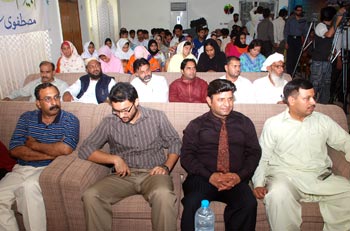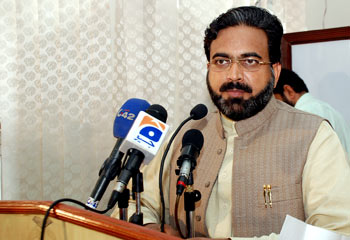 More than 500 students of Minhaj Model Schools who got 80% marks in the examination participated in ceremony. The formal proceedings of the programme got underway with the recitation from the Holy Quran followed by Naat.
In his introductory briefing, Shahid Latif Qadri; Managing Director of Minhaj Education Society, said that 572 schools were working in the country where thousands of the students were getting education. He said that the credit to establish this huge network of educational institutions went to Shaykh-ul-Islam Dr Muhammad Tahir-ul-Qadri who has taken it upon himself to spread knowledge and awareness in the society.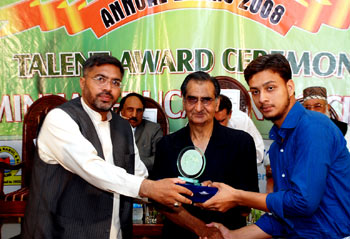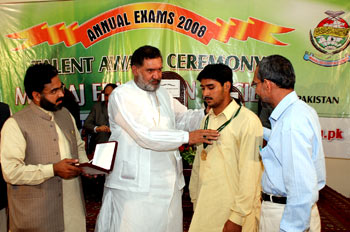 He told that those students who got 80% or more than 80% marks were participating in the ceremony. Minhaj Education Society is proud of its students who brought a good name to their institutions through their performance. He said that the purpose of the ceremony was to honour and encourage the position-holding students.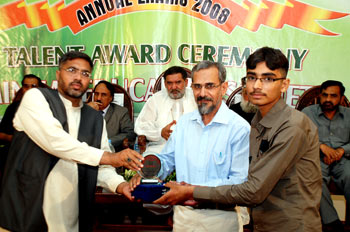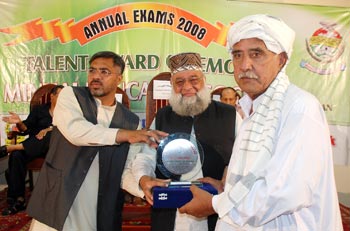 Sayyid Bilal Gillani, guest of honour on the occasion, said that Shaykh-ul-Islam Dr Muhammad Tahir-ul-Qadri is the asset of the Muslim Umma who is busy spreading the light of knowledge and awareness to every nook and corner of the country despite limited resources. He can rightly be credited for his contributions. Intellectuals and scholars like him are very rarely born. We would have to support MQI and person like Dr Muhammad Tahir-ul-Qadri for positive change in the society. He said that if such efforts continued, a day would come when the darkness of ignorance would evaporate.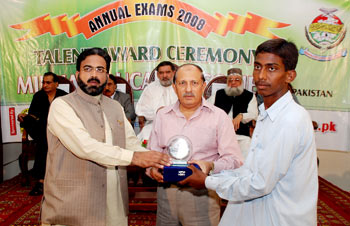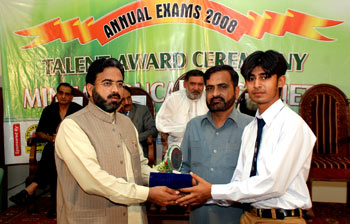 Amir-e-Tehreek Miskin Faiz-ur-Rahman Durrani said that Sir Sayyid Ahmad Khan gave one Ali Garh, whereas Shaykh-ul-Islam Dr Muhammad Tahir-ul-Qadri has promised to give one hundred Ali Garhs. He said that he saluted the position holders who brightened the name of their institutions and parent through hard work and self application. He said that the country could progress if such people moved forward and played their due role.
Prof Muhammad Rafique Sayal, Brig (r) Iqbal Ahmad Khan, Ghulam Rasool Yazdani and others also spoke on the occasion and appreciated the efforts of Minhaj Education Society. Prizes were distributed among the position-holding students at the end.