Women Training Itikaf 2009: Ninth & the Last Day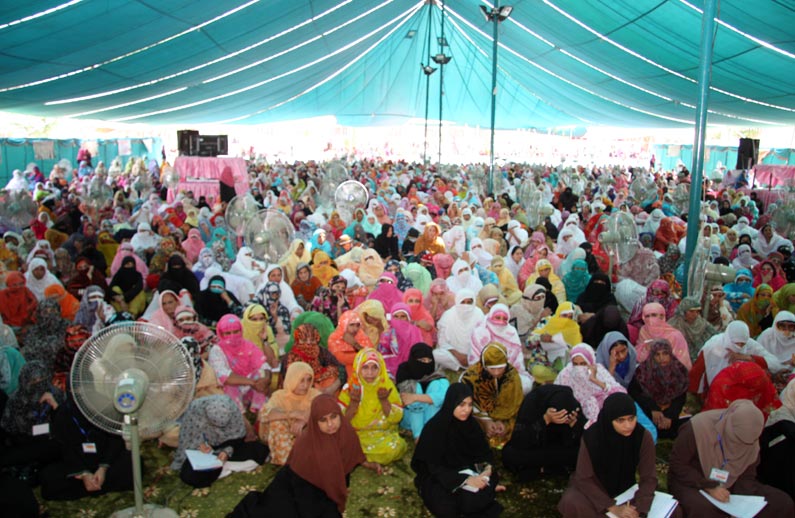 The preceding night programme lasted till 03.00 a.m. The 'mu'takifat', therefore, took rest after Fajr prayer. Sala-ut-Tasbih was performed at 10.00. The last lecture for 'mu'tafikeen' and 'mu'takifat' by Shaykh-ul-Islam Dr Muhammad Tahir-ul-Qadri started after the Sala-ut-Tasbih was over.
Today Shaykh-ul-Islam spoke on Tasawwuf especially Zuhd known as renunciation or self-erasure. He observed with regret that people living on hunger and thirst have passed away centuries ago. Allama Iqbal perceived it with pain and turned towards the great spiritual master Pir Mehr Ali Shah to understand the philosophy of union with God. According to Iqbal there was a great dearth of awareness about Tasawwuf and centuries had gone by when people lived a life with true gnosis and knowingness of Allah. Shaykh-ul-Islam mentioned a few eminent personages who contributed to Tasawwuf a great deal. He dwelt at length on taking an account of Imam Asqalani, Imam Ahmad bin Hanbal, Imm Jafar , Imam Azam Abu Hanifa, and Amir-ul-Mu'minin fi'l-hadith Imam Abdullah bin Mubarik. He especially mentioned their works, practices and rituals these great and exalted people observed and left quite enlightenment for the generations to come. He explained their work on Kitab-e-Zuhd and informed the audience that this was practiced by Ashab-e-Suffa under the direct guidance of the Beloved Messenger of Allah (blessings and peace be upon him). He said according to the teachings of the Quran and Hadith disinclination towards the worldly pursuits and strong inclination towards love for Allah, love for His Messenger and love for the Quran constitute Zuhd. It is the concern for the Real Master and the Creator of the universe and not for anything else that lands one in the pasture known as Zuhd. Here you deny your self the worldly lusts, desires and ambitions and concentrate on good works and pious deeds that please Allah and will prove beneficial in the hereafter. This is love for promotion of environment conducive to pleasant, amicable, dignified and anxiety-free social life that come about by following selfless, altruist and philanthropic motives. Instead of acquiring, accumulating, getting, storing and hoarding, you give away to others to fulfil their needs. You forget your own self and your own needs and sacrifice everything for the needy with the ultimate objective to behold the countenance of Allah and please Him this way or that way for easy proceedings on the Dooms Day.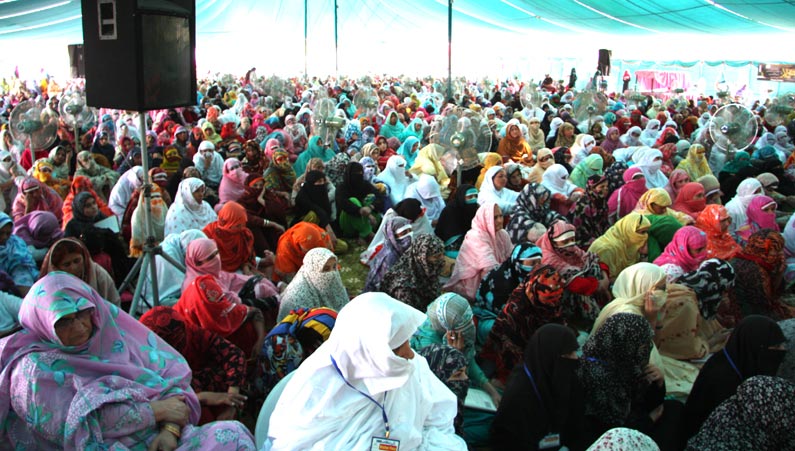 Someone asked Rabi'a Basri what could help meeting God. She said: remaining hungry. It is to train your self to stay away from gratification of lusts. There are three things that lead one to God: Keeping hungry i.e. denying oneself fulfillment of desires and lusts; keeping heart disinclined towards worldly pursuits and divorcing the world forever. Love for the world is the actual quagmire you get snared in. When asked how he reached the station of meeting with Allah the venerable Fudayl ibn Iyad said: there are seven things. Contain your commanding self of lusts; pure your heart of love for world; regard yourself inferior whomever you meet; give up bodily comfort and toil hard; be extinct to yourself and think always of Allah; live in spiritual retreat and fear Allah always. Shaykh-ul-Islam then interpreted all the seven points at length. Elaborating it further he explained five attributes of a perfect seeker. The one who treads the path of spiritualism exercises stringent self-control; he glorifies Allah and prostrates himself abundantly with a feeling as if he is beholding Allah or Allah is beholding him; regretting good deeds that he missed; stays away from the dead company or the company of those who run after worldly interests; saves himself from negligence. One feels fed up with the world. Worldly pleasures have no significance or attraction for him. He follows the Prophetic Sunna with love and concern. He firmly believes in what Allah has promised. When the servant's heart is emptied of love for worldly interests a window opens to him and he is enabled to see the invisible. The veils are removed and spiritual elevation lifts him aloft. The servant turns to Allah in obedience and Allah turns to His servant with love. He then finds the disclosures of the realm of angels and Allah bestows upon him the effulgence of the realm of divinity. The servant gets near His Real Master. He then lives in the Divine Company. That is how the eminent saints were blessed with exalted stations. Someone dreamt of Imam Ahmad bin Hanbal after his demise. He asked how Allah received him. He said Allah forgave him and dressed him in attire of gold and said: I am kind to you because you took great troubles for me in the world. I asked what about Bashar Hafi. He said: Who can be like Bashar Hafi? When I reached he was sitting in front of his Lord and Allah was saying: You gave up delicious dishes for me; now I feed you with my own hand. You gave up tasty and delightful drinks for my sake; now I serve you delicious drinks myself. Drink from my hands and enjoy.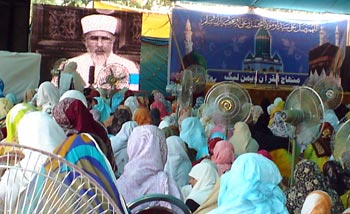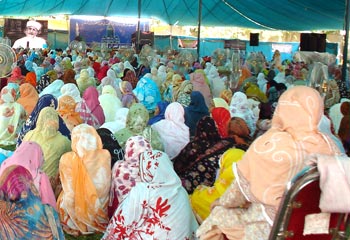 After Zuhr prayer the Mu'allimat revised the contents and teachings of Sura Noor in their Halqa-jaat. They invited questions from the 'mu'takifat' and replied up to their satisfaction. A farewell Mehfil had been arranged for the 'mu'takifat' in the assembly area after Asr prayer. The Na'at Khawan sisters participated in the Mehfil with full preparation conscious of the fact that this was going to be the last Mehfil of the Women Training Itikaf. So, they were trying to put in their best and make it a memorable Mehfil. The fact remains that the 'mu'takifat' had by now gathered the feeling that the entire Itikaf was a memorable experience and an asset for them they will cherish for the rest of their life. This is heartening to note that they evaluated it as the best Itikaf and felt they were going back home with lot of learning and purified hearts and souls. The Mehfil was permeated with sighs and cries wet with tears as the 'mu'takifat' were saying farewell to the beloved Ramadan which one may avail next year if Allah so wills. The most ardently held Mehfil ended with Dua and Salam and quite heavy hearts.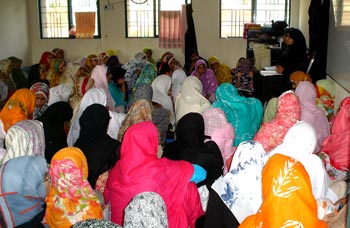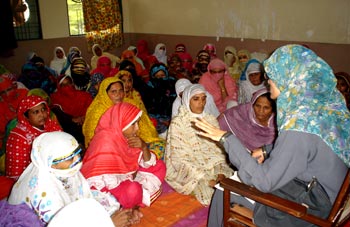 Everyone was anxious to see the Shawal moon after Iftaari. The moment it was sighted everyone was overjoyed embracing others extending felicitations and praying for one another. His eminence Huzur Shaykh-ul-Islam offered special prayer on the occasion. He prayed for the 'mu'tafikeen' and 'mu'takifat', for all the Rufaqa and wabastigan of MQI all over the world, for the country and the nation and the Muslim Umma. His passion-laden supplication was moving one into tears for submissiveness, forgiveness and gratitude. His intense love for the participants of the Itikaf was quite visible as he too was in tears before the holy Presence of Allah Most Kind, Most Munificent and Most Gracious. The proceedings ended with this special Dua. Later the Central Women League team led by Mohtarma Fatima Mash`hadi and Mohtarma Sumaira Rafaqat Advocate got busy winding up the Training Itikaf facilitating the 'mu'takifat' to pack up and leave for their respective stations with lot of love, respect, regard, concern and care and very pleasant memories. President Women League, Mohtarma Fatima Dawood Mash`hadi, Nazima Women League Mohtarma Sumaira Rafaqat Kahloon Advocate, Naib Nzima WL Mohtarma Sajida Sadiq along with the entire team were there to say Khuda Hafiz to the 'mu'takifat'.
Report prepared by: Maryam Hafeez Naib Nazima Tarbiyyat MWL