MQI delegation participates in Diwali celebrations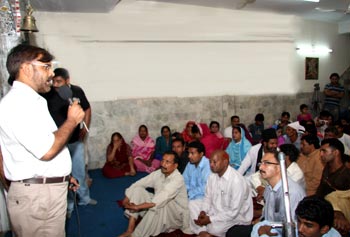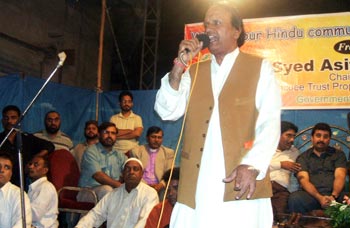 A delegation of Directorate of Interfaith Relations of Minhaj-ul-Quran International, led by Director Sohail Ahmad Raza participated in the religious festival of the Hindu community. Evacuee Trust Board of Government of Pakistan had extended a special invitation to the delegation of MQI to participate in the festival which was held on October 17, 2009 in Sri Krishna Temple, Ravi Road, Lahore. Besides Sohail Ahmad Raza, the MQI delegation comprised Abdul Hafiz Chaudhry, Abdur Rahman Siddiqui, Sahibzada Iftikhar-ul-Hassan Chishti and Qazi Mahmood-ul-Islam. The Hindu families from across Lahore and its suburbs participated in the festival in a large number. The organizing committee of the ceremony consisted of Dr Munawar Chand, Suneil Kumar, Prof Ashok Kumar, Dr Rajaender Kumar and Jay Pal.
Kamran Michael, provincial minister for minorities, Azhar Sulehri, secretary Auqaf, Azhar Abbas, Saleem Sandhu and other delegations belonging to different walks of life also attended the ceremony.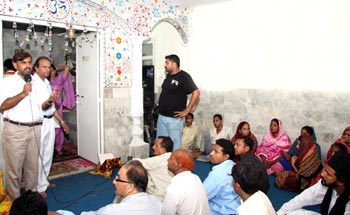 In his talk, Shohail Ahmad Raza, Director of Interfaith Relations of MQI, said that he was there to represent Shaykh-ul-Islam Dr Muhammad Tahir-ul-Qadri who was working hard for promotion of interfaith dialogue, peace and harmony in the world. He said that MQI under the dynamic leadership of Dr Muhammad Tahir-ul-Qadri believed in multicultural inclusive society where minorities had constitutional guarantees for the protection of their rights in accordance with the principles of Islam. He said that Dr Muhammad Tahir-ul-Qadri always condemned terrorism, extremism and violent tendencies at all levels and promoted the idea of engagement with people of all faiths and religions to remove mutual hatreds and misunderstandings. He urged the need of forging unity among followers of all religions to address the scourges of terrorism and extremism.
The organizers of the ceremony thanked the MQI delegation for its participation in the programme.