Leaders of different faiths shower praise on Dr Tahir-ul-Qadri at a Happy Christmas ceremony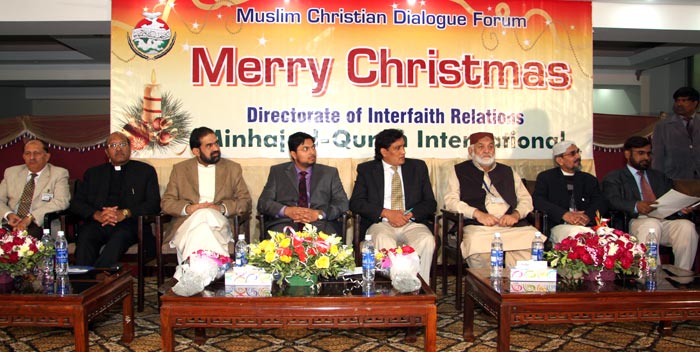 Directorate of Interfaith Relations of Minhaj-ul-Quran International organized a splendid Happy Christmas ceremony in the Suffa Hall of the central secretariat, which was presided over by Sahibzada Hussain Mohi-ud-Din Qadri, chairman of Federal Council of MQI. Akram Masih Gill MNA (president of Pakistan Muslim League's Minority Wing), Dr Raheeq Ahmad Abbasi (Secretary General of MQI), Father James Channan OP (Regional Coordinator (URI) Asia/ Pakistan), Dr Marqus Fida (chairman of International Gospel Mission), and Sardar Bhishan Singh (President Pakistan Sikh Gurdwara Parbandhak Committee), were the guests of honour on the occasion. Other distinguished speakers who addressed the ceremony included G.M. Malik (chief coordinator of Muslim-Christian Dialogue Forum), Brig. (r ) Iqbal Ahmad Khan (naib Amir-e-Tehreek), Sohail Ahmad Raza (director of Interfaith Relations), Dr Manwar Chand (chairman of Sri-Krishna Temple, Lahore), Yousuf Bajnauri; Bahai Faith, Pastor Daniel Rafique (Voice Chairman International Universal Gospel Assemblies of Pakistan), Miss Klara Mickalova and Miss Laurence (Representative International Committee of the Red Cross), Dr Kanwal Feroz (winner of Presidential Medal), Bishop Pervaiz Masih (president of International Christian Voice, Canada), Bishop Zaman Masih Anjum, Prof Salim Massi, M.A Joseph Francis, Bishop Akbar Khokhar, Priest Chaman Sardar, Pastor Javed Khan (Noulakha Church), Dr Bishop Dominic Javed and Javed Akhtar Masih (Press Sec MCDF).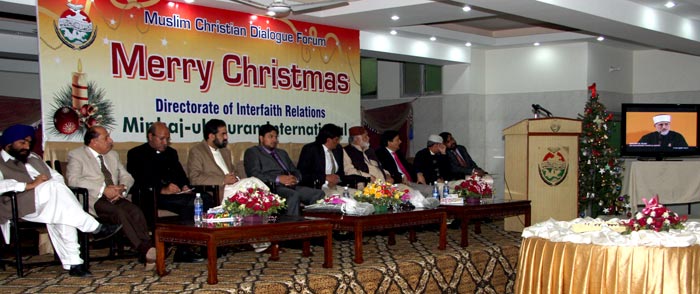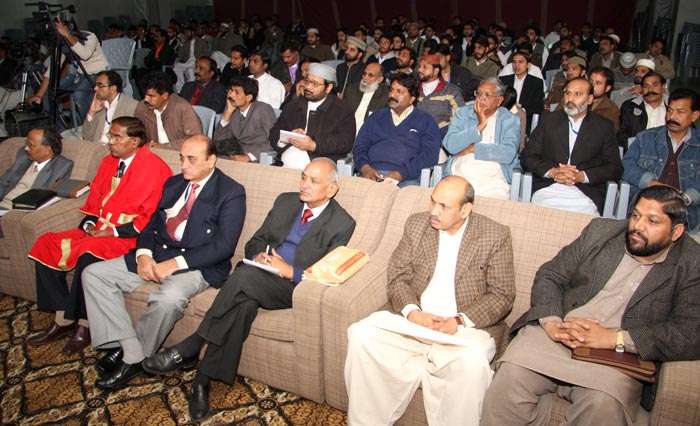 The formal proceedings of the programme got underway with recitation from the Holy Quran by Qari Anser Ali Qadri who recited verses from Surah Maryam, while Sahibzada Iftikhar-ul-Hassan presented the Urdu translation. Pastor Denial recited verses from Bible. Prof Zeeshan Baig had the honour to present Naat, whereas a group of the Christian youth sung peace hymns. A Christmas Tree was placed near the main dais as a reflection of love and good will for the Christian brethren. Sahibzada Husain Mohi-ud-Din Qadri lighted the peace candles and cut the Christmas cake along with other non-Muslim leaders.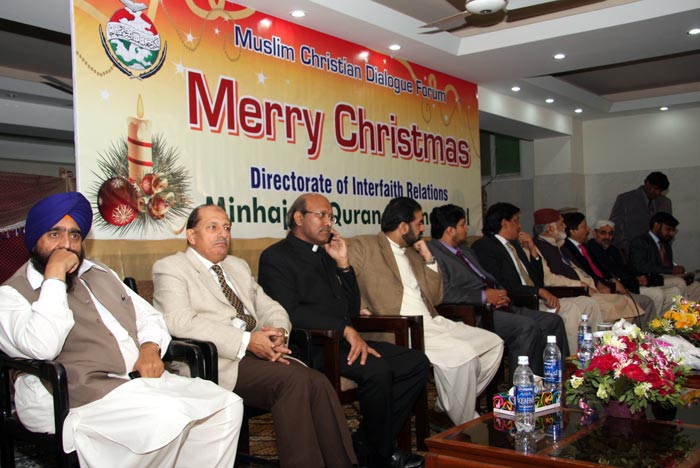 Sohail Ahmad Raza thanked the participants especially leaders of Christian, Hindu, Sikh, Parsi and Bahai communities for taking time out to take part in the Christmas ceremony. He said that MQI was spreading the awareness about rights of non-Muslims in Islam across the globe and that day's programme was also an expression of unity and love for the Christians. A documentary about Shaykh-ul-Islam's services in the fields of interfaith harmony, dialogue and peace was also shown on the occasion.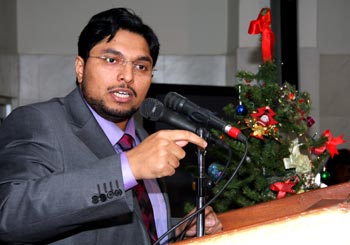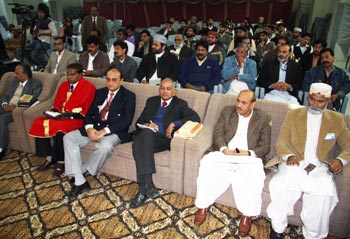 G.M. Malik said in his welcome address that Shaykh-ul-Islam Dr Muhammad Tahir-ul-Qadri founded the Muslim-Christian Dialogue Forum (MCDF) in 1998 to foster understanding and dialogue on sustained basis between Muslims and Christians. His services in the domain of interfaith harmony would be chronicled in golden words in history. He opened the doors of the central Mosque of Minhaj-ul-Quran in the tradition of the Holy Prophet (saw). As a result of Shaykh-ul-Islam's efforts, many misunderstandings about Islam have been removed and the world has conferred on him the title of "Ambassador of Peace" in recognition of his services.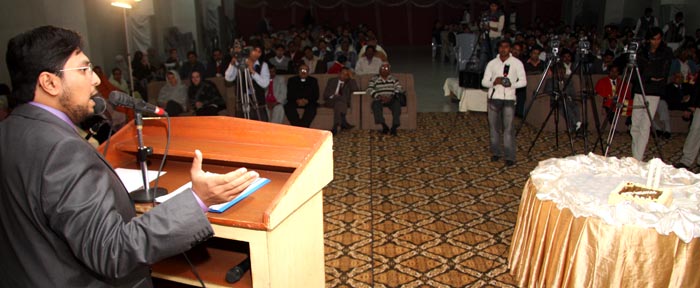 Delivering a brief but very comprehensive speech in English language, Sahibzada Husain Mohi-ud-Din Qadri, son of Shaykh-ul-Islam and chairman of Federal Council of MQI, said that the history bore witness to the fact that efforts at unifying the religions could not succeed in the past. Whether it was Emperor Akbar's Din-e-Elahi or the philosophy of Ram and Raheem, no innovation could create positive results. This failure owed itself to the lack of recognizing the fact that all religions had their respective identity, history and ideologies. He said that the Islamic stand on these issues has been based on realism, for it accepts ideological differences as a fact of life.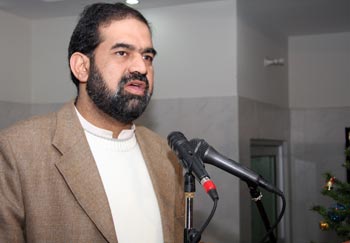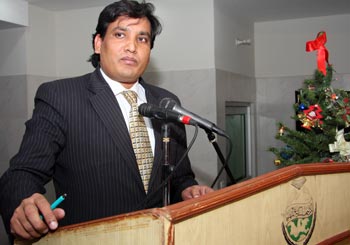 "And when you accept other people holding different opinions and ideologies than yours, it heralds the beginning of journey of love," he held. We would have to understand the differences because doing so would pave the way for fostering the feelings of peaceful coexistence, respecting one another's ideologies and cultivating the feelings of brotherhood. "We would have to work hard on promoting behaviours of brotherhood and love among the followers of religions, not among the religions," he opined.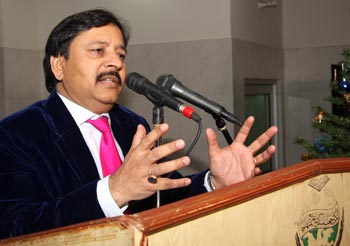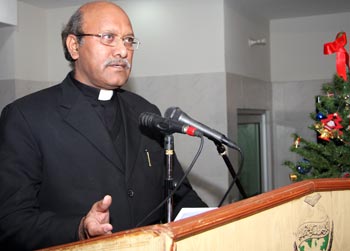 He said that the Holy Prophet (saw) held dialogue with the leaders of the Christian and Jewish communities and gave the non-Muslims complete independence and freedom to express their opinions and practice their religions. The Muslims also promoted the same culture of tolerance and forbearance, which dealt a severe blow to the negative attitudes of hatred, bias and violence. Following the same Sunna of the Holy Prophet (saw), Shaykh-ul-Islam Dr Muhammad Tahir-ul-Qadri has worked hard day in and day out to promote the culture of mutual respect, religious tolerance, forbearance, brotherhood, peace and security. His struggle spanning over 30 years is based on the premise of respect for humanity. His efforts have played fundamental role in bridging the trust deficit amongst different religions.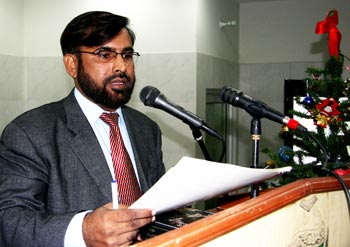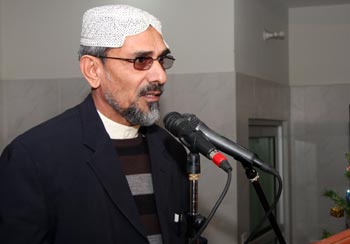 Sahibzada Hussain Mohi-ud-Din Qadri said that those who were destroying inter-communal and interfaith peace, killing innocent people in suicide bombings and bomb blasts in markets, bazaars, and mosques had no relation with any religion. Such heinous elements were not only depriving the children of their parents, but were also producing a generation of estranged youth steeped in revenge. What kind of role would these children play in society upon growing up? This should be a thought-provoking question for the ruling elite.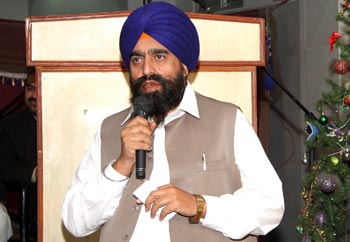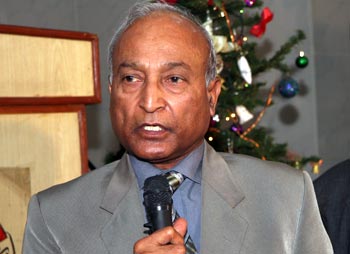 He said that Minhaj-ul-Quran International sincerely believed that the fresh legislation needs to be undertaken in parliament regarding the sanctity and respect of all divine religions and Prophets, which should be based on feelings of mutual respect so that the culture of massacre, bias, hatred and violence might be brought to an end. He said that this constituted a tall order which was possible to accomplish through collective efforts, for individualistic efforts had little scope. "We would have to work for the collective benefit and welfare of the entire humanity by bringing the civilizations together," he held.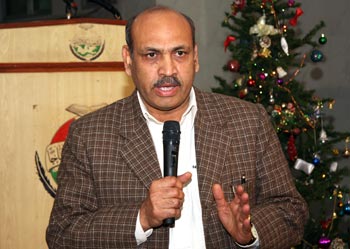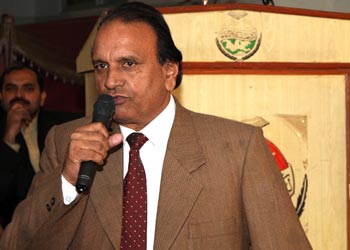 He said that religious freedom of followers of minorities would come under attack in a neighbouring country where houses used to be burnt but regrettably these things were happening in Pakistan. The terrorists would have to be eliminated for they were the killers of the Muslims, Hindus, Christians and Sikhs through national consensus and unflinching resolve.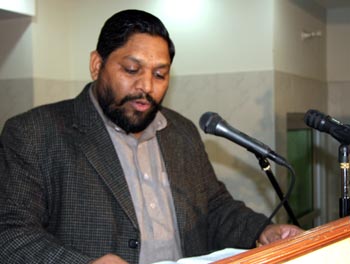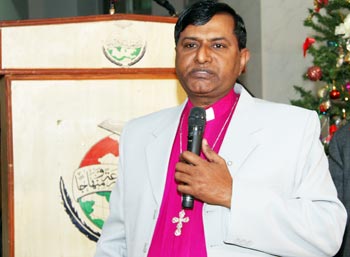 Dr Raheeq Ahmad Abbasi, Secretary General of MQI, said in his speech that the entire nation was seized of pain, anxiety and torment with life becoming harder by the day and all & sundry left at the mercy of the non-Muslims. "This is the problem for humanity in general and for the Pakistani nation in particular. The elimination of terrorism should be the top priority of the government as well as the people of Pakistan," he maintained.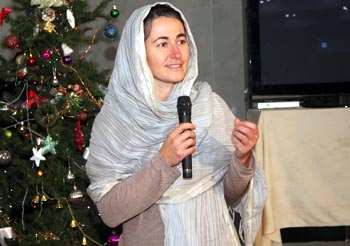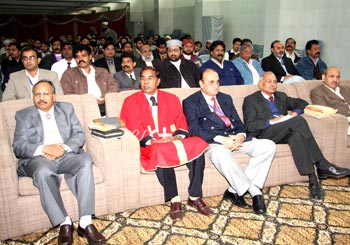 He said that despite grave threats and dangers, Shaykh-ul-Islam Dr Muhammad Tahir-ul-Qadri gave a historic edict, which consists of more than 400 pages and declares the act of killing non-Muslims forbidden in Islam in the light of the Holy Quran, Hadith and Islamic Jurisprudence. He said that the killer of the non-Muslims would not be able to enter paradise. "The protection and security of life, property and honour of the non-Muslims is the responsibility of the Islamic state. The sanctity of the blood of non-Muslims is equal to that of the blood of the Muslims. A Muslim state is also duty-bound to protect the worship places of the non-Muslims within its jurisdiction," he held.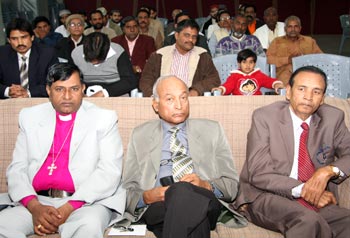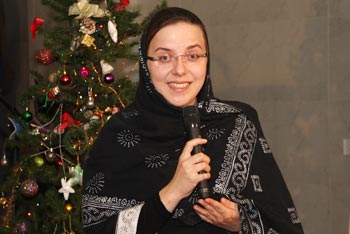 He said that MQI strongly opposed every kind of oppression and violence against the non-Muslims and urged for new legislation which should be in accordance with the constitutional and legal provisions contained in the Holy Quran and Sunna. MQI would be ready to offer every kind of guidance in that regard. He appreciated the Supreme Court verdict on the NRO, saying it would have abiding positive implications for state and society.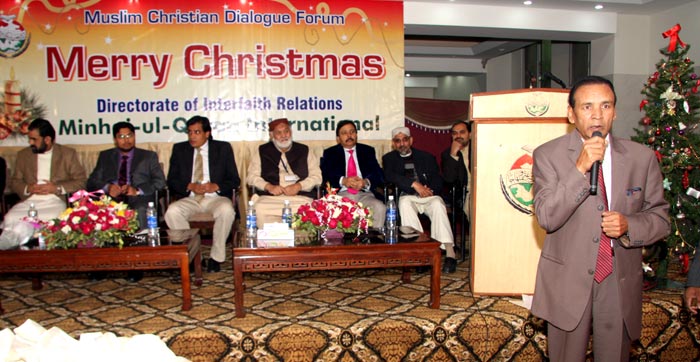 Dr Abbasi said that MQI had been arranging the Christmas ceremony for last eleven years as a mark of love and unity with the Christian brethren. Using such programmes as a basis, the narrow-minded and bigoted elements had initiated a propaganda campaign through Youtube against the positive and constructive efforts of Shaykh-ul-Islam. "We damn care about these negative activities and are committed to promoting this culture not for the sake of any vested interest but for the sake of humanity," he stressed.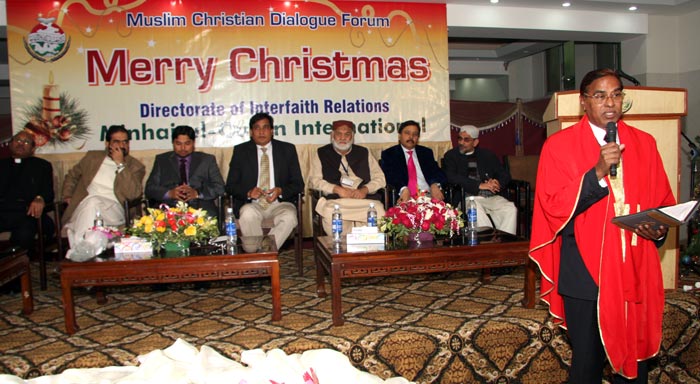 Father James Channan said in his speech that Dr Muhammad Tahir-ul-Qadri founded Muslim-Christian Dialogue Forum in my presence. "He is very serious in making this world the hub of peace and I salute him for this noble cause," he said. He congratulated and thanked MQI for hosting Christmas ceremony as it was the demonstration of large-heartedness and massive good will. He said that through circumstances were not encouraging but we should not fall victim to pessimism and lose heart. "The day is not far when the reign of terrorism would be over and peace & tranquility would return to this beautiful land," he concluded.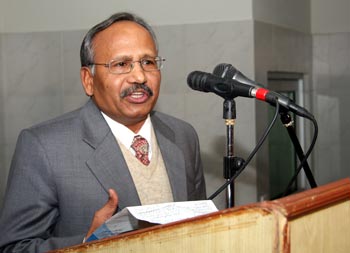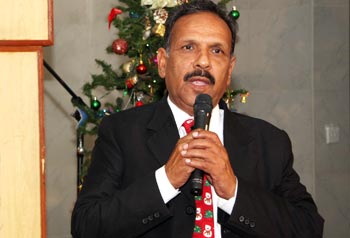 Akram Masih Gill, member of National Assembly, said that Dr Muhammad Tahir-ul-Qadri plays the politics of ideology. That is why he resigned from parliament. He said that he was privileged to hear his historic speech on the floor of parliament. MQI is spreading the message of peace and harmony in the world, which is a great service for the humanity. He expressed his sorrow that houses of Christians were burnt in Gora, Kasur and Sialkot with the result that they were living with insecurity writ large on their faces. He demanded that the Blasphemy law of 295-C should be applicable to all without any discrimination. He asked MQI to offer guidance in that regard.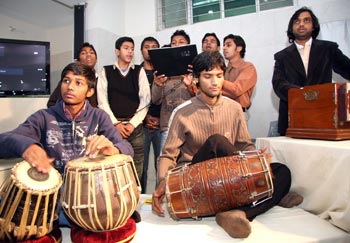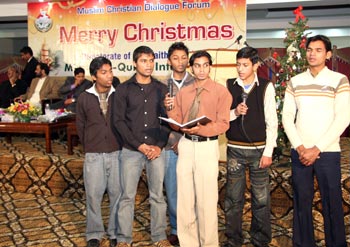 Prof Salim Massi said in his talk that the Holy Prophet (saw) opened the doors of Prophet's Mosque 1400 years ago for a Christian delegation from Najran and in the present age, Shaykh-ul-Isam Dr Muhammad Tahir-ul-Qadri has followed the revered Prophet (saw) in letter and spirit by opening the doors of Minhaj-ul-Quran Mosque for the Christian community. "None else has demonstrated this large-heartedness except Dr Tahir-ul-Qadri. We are in acute need of such positive attitudes," he maintained. He said that the West allowed the Muslims to preach their religion but the Christians in Pakistan did not have this right to do the same here. The tradition of Christmas celebration started by MQI would help overcome hatred and prejudice in society and promote love and harmony.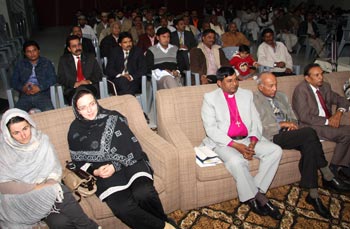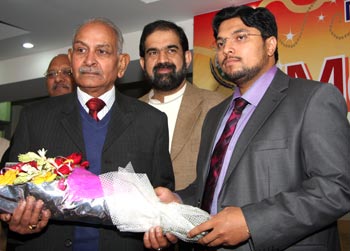 Joseph Francis said in his speech that the Christmas was being celebrated in a state of pain and sorrow for the unending spate of terrorism had deprived people of their rightful share of joys and happiness. The non-Muslims face discrimination in almost all walks of life. "The talk of Shaykh-ul-Islam Dr Muhammad Tahir-ul-Qadri encourages all of us in such precarious circumstances and I salute him for this act of courage and boldness. He deserves tribute for his edict which only a man of his standing could have the heart to do," he held. He said that he had high hopes on Hussain Mohi-ud-Din Qadri and expected that he would take the MQI to new heights.
Dr Marqus Fida said in his talk that most of the people were in the habit of merely talking but Dr Muhammad Tahir-ul-Qadri was a practical man. He said that the message of the Christmas was that we should not fear. Despite threatening circumstances, Dr Tahir-ul-Qadri has had the courage to come out openly against terrorists. He said that some people asked him not to visit MQI because the circumstances were very fragile but he chose to visit it because it was hub of peace. "If all people became courageous like Dr Tahir-ul-Qadri, terrorism would end," he concluded.
Dr Kanwal Feroz, presidential award winner, said in his speech that faith, love and hope were all abiding values but topping them was love. MQI is a movement for love and peace. "Love is such a religion which binds all people in one thread," he said.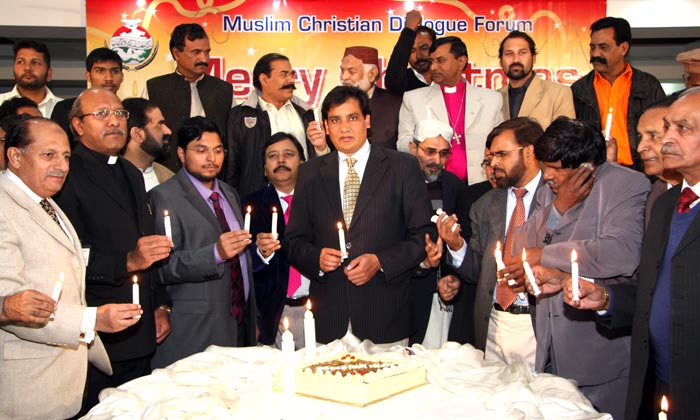 Sikh leader Sardar Bhishan Singh said that the fatwa issued by Dr Muhammad Tahir-ul-Qadri would have lasting positive results for the society. It was high time all of us, Muslims and non-Muslims, stood behind Shaykh-ul-Islam in his struggle against suicide bombing and terrorism.
Miss Laurence of Red Cross International said that she was happy to find that the contribution of Dr Muhammad Tahir-ul-Qadri to the humanitarian causes played significant role in changing behaviours of people. The getting together of followers of all religions under one roof showed that Dr Qadri was working for the entire humanity and not just for the Muslims.
Javed Khan from Noulakha Church who represented Pastor Dr Majid Abel said that peace and love radiated out of personality, talk and action of Dr Muhammad Tahir-ul-Qadri. It is the result of his efforts for interfaith causes that all of us, belonging to different backgrounds, were together. MQI is actually acting upon the Holy Quran and spreading love and peace in the world.
Pastor Chaman Sardar said that Pakistan was perhaps the only country in the world where Sikhs, Muslims, Christians and Hindus celebrated the religious festivals of one another in a spirit of love and harmony. Dr Tahir-ul-Qadri should be appreciated for he has invited all of people to sit together and celebrate Christmas. He said that he has had the privilege of working with Dr Qadri.
Hindu leader Dr Manwar Chand felicitated MQI for organizing this splendid programme, saying that the conduct of such gatherings was great need of the hour. The essential message of all religions is peace and security. The Holy Quran says that Allah Almighty is the Master of all worlds. If the Creator of all is one and the same, the creation should also live in peace with complete unity and harmony. Christian leader, Pervaiz Masih, paid glowing tribute for carrying out constant struggle against elimination of exploitation and hatred.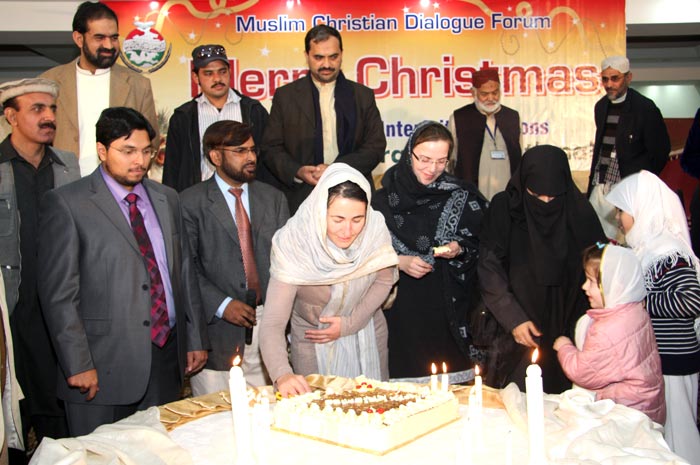 Bishop Akbar Khokhar said that he was convinced on the good authority of 28 Bishops who he was representing at the ceremony that dealing with other with love, tolerance and harmony was one of the fundamental teachings of the religion. MQI's gesture of inviting leaders of different faiths at a Christmas function was in accordance with the real teachings of Islam and a praiseworthy act in its own right.
Bishop Zaman Masih Anjum said that Islam and Christianity were the religion of peace. The fact that there was no peace in the world meant that we had alienated ourselves and needed to introspect what went wrong and why with a corrective & reformative mindset.
Sumptuous lunch was served after the programme.