PAT's National seminar on the Quaid Day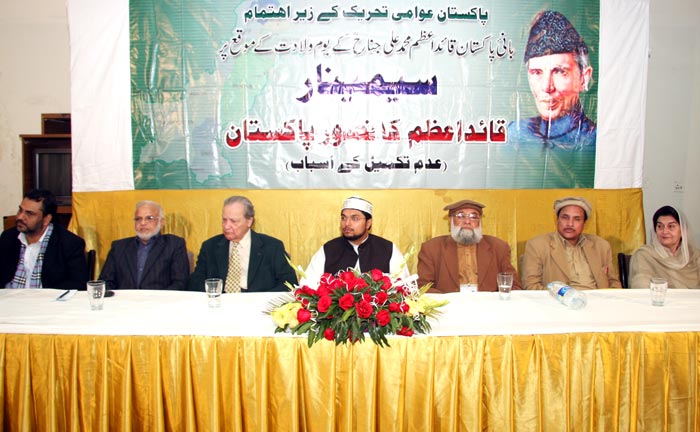 Pakistan Awami Tehreek organized a national seminar on the subject of "Quaid-e-Azam's concept of Pakistan & causes of our failures to realize his dream" to commemorate the 134th birth anniversary of the founder of Pakistan in the party's central Secretariat on December 25, 2009. Sahibzada Hussain Mohi-ud-Din Qadri; president of Federal Council of Pakistan Awami Tehreek, chaired the programme, whereas Justice (r ) Dr Javed Iqbal; son of Allama Dr Muhammad Iqbal (poet of the East), and Justice (r ) Dr Nasira Javed Iqbal were the guests of honour on the occasion. Other speakers included Faiz-ur-Rahman Durrani; PAT President, Sheikh Zahid Fayyaz; acting Nazim-e-Ala, Anwar Akhtar Advocate; Secretary General of PAT, Muhammad Mustafa (G.M. Malik); Director of MQI's Directorate of Foreign Affairs, Jawad Hamid; Secretary Coordination of Pakistan Awami Tehreek, Dr Tanvir Azam Sandhu; Director of Training, Muhammad Afzal Gujjar; president of Lahore chapter of PAT, Sohail Akhtar; leader of Awami National Party and Chairman of Human Rights International, Hameeduddin Mashriqi; chairman of Khaksar Tehreek, Ms Aleena Tiwana; distinguished social personality and Ijaz Ahmad Chaudhry; vice president of Pakistan Tehreek-e-Insaf.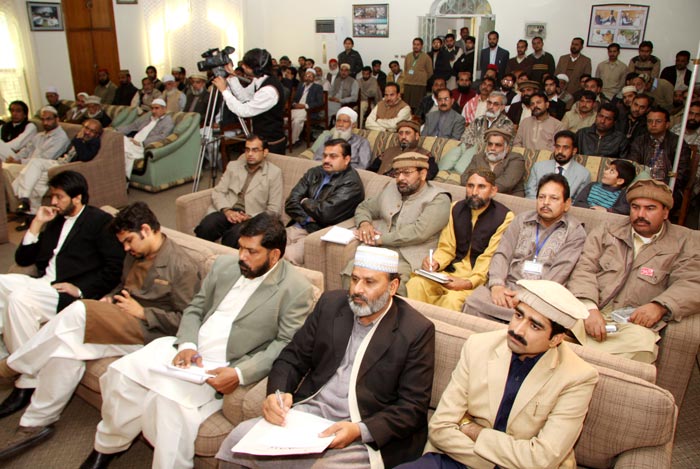 In his presidential address, Sahibzada Hussain Mohi-ud-Din Qadri said that our collective failure to realize the dream of our forefathers owed itself to the fact that we as a nation put the teachings of the founding leaders like Quaid-e-Azam Muhammad Ali Jinnah and Allama Muhammad Iqbal at the backburner. The constituent elements of democracy were ousted from society with the result that vices like corruption, dictatorship and vested interests penetrated our body politic. Despite the fact that democracy returned to this country after a long time, it was the form not the substance of democracy which we have seen in our country. What is more regrettable is the fact that conspiracies were afoot to derail it both from within and without. "If this window of opportunity was allowed to go to waste, it would turn to be the last nail in the coffin of democracy," he held.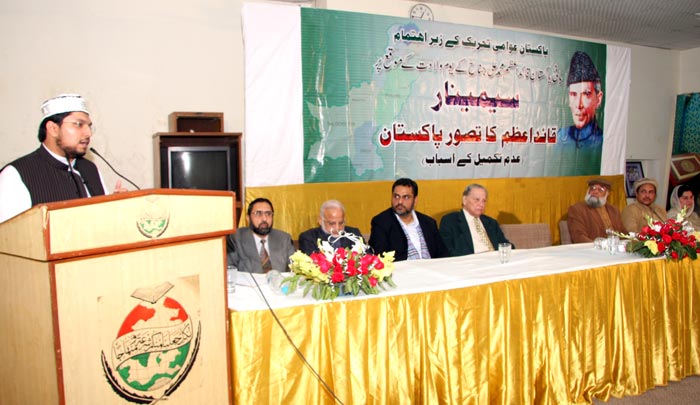 He said that Pakistan had been faced with the worst leadership crisis after the demise of Quaid-e-Azam. "Today conspiracies are being hatched to separate Sindh and Balochistan from Pakistan. The curse of sectarianism is rearing its head with full force. The ship of the state is sinking but we remain oblivious to it. There is little feeling that today's Pakistan is not as strong as it was 20 years ago," he emphasized. Quaid-e-Azam never wore his sectarian association up his sleeve but conversely we so seem to have been stuck up in intellectual stagnation that we do not see beyond our sectarian interests. Quaid-e-Azam always stood for inclusive state where all citizens would be equal in the eyes of law without the discrimination of caste, creed, colour and religion. Contrary to this, our religious parties have failed miserably to get out of the sectarian cocoons, while our so-called mainstream political parties are ever busy in political manipulations. "God forbid the day comes when the youth of this country gets fed up with their future and future of the country," he thundered.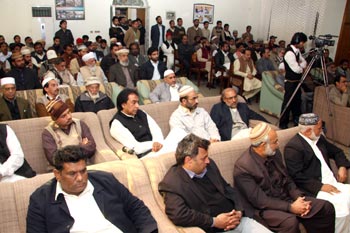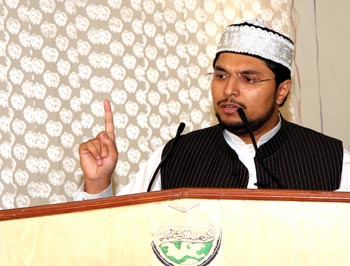 Hussain Mohi-ud-Din Qadri said that the country was facing the worst kind of brain drain. It is the conspiracy of the bigger countries that they attract the best minds out of their native countries in the name of immigration and waste their talent by employing them on petty jobs. That is how the poor countries remain poor. He said that it was not correct to leave our country because we owed a lot to it. "Our country has many a claim on us and we are under national obligations to fulfill them. If we did not transfer our history, culture and ideology to our succeeding generations, who would save Pakistan?" he questioned.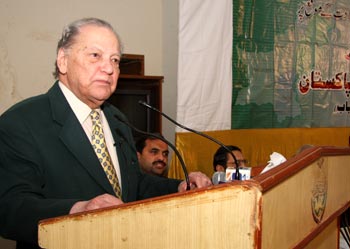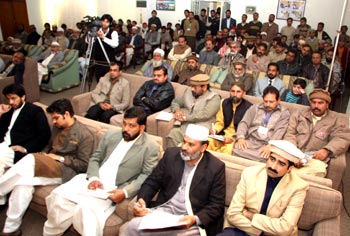 He said that our political rulers who ascended the throne for last 62 years looted this country mercilessly. A fair and across the board accountability system should be accompanied by a process of self-accountability. "We stand at a critical juncture today. We do not know where our destination is. It is high time we reformed ourselves and saved our homeland," he concluded.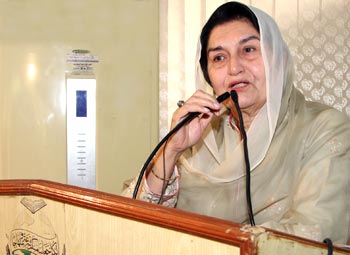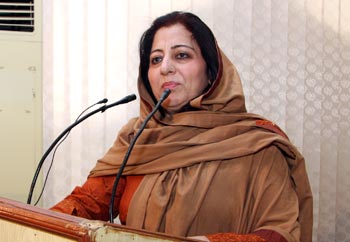 Justice (r) Dr Javed Iqbal, the chief guest, said in his speech that two countrywide movements namely Wahabi Movement and Khilafat Movement failed before the struggle for Pakistan because they were conformist movements. The reason why the Pakistan Movement succeeded was because it was reconstructive movement. Ijtihadi (reconstructive) vision was the extension of the Quaid's philosophy and ideology. No aspect of the personality of Quaid-i-Azam was out of character with the values of Islam. After Qauid-e-Azam, the country went into the hands of bureaucracy followed by the army. Resultantly the game of musical chairs started to be played between the pseudo democrats and military dictators with the latter occupying its power corridors for most part of its chequered political history. He said that usurpation of democracy became a norm and hypocritical politics prevailed over the country. We could not produce real leadership. That is why we have had to face failure after failure. He said that unfortunately we were a cowardly and fearful nation. "Four educational systems are operating in this country. There should be a central educational policy, which may serve as a platform to forge unity in thought and action amongst diversified strands of opinion," he held.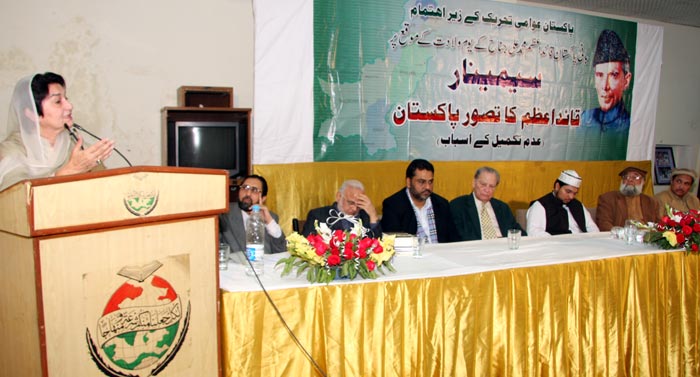 Dr Javed Iqbal said that we should not be disappointed with a nation which could produce leaders like Quaid-e-Azam and Allama Iqbal. "Having listened to the speech of Sahibzada Hussain Mohi-ud-Din Qadri, I feel encouraged. The nation needs youth like him who has passion, courage of conviction, capability and vision. I have been immensely pleased to visit the central Secretariat of Minhaj-ul-Quran International. Such institutions are playing their constructive and positive role in the overhaul of society," he concluded.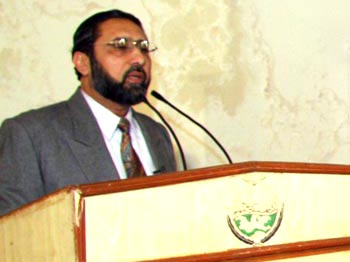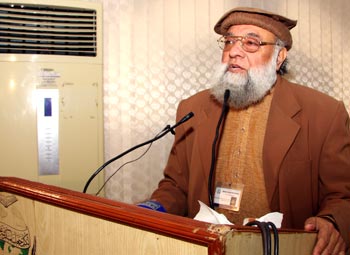 Justice (r) Nasira Javed Iqbal, daughter-in-law of Allama Dr Muhammad Iqbal and wife of Justice (r ) Dr Javed Iqbal, said in her speech that it was unfortunate that we got divided into sects and groups. More than 50% population lived below poverty line. Everyone of us has made the US the epicenter of our attention and hope. The Muslim rulers would have to activate and restructure OIC as an alternative political and economic arrangement. The women needed to be enfranchised through conferral of elaborate package of rights ensuring their equal participation in the national development. "The difference between haves and have-nots would have to be bridged and real efforts made for revival of true democracy in the country," he concluded saying.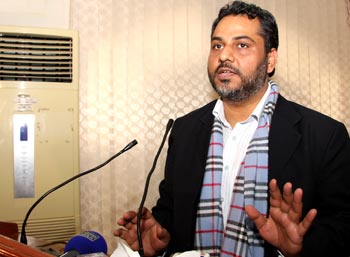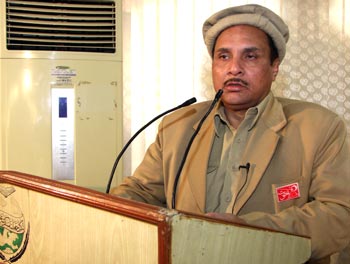 PAT president Sahibzada Faiz-ur-Rehman Durrani said in his speech that the 25th of December was a day of reviving our faith which reminded us of the fact that the great Quaid achieved Pakistan through incessant hard work and struggle having been equipped with constitutional rights and conviction of faith. He said that we needed the same vision and faith to discharge the duty of safeguarding the geographical and ideological frontiers of Pakistan. He said that our nation would have to take a leaf from the book of Quaid-e-Azam to revive our faith so that no enemy could cast his evil eye on this great land. "It is possible if we search for sincere, honest, patriotic and practical leadership like that of the Quaid from amongst us," he concluded.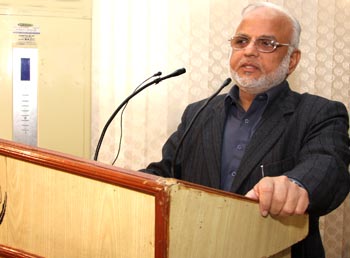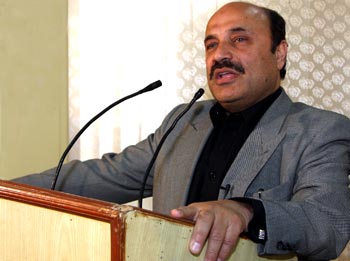 PAT Secretary General Anwar Akhtar Advocate said in his speech that the agenda of Quaid-e-Azam was the making of Pakistan. It is a matter of immense shame that the time has come to save the country. There is a need to spread intellectual and ideological awareness among the masses in a bid to save our homeland against the manifest and potential dangers. He said that Pakistan Awami Tehreek was playing the same role under the able and dynamic leadership of Shaykh-ul-Islam Dr Muhammad Tahir-ul-Qadri, but Pakistan's corrupt political system is a major hurdle in the emergence of such a competent and pious leadership. Thus there is all the more need to change the system at every level.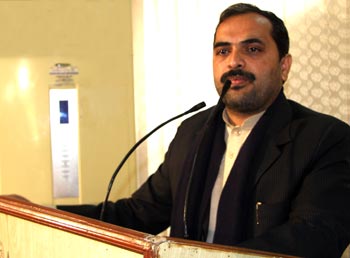 Sheikh Zahid Fayyaz, Chief Organizer of Pakistan Awami Tehreek, said in his speech that Pakistan came into being on the basis of Two Nation Theory. This part of land was obtained after numerous sacrifices but the succeeding rulers neglected the aims and objectives for which this country was established. Due to political power wrangling of our elite and unending quest for power, we lost half of this country. The soul of the Quaid is giving a clarion call to all of us to rise from our slumber and work hard to implement his vision into reality. He said that the time is ripe to act and act we should in our respective roles.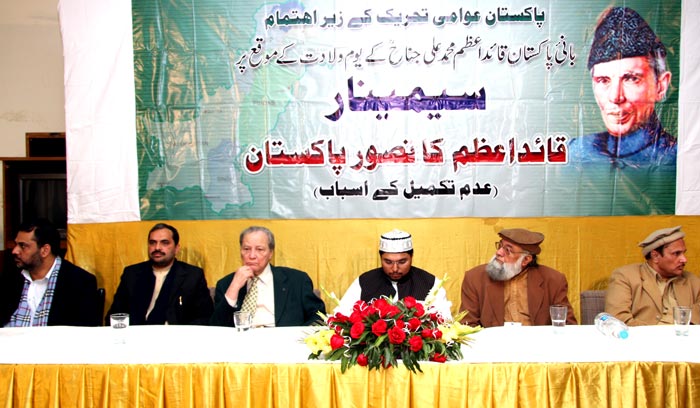 Ijaz Ahmad Chaudhry said in his speech that the independent judiciary of the country has shown us the glimpse of how a real Pakistan would be like. The NRO was a plan to make Pakistan subservient to the imperialist forces. He said that a county where the president enjoyed immunity could not be Pakistan of the Quaid. He concluded his speech by saying that we should be ready to offer sacrifices for the revival of true democracy.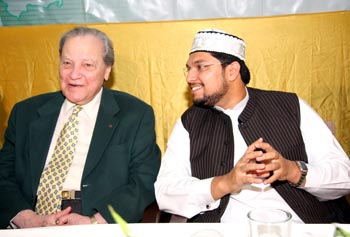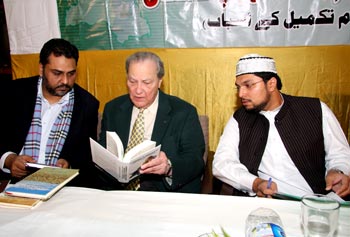 Hameeduddin Mashriqi said in his speech that if there is no passion for freedom and ability to safeguard it, the degradation and failure become the norm for a nation. Pakistan's tutelage of the US neither allowed to retain its Islamic character nor democratic. Every child of Pakistan is indebted to the IMF. We would have to grow out of crowd into a nation. It is regrettable that the Quaid's Pakistan is in the grip of terrorists. There is a need to make organized efforts for the improvement of image of Islam and Pakistan.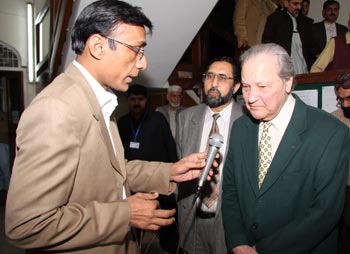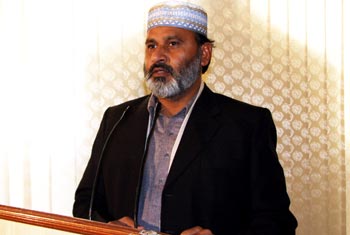 Sohail Akhtar said that today's rulers of Pakistan were incarnation of corruption. It is by eliminating corruption that the Quaid's Pakistan can be saved. He said that it is due to special blessings of Allah that our country is intact despite all conspiracies and evil deeds of the vested interests.
Ms Aleena Tiwana, Muhammad Mustafa (G.M. Malik), Jawad Hamid, Muhammad Afzal Gujjar and others also spoke on the occasion and paid glowing tribute to Quaid-e-Azam. The programme ended on special Dua by Faiz-ur-Rehman Durrani.