Week-long celebrations launched at Minhaj University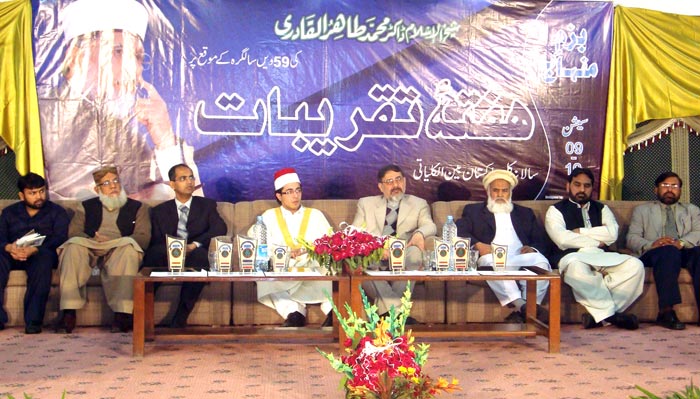 With Quranic recitation and Arabic declamation contest held on February 8, 2010, the annual week-long celebrations got underway at the College of Shariah and Islamic Sciences of Minhaj University Lahore. These celebrations are being held in connection with the upcoming 59th birthday of Shaykh-ul-Islam Dr Muhammad Tahir-ul-Qadri, ambassador of peace, unity and human development. A large number of students would participate from across different colleges and universities to pay tribute to Dr Muhammad Tahir-ul-Qadri for his valuable services in multiple fields.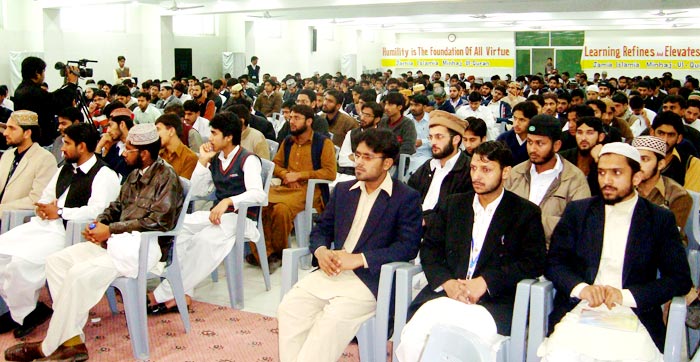 Declamation contest on the subject of "Terrorism and its solution" was held in Arabic language on the first day of week-long celebrations. Mutfi Abdul Qayyum Khan Hazarvi presided over the programme whereas Dr Abbas Famuri, Director General of Khan-e-Farhan, Islamic Republic of Iran and renowned intellectual was the guest of honour on the occasion. Pir Sayyid Ali Gillani al-Baghdadi (shrine of Pir Pathan Jang), Muhammad Gull Hussain (GMI, Saudi Arabia), G.M. Malik (Director of Foreign Affairs, MQI), Sohail Ahmad Raza (Director of MQI's Department of Interfaith Relations), Prof Dr Zahoor Ullah Qadri, Prof Muhammad Nawaz Zafar, Prof Abdul Quddus Durrani, Mumtaz-ul-Hassan Barvi, Ateeq Ahmad Haider, Rana Muhammad Akram Qadri, Ghulam Mujtaba Tahir, Sabir Hussain Naqshbandi, Zafar Iqbal, Murad Ali Danish and Muhammad Kashif Bhatti were also present on the occasion.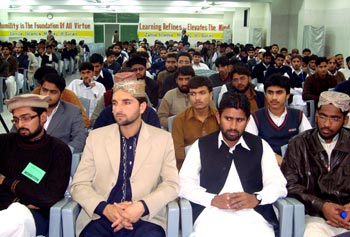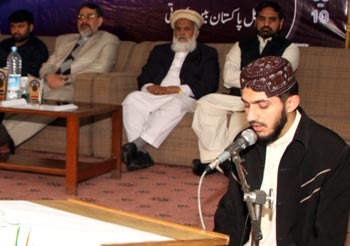 The formal proceeding of the programme got underway with recitation from the Holy Quran by Qari Husnain Farid followed by Naat which was recited by Qari Anser Ali Qadri. More than 100 male and female students participants in the competition on the first day. Qari Ghulam Mustafa, Qari Allah Baksh Naqishbandi and Qari Khalid Usman Alvi were the members of jury in the competition of Quranic recitation, whereas Dr Anwar-ul-Hassan, Dr Asghar Javed, and Sayyid Iftikhar-ul-Hassan were the jury members in the Arabic declamation contest.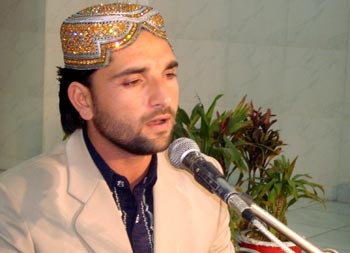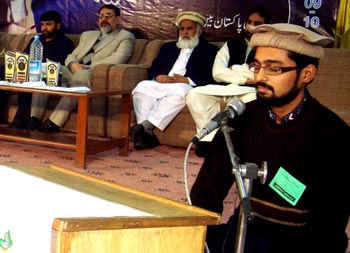 Qari Sohail Naeemi (Naeemia Qirat Academy Islambad), Qari Khalid Hameed Kazami (COSIS), and Qaria Dil Awaiz (Madina Qirat Academy) got first, second and third positions respectively in the Quranic recitation competition. Hafiz Salman (Punjab University), Nasir-ud-Din Chishti (Minhaj University) and Izhar-ul-Haq won first, second and third positions in the Arabic declamation contest.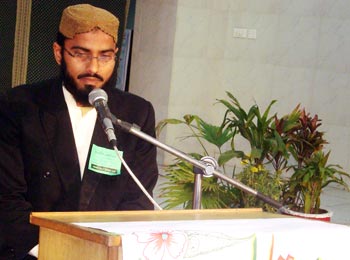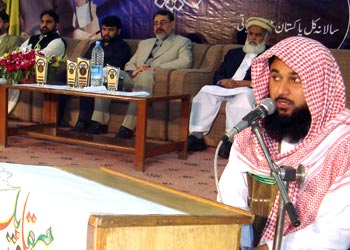 Dr Abbas Famauri, Director General of Khan-e-Farhang Islamic Republic of Iran, said in his address that Arabic is a comprehensive language and its grammar is also equally comprehensive. The Holy Quran was sent to the humankind for its guidance and to save them from going astray. There is a need to spread the teachings of the Holy Quran and Minhaj University is appreciably playing this role.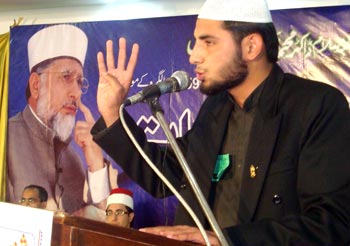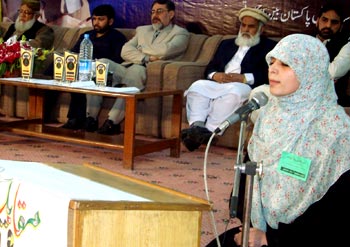 G.M. Malik and Muhammad Gull Hussain said in their speech that Islamic system of punishment ensures peace and tranquility in the society. It punishes those who hurt the order and bring harm to the peaceful people. They said that Islam is a religion of peace and harmony. It lays stress on the sanctity of human life. They said that no country could move forward on the ladder of development without progress in its educational sector. Shaykh-ul-Islam Dr Muhammad Tahir-ul-Qadri launched educational programmes at mass scale level to spread this awareness which include one chartered university, 572 schools and scores of colleges.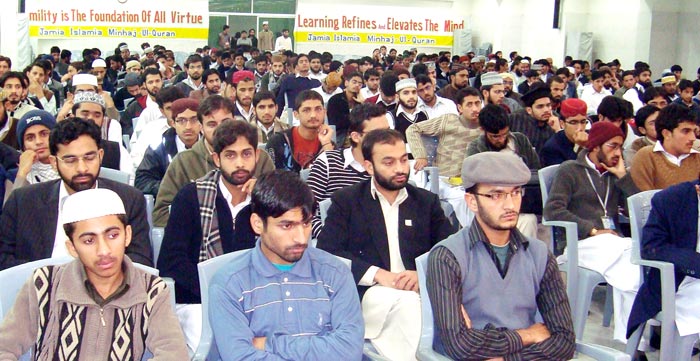 Prof Abdul Quddus, in-charge of Bazm-e-Minhaj, said on the occasion that the purpose behind holding such programmes was to spread the Islamic message of peace and harmony. Hafiz Shakeel Akram thanked all guests at the end. Sayyid Haider Ali Bokhari and Adnan Waheed Qasmi conducted the proceedings of the programme.