MWL Organizes Book Exhibition & Inaugural Ceremony of Shaykh-ul-Islam's Books
Innovation: a key to survival
Minhaj-ul-Quran Women League takes lead in introducing the intellectual
and scholarly works at mass level: Hussain Mohi-ud-Din Qadri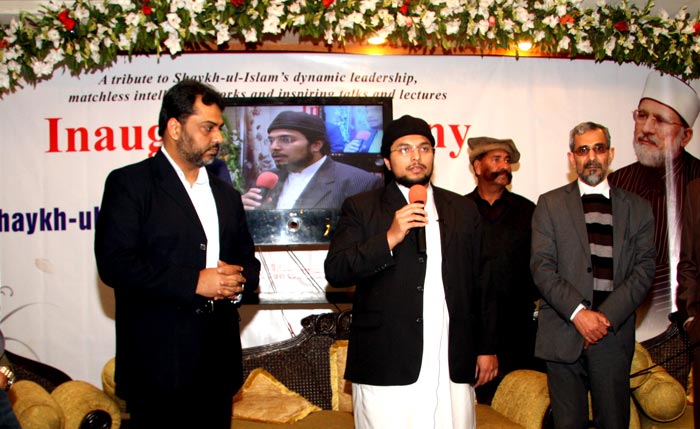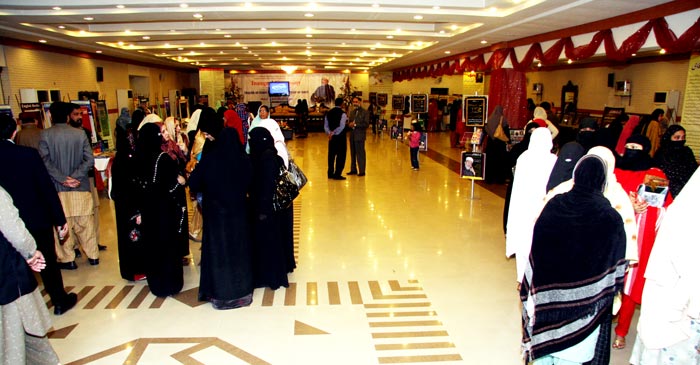 When intellectual and revivalist movements come of age, they survive beyond time through innovative measures. Minhaj-ul-Quran International (MQI) is lucky to have a forum like Minhaj-ul-Quran Women League (MWL) who are a collection of innovative people dedicated to publicity and promotion of scholarly and intellectual works of Shaykh-ul-Islam Dr Muhammad Tahir-ul-Qadri. They have done a marvelous job by organizing the inaugural ceremony of Shaykh-ul-Islam's books and Book Exhibition in most innovative way. MWL has definitely taken a long lead in this field and deserves all appreciation and praise. I congratulate them on doing this most successful programme. Sahibzada Hussain Mohi-ud-Din Qadri, president Federal Council MQI and venerable son of Shaykh-ul-Islam Dr Tahir-ul-Qadri spoke on the eve of inaugurating the Book Exhibition of Shaykh-ul-Islam's Books at Qasr-e-Zauk Gulberg Lahore on 16 February 2010.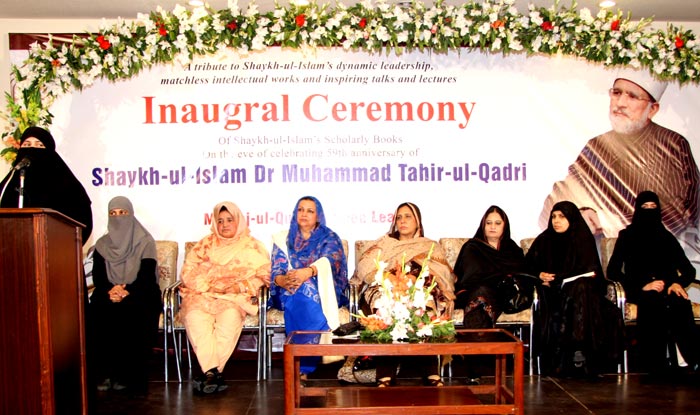 Sahibzada Hussain Mohi-ud-Din Qadri felt overwhelmed with joy when he visited the so very well organized Book Exhibition of Shaykh-ul-Islam. He was told by Ms Sumaira Rafaqat Advocate, Secretary General MWL that their team worked round the clock to organize the programme, which was visited by thousands of educationists, scholars, intellectuals, doctors, MNAs, MPAs advocates, teachers and students of the town. When the visitors saw Shaykh-ul-Islam's books laid in hundreds alongside flexes on each book giving their detailed introduction, they felt spell bound seeing the massive intellectual work done by Shaykh-ul-Islam in only a short period of three decades. Their response simply was 'unbelievable, incredible.' Many senior citizens paid tributes to Shaykh-ul-Islam on producing volumes of books for the guidance of Umma in the most difficult time of its history. They prayed for Shakh-ul-Islam's long life. Sahibzada Husain especially lauded the infinite efforts done by MWL to earn this publicity about the scholarly works of Shaykh-ul-Islam. He was most appreciative of the manner in which it had been done.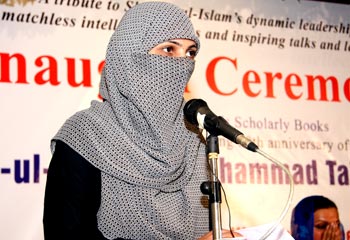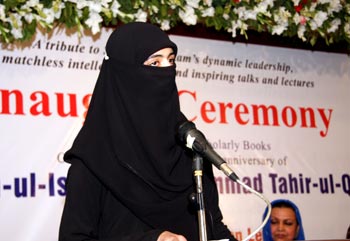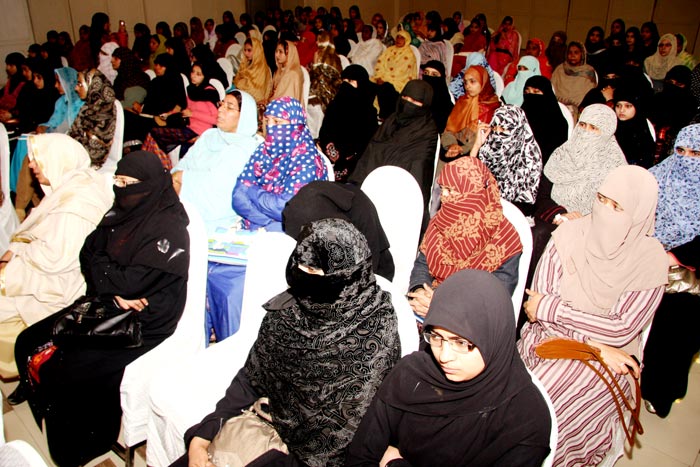 Dr Raheeq Ahmed Abbasi, Secretary General MQI also spoke on the occasion. He termed the programme as perfect and flawless. He congratulated the WL sisters on organizing the exhibition and observed it first of its kind. He urged all the leaders and workers of MQI present on the occasion to value the real worth of the intellectual work of Shaykh-ul-Islam and leave no stone unturned in taking it to the masses to realize its main objective. We have to adopt all available means to publicize it. He especially appreciated the style MWL had adopted to organize and shape the exhibition and said, 'we must learn from them.'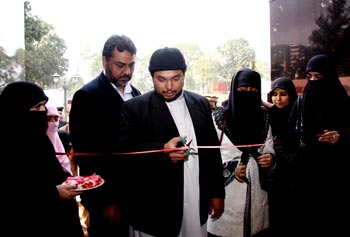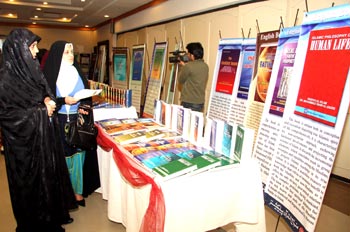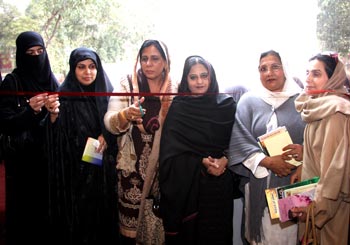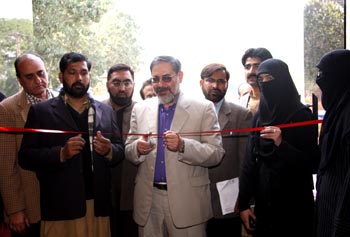 Inaugural Ceremony of Shaykh-ul-Islam's Books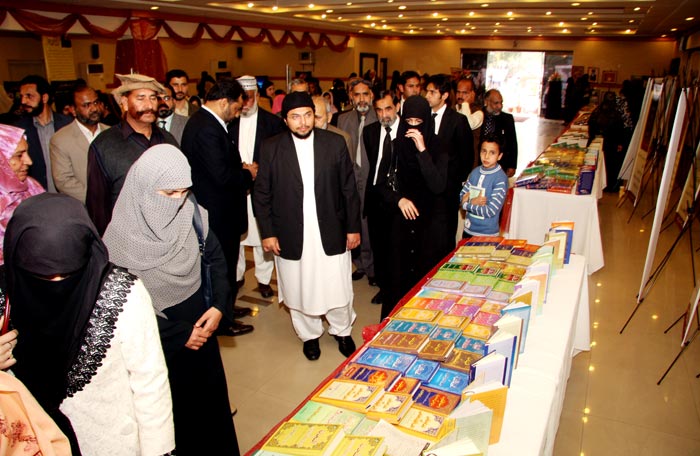 Earlier, the inaugural ceremony was launched in the Qasr-e-Zauk Hall No. 1. Hundreds of thousands of people representing various influential classes of society were present to attend the ceremony, which had been arranged to celebrate the 59th anniversary of Shaykh-ul-Islam by paying him tribute, inaugurating hundreds of his books on a wide variety of subjects. A number of intellectual and scholars had come to speak on different books by Shaykh-ul-Islam. In her welcome address, Sumaira Rafaqat Advocate introduced the audience briefly to the main themes of the works and the underlying philosophy they all deal with. Re-awakening the collective intellectual faculty of the people and making them take a bearing, where we were and where we have landed now, where we are to go, what are the hurdles on the way, how we are to remove them and what way we can maintain our direction and speed towards our destination is all what Shaykh-ul-Islam is doing with the Umma in particular, and all the communities inhabiting the globe in general. We are facing a character crisis which we can overcome by following the perfect model of character presented before us in the form of the Holy Prophet's model conduct of life, his Sera. That is the answer to all our questions. That is why Shaykh-ul-Islam has given special attention towards this subject and has been urging the youth all over the world for last thirty years to wake up and know about the holy character of Allah's Messenger and follow in letter and spirit. We will then become invincible and reach the destination of peace and harmony. That is why MWL has organized the Book Exhibition of Shaykh-ul-Islam's intellectual works.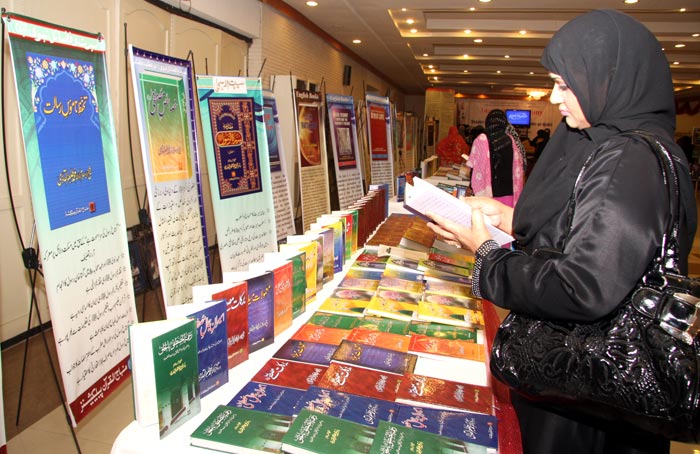 The ceremony was addressed by guest speakers like Uzma Zahid Bukhari Advocate, MPA, PPPP, Lubna Zaidi Chairman Imamia Organization, Dr Razia Gillani Principal Sayyid College Dr Shahnaz Muzammil, a famous columnist, poet and writer, and Mrs Farzana Rafique (wife of IG Pujab). A large number of intellectuals, scholars, educationists, lawyers, bankers, foreign diplomats, politicians, and doctors and engineers participated in the inaugural ceremony. They included Iranian Consulate Mr Abbas Famuri, Director General Cultural Attachment (Khana-e-Farhang), Rana Muhammad Arshad MPA Provincial Parliamentary Secretary for Tourism Punjab, Christian Minister Priest Chaman Sardar, Dr Roya Mufeedi (Bahai religion) from Umar Hospital, Ali Sufyan Afaqi, editor Family Magazine, Dr Humayun Ihsan Principal Pakistan College of Law, Professor Dr Sayyid Shabih-ul-Hasan, (poet) Miss Shifa from Punjab Art Council A large delegation of lawyers from Baluchistan and still larger delegation of lawyers from Lahor, Principal Muhammadan Law College Principal Law College Baluchistan, Research Consultants, Sales Executives, and Bankers from RBS, Alfalah Bank, Accountants and DMD from Toshiba Company, Manager Human Resource Association, Chief Coordinator, Pakistan Ideology, Afia Sarwar representing Jamaat Islami, Engineers from Dawood Hercules Company, teachers associate and professors along with a large number of their students from Punjab University, TMU, UMT, Alfalah College, Iqra College, Minhaj Degree College Qainchi, Government College University, Punjab College, King Edwards Medical College, Allama Iqbal Medical College and Fatima Jinnah Medical Colleges, Principal Sir Sayyid School and Tahir Foundation School.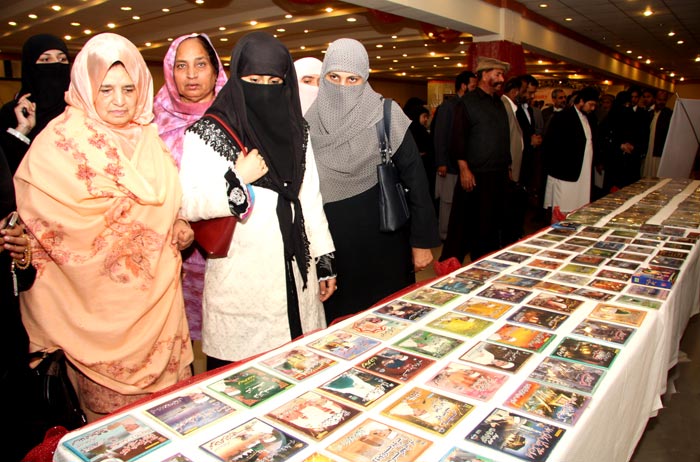 The guest speakers spoke at length about the historical services rendered by Shaykh-ul-Islam to the Muslim Umma in particular and the world community in general in highlighting the main features of Islam which is being distorted, in emphasizing the establishment of peace through restoration of human rights, maintenance of justice and elimination of ignorance and poverty from the globe and developing interfaith harmony to restore human dignity and promote culture of toleration and moderation. They made it categorically open that non other than Shaykh-ul-Islam is introducing the true identity of Islam in all the societies in the world. They urged the audience to read the vast literature produced by him for divine guidance and deliverance in the world and in the Hereafter. The speakers appreciated the hard work the Minhaj-ul-Quran Women League in organizing the inaugural ceremony of books and the Book Exhibition authored by Shaykh-ul-Islam.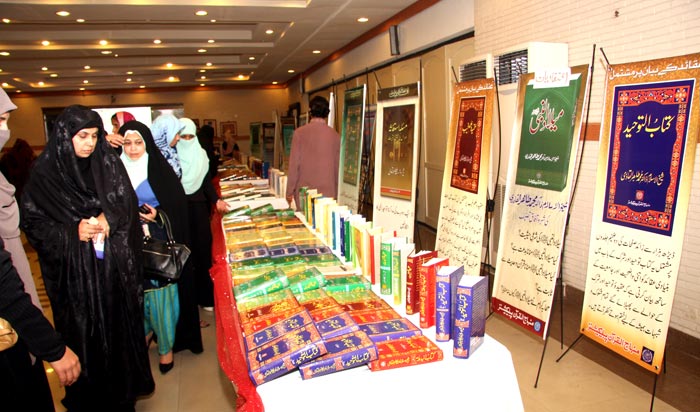 After the inaugural ceremony was over the exhibition of Books of Shaykh-ul-Islam was inaugurated by the Iranian Consulate General Mr Abbas Famuri. He was praise incarnate for the well organized exhibition. People from all walks of life had collected to visit the exhibition. They showed keen interest in such an extensive work by Shaykh-ul-Islam. The visitors then turned towards the Book Stall arranged by Minhaj Publications. They had a record sale on the occasion.