Milad Celebrations 2010 commence at MQI Central Secretariat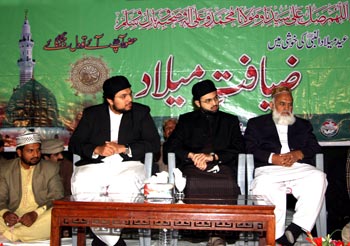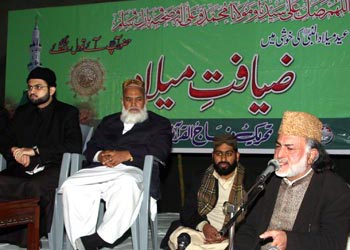 With the moon-sighting of the holy month of Rabi' al-Awwal, the Minhaj-ul-Quran International (MQI) inaugurated first of its Ziafat-e-Milad programme on 16, Februrary, 2010. The ritual that is observed with great dedication and devotion by the members and the affiliates of MQI is celebrating and organizing the Ziafat-e-Milad programmes every evening until the International Milad conference is held on the 12 night of the sacred Rabi' al-Awwal at the Minar-e-Pakistan sight every year. Rejoicing over the holy birth of the Beloved Messenger of Allah, the Muslims organize special programmes all over the world. Minhaj-ul-Quran International, under the dynamic leadership of Shaykh-ul-Islam Dr Muhammad tahir-ul-Qadri, enjoys the honour to organize these celebrations all over the world. The Central Secretariat MQI leads all these activities centrally.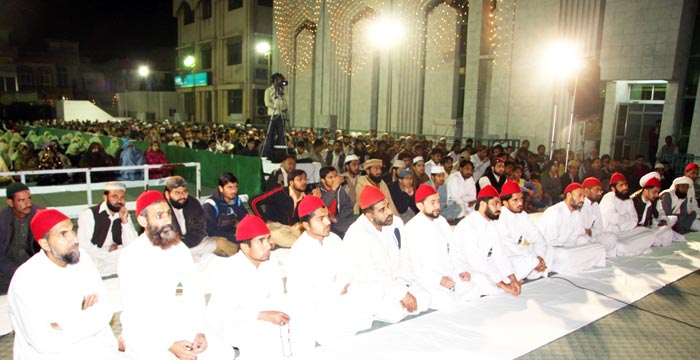 This was the first of its programmes organized to mark the inception of the holy month of Rabi-ul-Awal. It was held on the roof of Suffa Hall. The formal proceedings of the programme got underway with recitation from the Holy Quran at 8:30 pm. Sahibzada Hassan Mohi-ud-Din Qadri, president of Supreme Council and Sahibzada Hussain Mohi-ud-Din Qadri, president of MQI's Federal Council, jointly presided over the programme.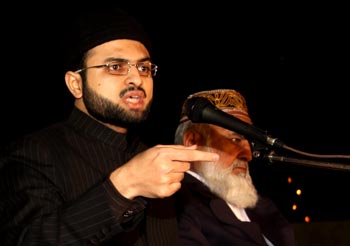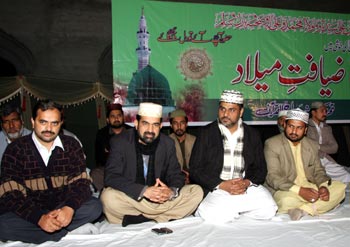 Secretary General Dr Raheeq Ahmad Abbasi, Sheikh Zahid Fayyaz, Mufti Abdul Qayyum Khan Hazarvi, Raja Zahid Mahmood, Jawad Hamid, Dr Tanvir Azam Sandhu, Ghulam Murtaza Alvi, Shahzad Rasool Qadri, Zeeshan Baig, Haji Muhammad Ishaq, Sahibzada Iftikhar-ul-Hassan Qadri and other leaders were also present on the occasion.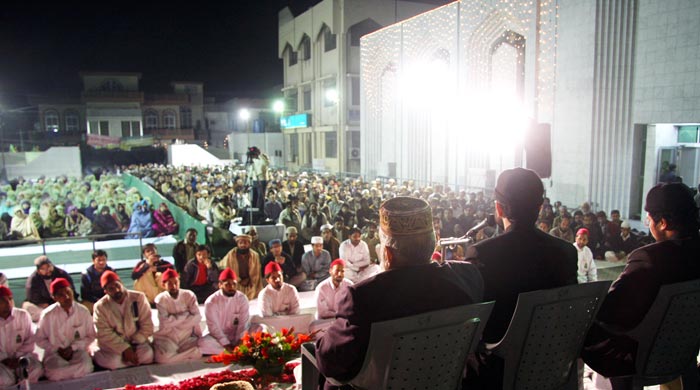 A large number of women from Shariah College, its teachers and Minhaj-ul-Quran Women League also attended the feast.
The Directorate of Events Management had decorated the venue very beautifully befittingly as per demand of the occasion. Aurangzeb Qadri, Qari Anser Mahmood Qadri, Amjad Bilali and Irshad Azam Chishti recited the Naat in the programme.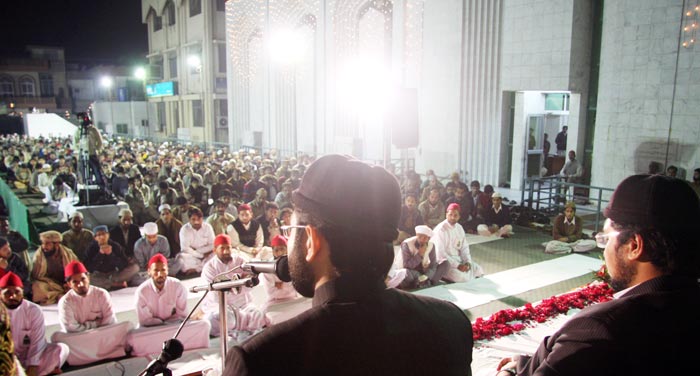 Sahibzada Hassan Mohi-ud-Din Qadri delivered his speech on the topic of importance and excellence of Durood and Salutation. At the conclusion of the programme, Durood-o-Salam was offered on the Holy Prophet (saw). All participants had feast afterwards.