Urdu declamation contest concludes week-long celebrations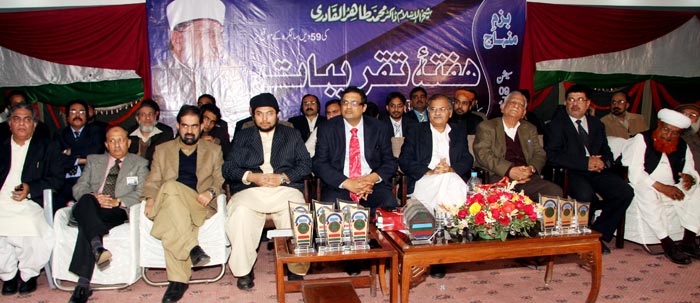 The celebrations that continued for a week in connection with the 59th birthday of Shaykh-ul-Islam Dr Muhammad Tahir-ul-Qadri at the Minhaj University came to end on February 11, 2010. Urdu declamation contest on the topic of "Electronic media is a blessing" was the last programme in that regard. Sahibzada Hussain Mohi-ud-Din Qadri; president of MQI's Federal Council, presided over the programme, whereas Shaukat Mahmood Basra; MPA and parliamentary Secretary, Usman Pirzada; renowned actor, and Sohail Warraich; Geo TV anchor were the guests of honour. Furthermore Zia-ur-Rehman Amjad; Director of Current Affairs of Pakistan Television, Dr Sayyid Shabih-ul-Hassan; renowned intellectual and critic, Asif Bukhari; famour TV artist, Rana Mushtaq; chief editor of Daily Muasharat, Noman Ali Qasim, Kokab Sami; GEO TV producer and others from the electronic media were among the distinguished guests.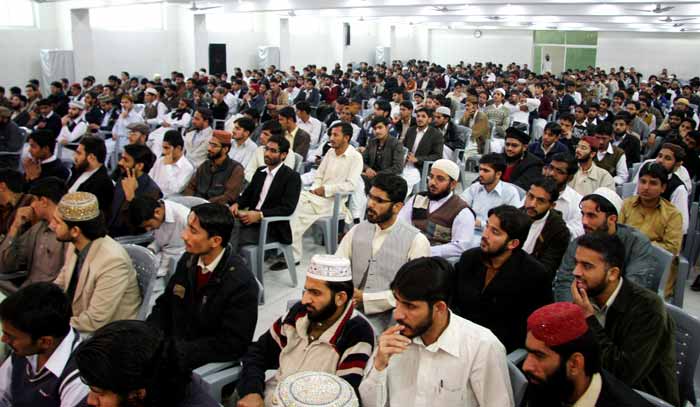 Those from among the MQI central leadership included Faiz-ur-Rehman Durrani, Brig. (r ) Iqbal Ahmad Khan, Dr Ali Muhammad, Dr Raheeq Ahmad Abbasi, Dr Zahoor Ullah Qadri, Mufti Abdul Qayyum Khan Hazarvi, Prof Muhammad Nawaz Zafar, Rana Muhammad Idrees Qadri, Sohail Ahmad Raza, Jawad Hamid, Sanaullah Chaudhry, Ashraf Khan, Dr Inayat Ali Bhatti, Ali Ahmad etc.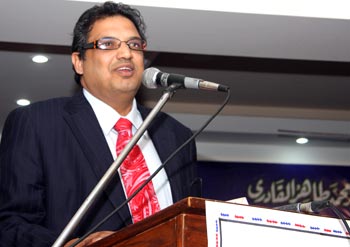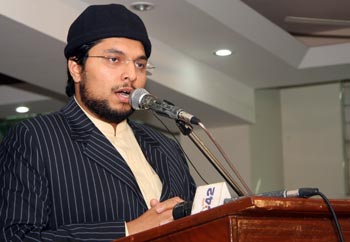 The respected teachers from the College of Shariah who attended the programme were Dr Masood Ahmad Mujahid, Dr Muhammad Asghar Javed, Muhammad Ilyas Azami, Mumtaz-ul-Hassan Barvi, Ateeq Ahmad Haider, Muhammad Abbas, Shabbir Ahmad Jami, Sayyid Iftikhar Hussain Shah, Rana Muhammad Akram Qadri, Ghulam Mujtaba Tahir, Sabir Hussain, Zafar Iqbal, Qari Allah Baksh Javed, Qari Allah Baskh Naqshbandi, Murad Ali Danish, Mujeeb-ur-Rehman, Muhammad Kashif Bhatti, Muhammad Ajmal Khan, Hafiz Khurram Shahzad, Rasheed Ahmad Bhatti, Muhammad Munir, Umer Hayat and others.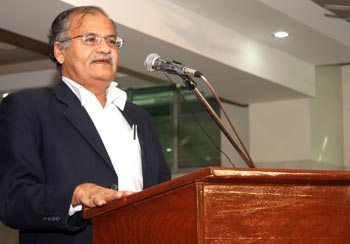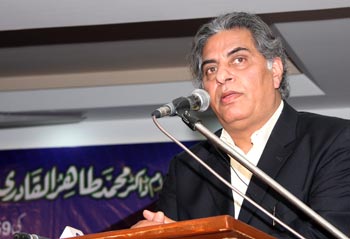 The proceedings of the programme got underway at 10 a.m. with the recitation from the Holy Quran by Qari Husnain Farid followed by Naat which Qari Anser Ali Qadri recited. More than 50 male and female students from across different educational institutions of Pakistan took part in the competition.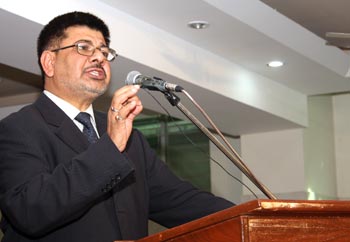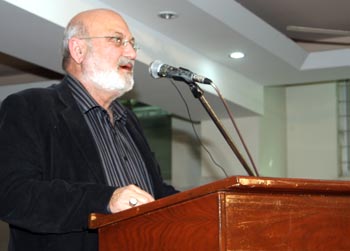 Muhammad Umair from COSIS, Miss Aneesa from Punjab University and Salman Ali from the Punjab University got first, second and third positions respectively in the declamation contest. The jury consisted of Absar Abdul Ala, senior producer of Radio Pakistan, Azam Noori and Tahir Baghdadi.
In keeping with his past tradition, the first position holder from COSIS surrendered his position in favour of Sidra Akram of Punjab Law College.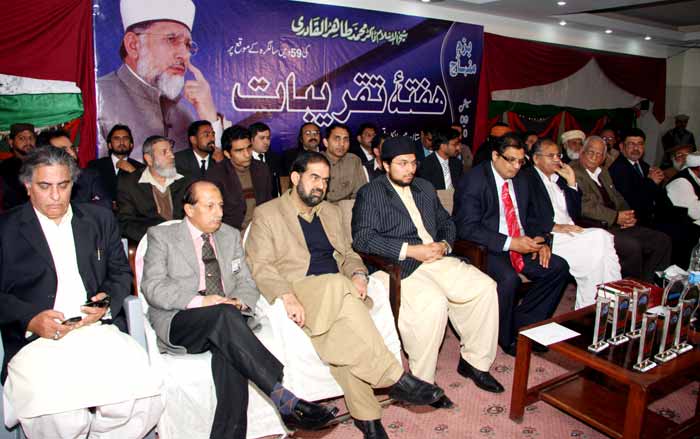 In his address on the occasion, Sahibzada Hussain Mohi-ud-Din Qadri said that Allah Almighty endowed the right of free speech to the angels. If He had willed, none would have dared express his opinion. Likewise, He handed over the right to oppose to Satan and made it His Sunna. There is a need of a criterion to judge whether a thing is a bane or boon. A thing making inroads into the domain of thought and action and fostering fresh thinking cannot be a bane. Free and impartial media is a blessing for the nation and society. It is the responsibility of media to represent the aspirations of the downtrodden sections of society who otherwise go unrepresented in the world of power politics and pro-elite state structures. If that happens, it would herald a new beginning for our otherwise passive and demoralized society. In the end of his speech, he urged the youth to come forward and take up the service of Pakistan as a sacred mission.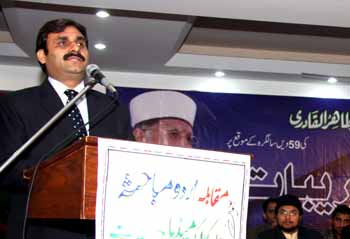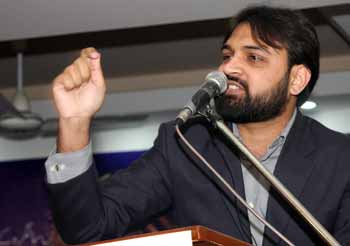 Shaukat Ahmad Basra, member of provincial assembly and parliamentary secretary, said in his speech that Minhaj University offers a unique blend of modern and classical sciences. Dr Muhammad Tahir-ul-Qadri has given a model of an ideal educational institution through the establishment of Minhaj University, a model which needs to be replicated throughout Pakistan. Dr Muhammad Tahir-ul-Qadri is a distinguished personality of the present age who is busy illuminating not only Punjab but also Pakistan with the light of his knowledge. Appreciating the role of media he said that there media still needs to be more impartial and neutral in its presentation of events and news coverage.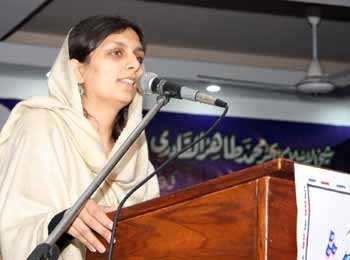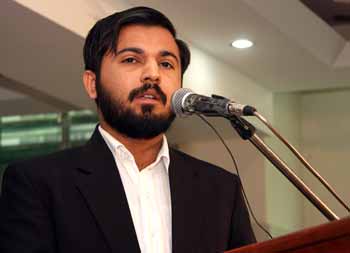 Zia-ur-Rehman Amjad, Director of PTV Current Affairs, said that electronic media is a double-edged sword and with the push of one button, one is exposed to another world having different background, values and traditions. He said that electronic media is playing its important role in the national development by changing the manner of people's thinking patterns and fostering change from inside. He said that he is privileged to have interviewed Dr Muhammad Tahir-ul-Qadri for Pakistan Television.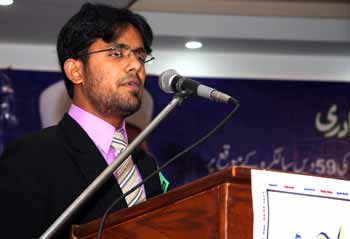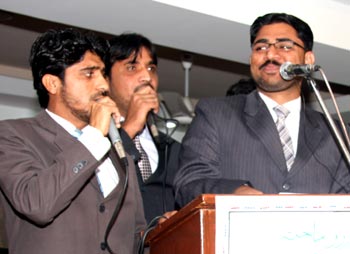 Sohail Warraich, Dr Shabih-ul-Hassan, Usman Pirzada, Faiz-ur-Rehman Durrani, Dr Ali Muhammad, Dr Raheeq Ahmad Abbasi and Dr Zahoor Ullah Qadri also spoke on the occasion.
Hafiz Shakeel Akram delivered a thank-you address at the end. The programme ended on Dua led by Mufti Abdul Qayyum Khan Hazarvi.