All set for International Mawlid-un-Nabi Conference today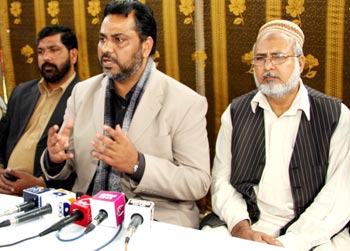 Preparations for the 26th International Mawlid-un-Nabi (blessings and peace be upon him) Conference 2010 have been completed. The Conference is all set to take place on the intervening night between 11th and 12th of Rabi-ul-Awwal with traditional fervour at the historic Minar-e-Pakistan.
Sheikh Zahid Fayyaz, Deputy Secretary General of MQI, threw light on the details of the Conference in his media interaction to brief the media about preparations of the Conference. He said that the distinguished religious, social and political personalities, renowned Na't Khawans, scholars and intellectuals would attend the Conference from the Islamic world as well as Pakistan. The chief highlight of International Mawlid-un-Nabi Conference is the keynote address of Shaykh-ul-Islam Dr Muhammad Tahir-ul-Qadri.
Sheikh Zahid Fayyaz, who heads the main committee tasked with overseeing the preparations of the Conference, said that preparations were complete to make the occasion a success. More than 50 committees were constituted to accomplish this task. He said that a security squad of MQI youth consisting of five thousand youngsters would take care of the security, besides the police and law enforcement agencies.
In reply to a question, he told that arrangements for the live telecast of the Conference on different TV channels had also been completed. The speech of Dr Muhammad Tahir-ul-Qadri would be telecast live around the globe and millions of viewers from different parts of the world would be able to participate in the programme indirectly through internet. He hoped that around one million people would attend the International Mawlid-un-Nabi Conference.
Sheikh Zahid Fayyaz said that in view of large number of participants coming from different areas of Pakistan, hundreds of reception camps would be set up at different locations in Lahore to guide the caravans. Like the practice of the previous years, a Milad feast would also be arranged where more than one thousand goats would be slaughtered. People would be welcome to the feast between 7 pm and 9 pm.
Jawad Hamid, Secretary of the Conference said that the Punjab Government, district government, LDA, WASA, WAPDA, Punjab Police and other law enforcement agencies have reiterated their promise to extend full cooperation and all facilities needed on the occasion. More then 10 thousand students from Lahore would also attend the Conference. The programme would continue till Fajr prayer.