Second day of Milad feast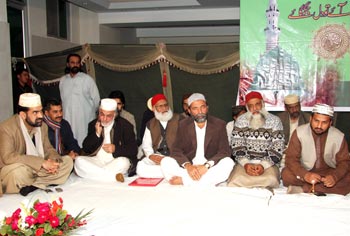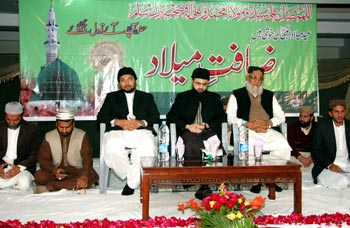 The second programme of Milad feast was held on February 17, 2010 at the central secretariat of Minhaj-ul-Quran International at 8 p.m. Sahibzada Hassan Mohi-ud-Din Qadri, president of MQI's Supreme Council, presided over the programme, whereas Sahibzada Hussain Mohi-ud-Din Qadri, president of MQI's Federal Council was the guest of honour on the occasion. Dr Raheeq Ahmad Abbasi, Sheikh Zahid Fayyaz, Mufti Abdul Qayyum Khan Hazarvi, Prof Muhammad Nawaz Zafar, Jawad Hamid and Ghulam Murtaza Alvi were also present in the programme.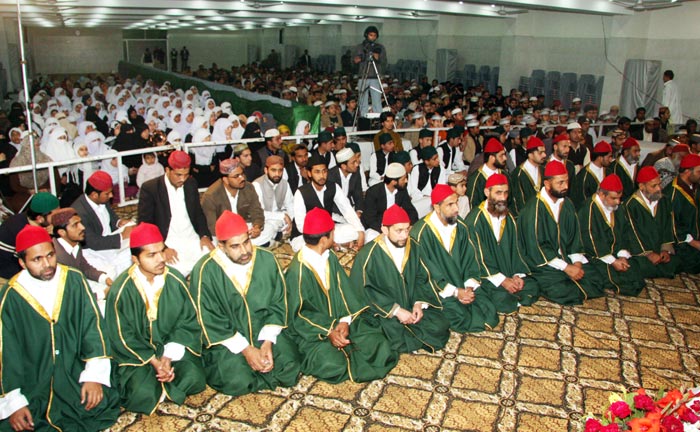 A large number of students, teachers of Minhaj University and staff members of MQI were also in attendance. The Directorate of Event Management had very beautifully decorated the venue. The proceedings of the programme got underway with recitation from the Holy Quran followed by Na't.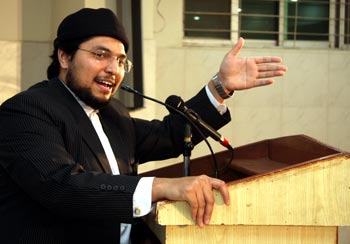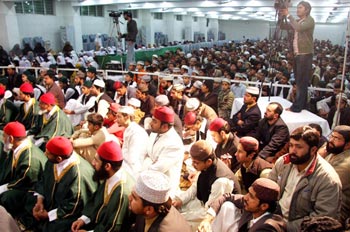 Qari Anser Ali Qadri, Haideri Brothers, Shahzad Brothers, Minhaj Naat Council, and Shahzad Ashiq participated in the Naat Khawani.
Sahibzada Hussain Mohi-ud-Din Qadri delivered spiritualizing speech on the topic of "The month of Rabi-ul-Awwal is a source of love". Before the conclusion of the programme, the participants offered collective Durood and Salutation on the Holy Prophet (blessings and peace be upon him). Prof Muhammad Nawaz Zafar led the concluding prayer. The food was distributed among all participants afterwards.