Complete Report of Relief Activities Under Minhaj Welfare Foundation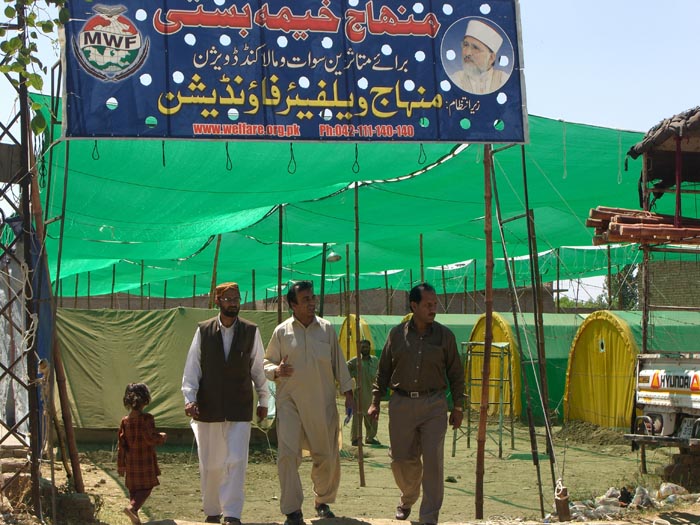 Pakistan is passing through a critical phase. Mood of gloom and fears of terrorism are prevailing in the country. People started migration from Swat and Malakand Division with the initiation of military action against the terrorists. About three million people have been displaced so far, whereas the number of those living in the camps is 0.3 million. The rest have taken refuge in the school buildings, houses of their relatives or have been forced to live under the open skies. Many innocent children were separated from their families as a result of the migration, which is the biggest ever migration in the history of Pakistan.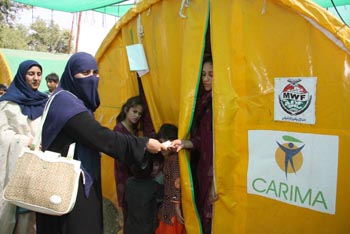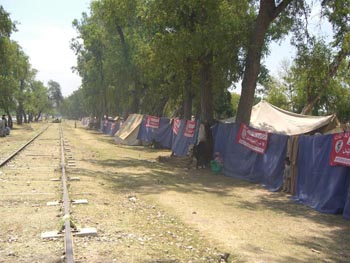 It was in these circumstances that Shaykh-ul-Islam Dr Muhammad Tahir-ul-Qadri instructed the workers, associates and members of Minhaj-ul-Quran International to spare no effort for relief and rehabilitation of our suffering brethren. Minhaj Welfare Foundation (MWF) started relief operations for the affectees of Swat and Malakand Division on May 12 and all the forums of Minhaj-ul-Quran International got into action mode. MWF has established two tent settlements and 38 residential units so far. These units were established in those areas which have not received any aid from the government or any other welfare organization. 23 of such residential units are located in Mardan and 15 in Noshahra. More than 600 families and 5000 people are being given relief goods and other necessary eatables on daily basis. It also deserves to be mentioned here that the Noshahra chapter of MQI distributed the relief goods of worth Rs million on its own.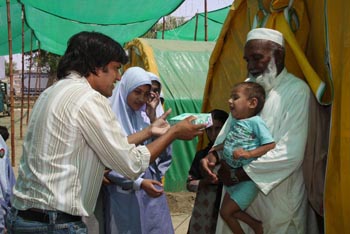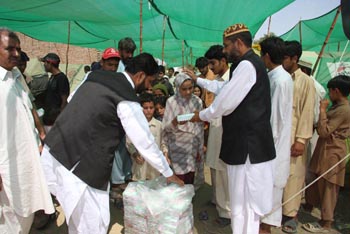 In addition to these, Minhaj Welfare Hospital, Minhaj Free Clinic and Minhaj Free Homoeopathic Dispensary have also been established. Three hand pumps and a motor pump have also been installed through four water installations. The detail of relief activities is given here below:
Minhaj Tent Settlement:
It is located at Noshahra Road, Behram Khan near Sheikh Maltoon (Mardan). Sixty tents have been set up in this settlement, whereas eight rooms have been reserved in Jamia Qadria that house more than seventy families and seven hundred people. This tent settlement has one Minhaj Free Clinic where Dr Tariq Mahmood is rendering his services from 4 pm to 10 pm. Minhaj Homeopathic Dispensary has also been established where Dr Hassan is rendering his services from 10 am to 10 pm. A fifteen member team of Minhaj Welfare Foundation is busy round the clock in this tent settlement. Sixteen toilets have also been set up equally divided for both male and female residents. Tanks of water containing four hundred gallons have also been provided.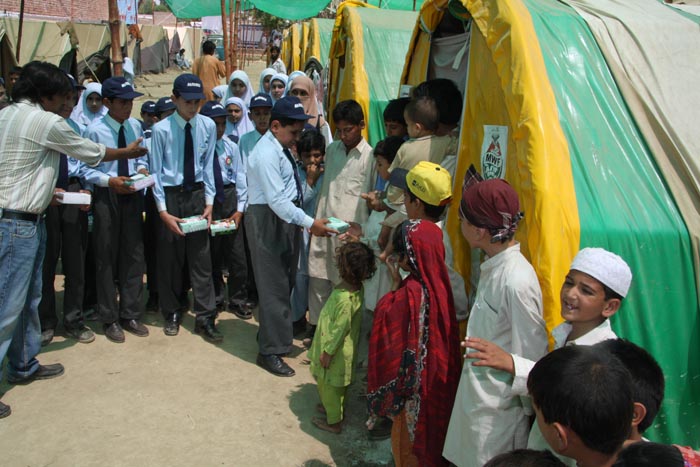 Electricity system:
Electricity connection has been given to every tent where one fan and an energy saver have been made available. All facilities of daily use have been provided. In addition to these, three big search lights have also been installed.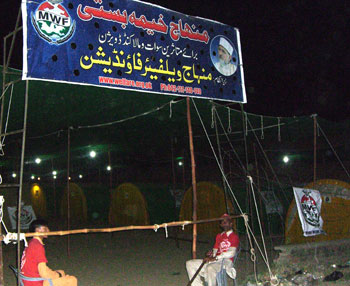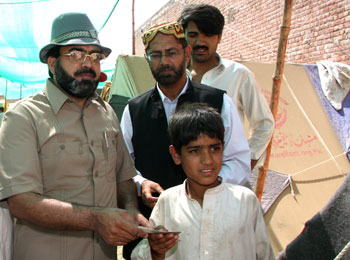 Sewerage Line:
A big sewerage line has been dug for proper direction of rain water. This sewerage line falls into the main gutter.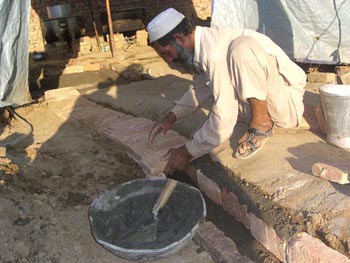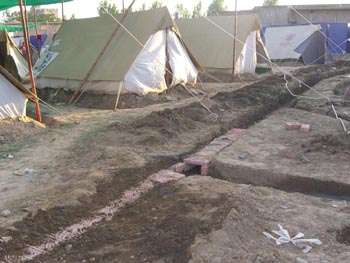 Availability of water:
Two hand pumps and one motor pump have been installed through boring in the Minhaj Tent Settlement. One pump caters to the water need of toilet, other for drinking and while the third one for cooking and washing purposes.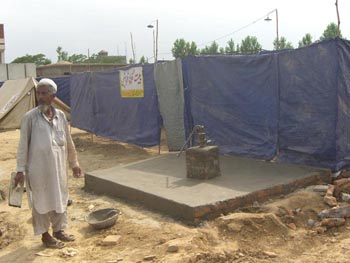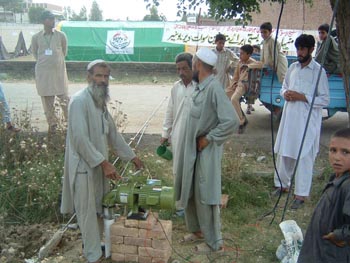 Protection From Scorching Heat:
Due to scorching heat, it becomes difficult to sit or sleep in the tent settlement during day time. More than 40 degree Celsius temperature has been registered in Mardan these days. A 20-feet high huge green blanket covering entire tent settlement has been installed to protect the inhabitants from the heat. It reduces the temperature a great deal. Children are now seen playing under this protection. Minhaj Welfare Foundation of Aziz Bhatti Town and Ravi Town have donated this blanket.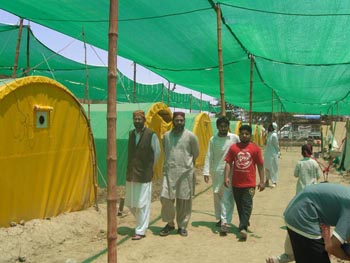 Security:
Police officials have not provided security but the workers of Minhaj Welfare Foundation are rendering this duty day in and day out. A fence has been set up around the tent settlement and big curtain has also been hung with the support of temporary two bamboos.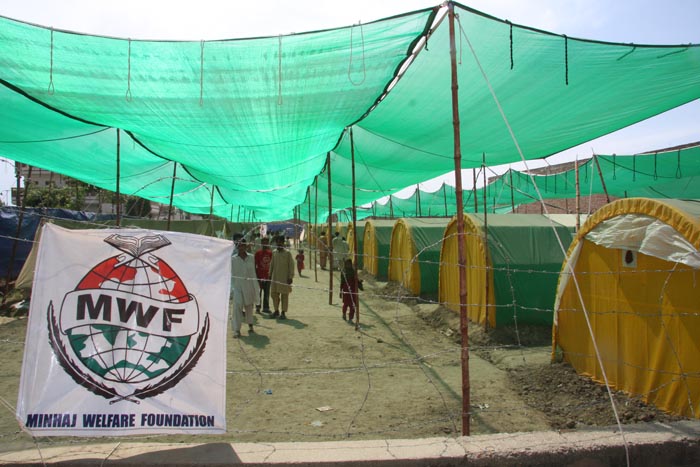 Area:
The area of the Minhaj Tent Settlement is 280 feet long and 61 feet wide.
Establishment of Minhaj School:
Minhaj School was brought into being first of all where children have been provided books, note books, pens, and uniforms etc. The timings of the school are from 8 am to 12 noon. Minhaj Schools have also been set up in Minhaj residential units.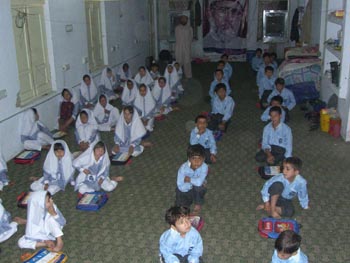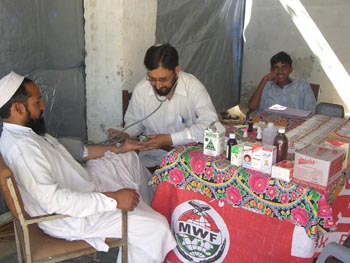 Conference Hall:
A separate room has been fixed for lectures on the Holy Quran and the Hadith for education and training of both men and women where lectures of Shaykh-ul-Islam are shown through TV and DVD.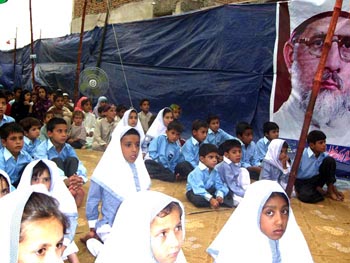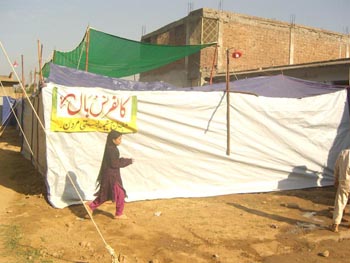 Food:
Good and appropriate food arrangements have been made three times a day. The food is cooked and then served to the inhabitants in the camps. A chief cook and his staff have been appointed for the arrangement of food.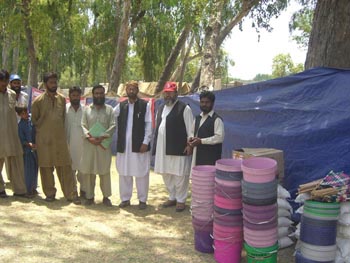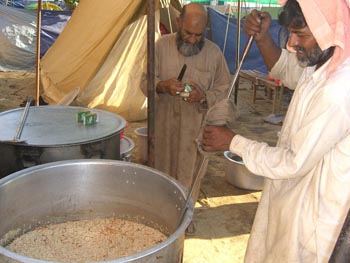 Awareness among the inhabitants of Tent Settlements:
The awareness is created among the inhabitants of the tent settlements that they play their effective role in the management of all affairs on the basis of self-help.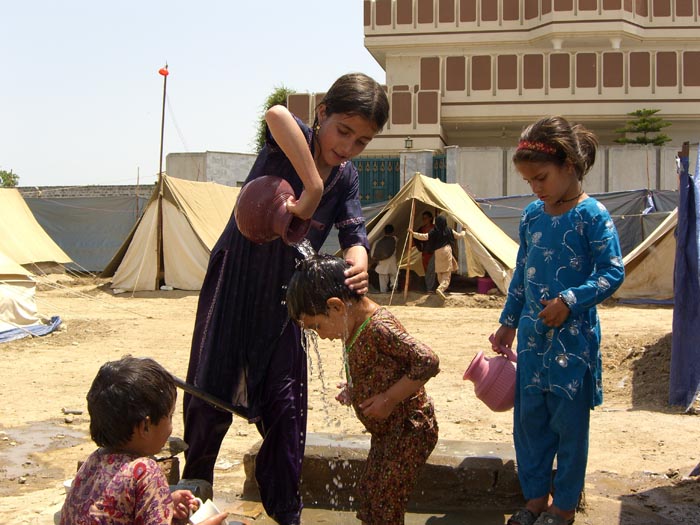 Establishment of Minhaj Residential Units:
By a residential unit is meant the support and sustenance of families residing in three or four rooms. Educational and health facilities have been made available for them. 600 families and 5000 people are living in the twenty residential units who are being provided with every necessary facility.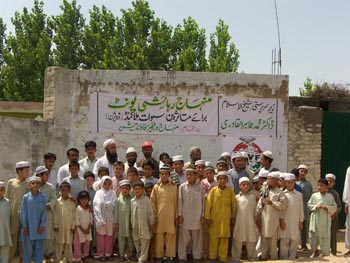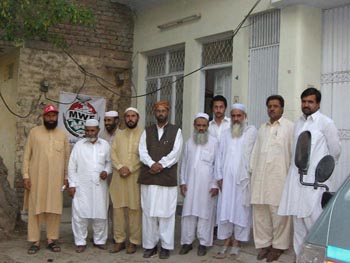 Minhaj Tent Settlement Malakand Road Sri Balool:
30 families and 250 people are living here who have been provided with tents. A hand pump has also been installed there to meet the water need.
Minhaj Welfare Hospital:
It is a complete hospital where services of four male and one lady doctors are available. The facility of operation is also present there. This is located at Bank Road Mardan.
Ambulance Service:
Four ambulances also remain ready to meet any contingency. Shaykh-ul-Islam Dr Muhammad Tahir-ul-Qadri has advised that relief operations would continue as long as our brethren do not go back to their homes and settle there.
Resources:
Minhaj Welfare Foundation and the sub chapters of MQI have managed resources on their own so far with the support and financial contributions of members, workers and associates of MQI.
Women:
Minhaj-ul-Quran Women League is also actively participating in the relief activities. It has already contributed generously and donated such things as new clothes, shoes, juices and other necessary things required for women use.
Nazim-e-Ala Dr Raheeq Ahmad Abbasi led the relief operations. After Nazim-e-Ala left for organizational tour of Europe, Director Minhaj Welfare Foundation, Dr Shahid Mahmood, was made the head, whereas Sajid Mahmood Bahtti was appointed as coordinator to oversee the relief campaing. Ahmad Nawaz Anjum, Rana Fayyaz Ahmad Khan, Jawad Hamid, Dr Tanvir Azam Sandhu, Shafiq-ur-Rehman Saad, Ms Fatima Mashahdi, Haji Muhammad Ilyas, Zahid Islam, Muhammad Aqil Malik, Shameem Ahmad Numberdar, Bilal Mustafvi, Mian Tahir Youqub, Mian Iftikhar Ahmad, Sajid Hameed, Sajid Nadeem Gondal, Amjad Butt, Prof Zuliqar Ali and other central and provincial leaders fully participated in the relief campaign.
MQI appointed Mr. Iftihar Shah Bokhari, senior deputy director of MWF, as a focal person for coordination of relief activities. He performed his duty excellently with complete cooperation of Mushtaq Ahmad Khan and Zia-ur-Rehman Khan.
Prof Bakhat Zaman is rendering his services as in-charge in the tent settlements. Nihar Awan, Dr Tariq Mahmood, Dr Sajid Nabi al-Qadri, Altaf Hussain, Allama Syed Hamayun Rasheed, Liaqat Hussain, Khawaja Muhammad Ashraf, Mudassar Hussain and others are looking after the arrangements in the tent settlements and residential units.
In order to create awareness among the people, children also took part in fund collection campaign. National media gave comprehensive coverage to the campaign of children. A relief float also visited many areas of the city and collected donations. It then joined the main relief caravan for Mardan. Minhaj-ul-Quran Women League also set up relief camps at The Mall. A relief caravan led by Women League President, Fatima Mashahdi, also reached Mardan with relief goods and other things.
The local chapters of MQI at Gujrawala, Wazirabad, Kharian, Lala Mausa, Gujrat, Serai Alimgir, Jehlum, Deena, Gogar Khan, and Islamabad held out historic welcome to the 'Help Caravan' when it reached their respective areas. They also participated in the campaign in an effective manner.
It should be kept in mind that the migrants have not yet gone back to their homes so far. The provision of relief and food to those located in Minhaj Tent Settlements is our responsibility. There is a dire need of the hour that massive help and relief operations should continue till the return of the migrants to their areas. This is only possible if those associated with MQI continue to extent their cooperation with us.
Minhaj Welfare Foundation extends its gratitude to all those living inside as well as outside Pakistan who have made contributions to this sacred cause. It prays to Allah Almighty to accept their good and pious donations.