MQI delegation pays respects at Iqbal's shrine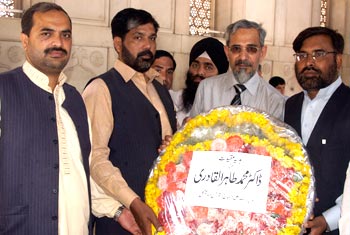 On the occasion of death anniversary of Allama Dr Muhammad Iqbal, a central delegation of Minhaj-ul-Quran International led by G.M. Malik, Principal Secretary to Shaykh-ul-Islam Dr Muhammad Tahir-ul-Qadri paid their respects on the shrine of the poet-philosopher and laid a floral wreath on his grave on behalf of Shaykh-ul-Islam. They also offered Fateha on the occasion. The delegation consisted of Sohail Ahmad Raza, Jawad Hamid, Sajid Bhatti, Kalyan Singh, Jaswant Singh and others.
Speaking on the occasion, G.M. Malik, leader of the delegation, paid a glowing tribute to the leadership of Allama Dr Muhammad Iqbal. He said that Dr Iqbal was a rare phenomenon in the history of sub-continent whose eternal message breathed life into a rudderless people and marshaled crowd into a nation on the basis of ideology.
G.M. Malik said that Iqbal's thoughts continue to be as relevant today as they were during his times. He said that Iqbal offers a complete code of life both for individual and a society as to how to resurrect individual and societal ego, an attribute so critical to the nations' quest for glory.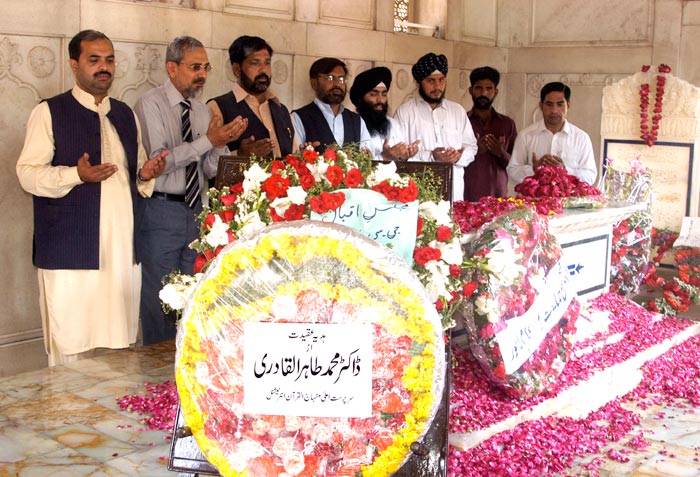 G.M. Malik said that Allama Iqbal had great hopes from the youth as he considered them as their 'Shaheen' (eagle). References to youth and their undying passion to move on can be found easily in his poetry. He said that it was about time that the youth, seeking guidance from the teachings of Iqbal, organized themselves and launched a peaceful struggle against corrupt and oppressive system in the country with a view to bringing about comprehensive change in society.