Oceans of people to reach Lahore on December 23: Sheikh Zahid Fayyaz
On November 13, Sheikh Zahid Fayyaz, senior Deputy Secretary General of MQI, reached Mirpur (Azad Kashmir) to hold consultations with the local leadership in regard to extending historic welcome to Shaykh-ul-Islam Dr Muhammad Tahir-ul-Qadri on December 23 upon his arrival at Minar-e-Pakistan. Sheikh Zahid was received very warmly by the local leadership of MQI Azad Kashmir.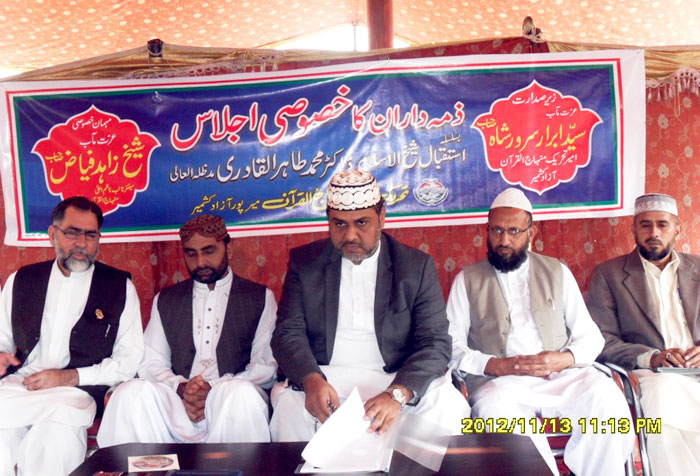 After recitation of the Holy followed by Naat, Hafiz Ihsan ul Haq delivered the introductory remarks. The office holders of MQI from all Tehsils and cities of Mirpur presented a progress report of one month. They resolved to take out huge caravans of buses, wagons and cars on the said day to receive Dr Muhammad Tahir-ul-Qadri.
Speaking on the occasion, Sheikh Zahid Fayyaz said that the people of Pakistan would extend historic welcome to Dr Muhammad Tahi-ul-Qadri. He said that this welcome would convey a message that there was only one leader in the person of Dr Tahir-ul-Qadri who had the solution of problems facing the nation. He said that the 23rd of December would see the waves of people across Lahore city who would be out to warmly welcome their leader.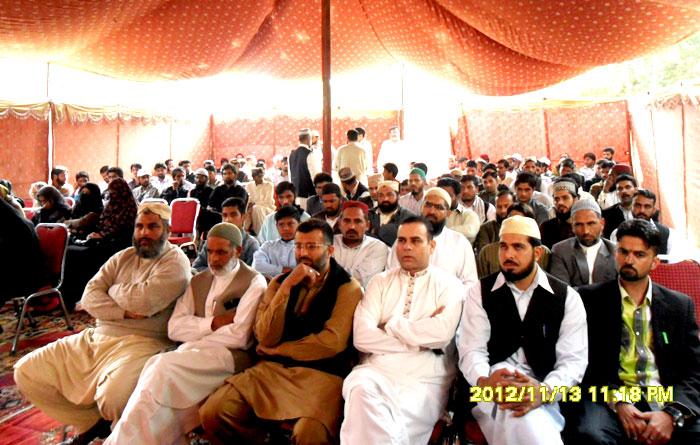 In his speech, Syed Ibrar Sarwar Shah said that a caravan of hundreds of buses, cars and wagons would travel to Lahore to welcome their leader. He said that it would be the day when real struggle would be launched to send the present corrupt and outdated electoral system packing.
Tajjamul Hussain Inqalabi, president of MSM, said that the students and youth were committed to the mission of peaceful change. He said that they would join the tsunami of people on December 23 to receive Dr Tahir-ul-Qadri.
Muhammad Imtiaz conducted the proceedings of the programme.