Dr Tahir-ul-Qadri showed way toward change amid darkness: Dr Hassan Mohi-ud-Din Qadri
Only courageous leadership can bring about change.
Business community urged to play their role in change
Disaster in Thar calls for massive relief and rehabilitation operations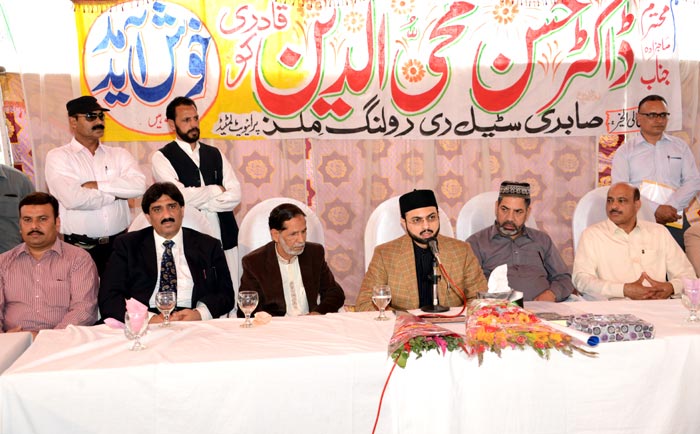 Dr Hassan Mohi-ud-Din Qadri, the chairman of Supreme Council (MQI), has said that if one remains sincere and loyal in one's struggle to change internal and external system solely for the sake of Allah's pleasure, He certainly endows one with success. He said that all efforts to liberate humanity from oppression and ensure their welfare should be selfless. He said that it was man's responsibility to keeping struggling to uphold the banner of truth, adding that it is Allah Almighty's work as to how and when He grants success.
Dr Hassan Mohi-ud-Din Qadri expressed these views while addressing a luncheon hosted by MQI (Wahga Town chapter) in his honour the other day. Mirza Hanif Sabri, Haji Abdul Khaliq, Tariq Altaf, Mian Abdul Waheed, Mian Liaqat, Mirza Arshad Baig, Talat Faheem, Kafyatullah Dar, and leading traders and industrialists of Lahore were also present at the occasion.
Dr Hassan Mohi-ud-Din Qadri said that good intentions and heart-felt and deep-rooted devotion were the signs of acceptance of worship and prayers. He said that one could not be blessed with the light of worship without being focused. He further said that when one got lost in the conception of Allah Almighty by forgetting everything, it was when that one got internal purification and light. He said that light of worship made one true servant of God and such a person became beneficial for the people without any discrimination. He said that welfare of the suffering humanity was the essence of system of worship and prayers.
Meanwhile, Dr Hassan Mohi-ud-Din Qadri inaugurated the new steel mill of Mirza Haneef Baig. Speaking at the ceremony, he said that it was unfortunate that Pakistan was counted among the league of corrupt nations. He said that there was such a density of darkness that people did not have electricity, water, and jobs during this spring season. He said that terrorism and extremism had been on the rampage without any let or hindrance. He said that foreign loans had brought the economy to brink of disaster while new loans were being taken to prop up an ailing economy.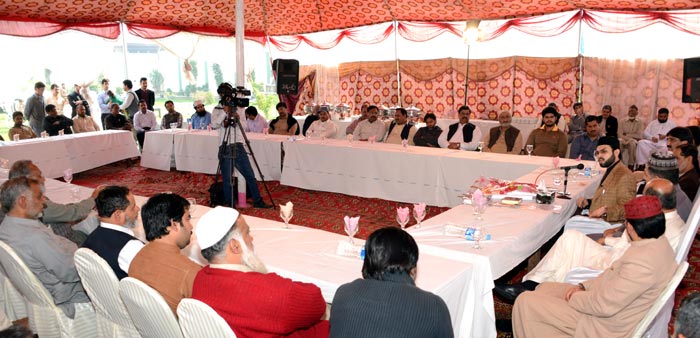 The Chairman of the Supreme Council (MQI) said that Dr Tahir-ul-Qadri provided real leadership at this critical juncture as well. He rejected the incumbent system and showed the way of a real change. He said that it was a way towards hope, revivalism and betterment. He said that only a courageous leadership could bring about change in the country. He asked the business community to play their due role in the struggle for change. He said that anti-people election system had failed miserably to contribute to well-being of the people, adding that the nation would have to strive for change in the system for resolution of their problems and revival of economy.
Dr Hassan Mohi-ud-Din Qadri said that one could sense from the plight of the poor people of Thar that foreign aid received for their relief and rehabilitation was being squandered away by the elite. He said that terrorism had held up the flow of investment. Load-shedding had adversely affected industry with job losses at a massive scale. He said that the way economy was being run on dictates from IMF was a major hurdle in the way of achieving self-sufficiency. He said that the government appeared helpless before the IMF, which was actually calling the shots.
Dr Hassan Mohi-ud-Din Qadri said that the scale at which disaster visited the backward regions of Thar demanded a massive relief and rehabilitation operations. He said that the entire nation would have to come into action mode along with the armed forces to carry out relief and rehabilitation of the drought-hit people. He said that Minhaj Welfare Foundation was in the forefront of relief and rehabilitation efforts and launched operations under the directions of Shaykh-ul-Islam Dr Muhammad Tahir-ul-Qadri.