Dr Tahir-ul-Qadri's vision is establishment of welfare state: Dr Hassan Mohi-ud-Din Qadri
23 couples tie knot at mass marriage ceremony under MWF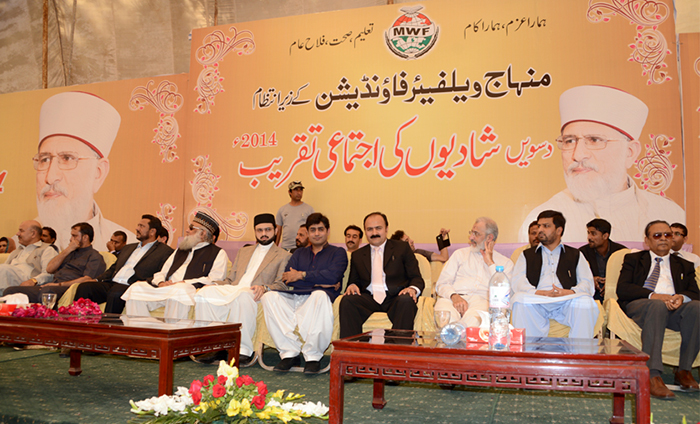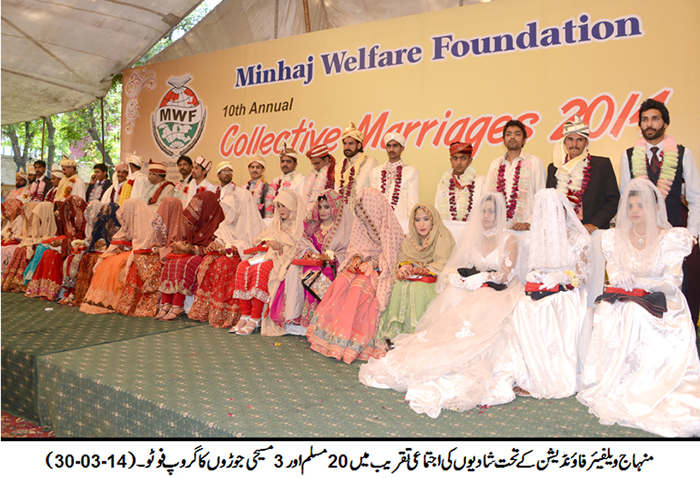 20 Muslim and 3 Christian couples tied the knot today at a prestigious mass marriage ceremony held under the banner of Minhaj Welfare Foundation today. Every bride was gifted household stuff and a jewelry set of worth Rs. 1.5 lacs at this occasion. There was also food arrangement for 2000 guests.
Addressing the ceremony, Dr Hassan Mohi-ud-Din Qadri, Chairman of MQI Supreme Council, said that Dr Tahir-ul-Qadri's vision was the establishment of a welfare state and today's ceremony represented the continuation of the same. He said that the mission he started to replace hatred by love distinguished him from others in the world. He said that Dr Tahir-ul-Qadri exposed real face of Islam and made the world aware of the real teachings by waging a sustained struggle against terrorism and extremism at intellectual, scholarly and practical levels. He said that through his consistent efforts, he thwarted conspiracies against Islam and Pakistan. He said that it was for this reason that the personality of Dr Tahir-ul-Qadri was worthy of pride for the Muslim world as well as people of Pakistan.
MQI leader said that present electoral system and status quo was protector of each other, adding that it was this monster that had devoured the rights of the people for last many decades. He said that the current electoral system was responsible for price hike, terrorism, and unemployment. He said that process of internal purification made man fathom the reality of servitude. He said that the society lacked in passion and understanding on this count, adding that the people considered the acquisition of worldly things as their success. Dr Hassan Mohi-ud-Din Qadri and other guests joined the newly married couples for group photographs at the occasion and distributed gifts among them.
Speaking at the occasion, PTI leader, and renowned singer Ibrar-ul-Haq said that political struggle waged by Dr Tahir-ul-Qadri and Pakistan Awami Tehreek for implementation of Articles 62 and 63 of the Constitution was a bright chapter in the annals of history. He said that Dr Tahir-ul-Qadri was right when he said that election façade was a blot on the face of democracy. He said that it became manifestly clear after the fact of 35 'punctures' came to the surface that the present Parliament would not be able to offer anything to people except disappointment. He said that Dr Tahir-ul-Qadri's services in multiple fields such as human welfare, education and religion were worthy of emulation.
A five-member delegation of MQM led by Asif Hasnain also attended the ceremony. Speaking at the occasion, MNA Asif Hasnain said that the conditions had come to such a pass in the country that the people were deprived of happiness and craved for the same. He said that marrying off daughters belonging to poor households was not less than a blessing. He said that Minhaj Welfare Foundation was propagating the vision of 'living for others' at the mass scale. He said that he paid a glowing tribute to Minhaj Welfare Foundation in its endeavours on behalf of Altaf Hussain and MQM.
Director of Minhaj Welfare Foundation Amjad Ali Shah presented a welcome address and an annual performance report of the Foundation. In his views at the occasion, Amir of MQI Faiz-ur-Rehman Durrani asked every individual to play his/her role for elimination of poverty, backwardness and ignorance, adding that dosing so was in consonance with the practice of the Holy Prophet (SAW). He said that Dr Tahir-ul-Qadri had made a number of welfare projects including Orphan Care Home an example and worth of emulation for others.
President of MWF (the Netherlands) Dr Abid Aziz, Amir-e-Tehreek Faiz-ur-Rehman Durani, MPA Uzma Bokhari, MPA and actress Kanwal Nauman, actor Rambo (Afzal Khan), Father Chaman Sardar, Sardar Bishan Singh, Sardar Saranjeet Singh, Dr Munhar Chand, Pastor Rocky, Sohail Raza, Ghulam Mohi-ud-Din Dewan, Sufi Muhammad Arif, Mirza Hanif Sabri, Amjad Ali Shah, GM Malik, Jawad Hamid and other leaders of MQI and PAT attended the ceremony.