Minhaj Welfare Foundation dispatches 12,000 packets of relief goods for IDPs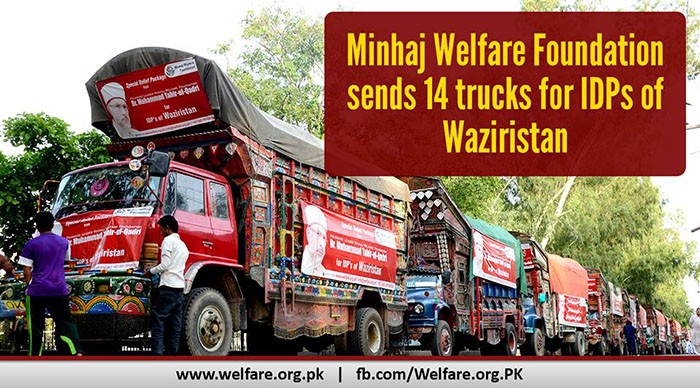 On Tuesday, Minhaj Welfare Foundation dispatched 14 truckloads of 12000 packets of food for Internally Displaced Persons (IDPs) of North Waziristan. Dr Muhammad Tahir-ul-Qadri and Dr Hassan Mohi-ud-Din Qadri saw off the relief caravan with their prayers.
Speaking at the occasion, Dr Tahir-ul-Qadri said that PAT was standing by the affectees and the armed forces of Pakistan in accordance with its traditions at this hour of trail and tribulation. He said that the entire nation held the sacrifices of the armed forces in high esteem and were proud of their military. He said that those who were talking of talks during the course of operation wanted to spread mischief and chaos in the country. He asked the nation to identify these people as they were not their well-wisher. He said that the role of military in fighting and eliminating terrorism and extremism from the country would be chronicled in golden letters in the annals of history.
Dr Qadri said that Minhaj Welfare Foundation was dispatching 12000 packets of relief goods in the first phase while the rest of the relief items would be sent in the second phase. He got the packets opened in his presence and showed the items to the media that consisted of flour, sugar, ghee, rice, pulses and other edibles.
Dr Tahir-ul-Qadri said that the sacrifices of the IDPs would also be remembered in the struggle to rid the country of scourge of terrorism. He said that they left their homes for the future of the nation, adding that they would not be left helpless. He said that time was near when the country would become the hub of peace.