Labourers to be made shareholders in mills after revolution: Dr Tahir-ul-Qadri addresses Labour Conference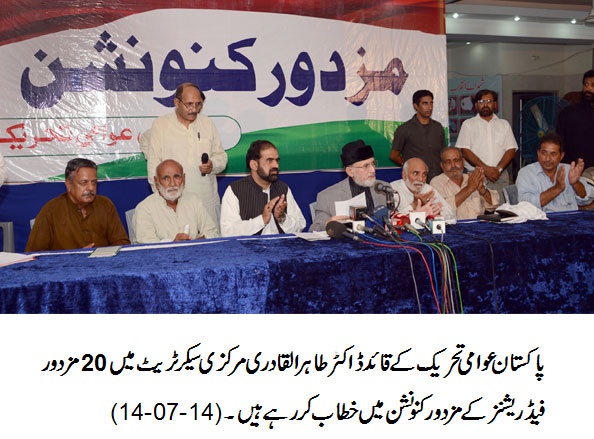 Accursed be a democracy in which people remain deprived of their fundamental rights. Let such a democracy be derailed. A labourer, farmer and a journalist will represent a labourer, a farmer and a journalist in the Assemblies after the revolution. A society which does not give workers their rights becomes a society of Pharaoh, Yazeed and Qaroon. We are ready to sacrifice our lives and whatever we have for the sake of revolution. We would spread Dr Tahir-ul-Qadri's message of revolution in every nook and corner of the country.
This was the resolve of labour leaders at a Labour moot held in the central secretariat of Pakistan Awami Tehreek in Model Town. The moot drew in widespread representation from over 20 workers' unions from Quetta to Peshawar. The programme was addressed by PAT chief Dr Tahir-ul-Qadri, labour leaders Shaukat Ali, Mian Saleem, Altaf Barohi, Sultan Ahmad Khan, Dr Ali Ameen, Pirzada Imtiaz Syed and Fazal Wahid. Dr Tahir-ul-Qadri announced the establishment of 20-member Labour Advisory Council.
Speaking on the occasion, Dr Tahir-ul-Qadri, while referring to the Holy Quran, said that the wealth should not remain concentrated in a few hands; rather resources should be distributed justly. He said that Article 38 of the Constitution talks about raising the standard of living of the citizens. He said that it was the dream of the Quaid-e-Azam as well.
Dr Qadri said that first 40 Articles of the Constitution which obligate a state to provide fundamental rights such as livelihood, education, shelter, health etc to the citizens had remained suspended over the decades by the powerful ruling elite, adding that the part of the Constitution dealing with statecraft had been named democracy. He said that the labourers ran factories with their blood but went without adequate food and other necessities of life. He said that the standard of living of working class was less than that of animals.
Dr Tahir-ul-Qadri said that expecting of those living in luxurious palace-like houses spread of acres of land to fight for rights of the workers was like living in a fool's paradise. He said that we would uproot the anti-labour system and build flats for 20,000 workers in a palace of 4000 kanals. He said that labourers would be made shareholders in factories after revolution. He said that owners would only be able to take away their profits after giving labourers their due share.
Dr Qadri said that the rulers had resorted to privatization of state-owned entities to take care of economic interests of their coming generations for centuries. He said that if the labourers and the poor did not support this revolutionary movement, there would be none to challenge and clash with cruel rulers in times to come and we would be left ruing the day.