No investment to come to Pakistan if corrupt system is intact: Dr Tahir-ul-Qadri
Holds corrupt rulers responsible for foreign intervention in Pakistan
Says sit-in has created awareness among masses
Terms popular awakening a harbinger of revolution
Lauds active participation of Pakistani Diaspora community in matters of their motherland
Set to address expatriate community and a Convention in the US in Nov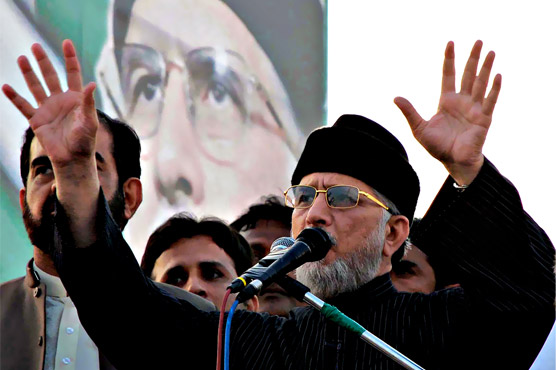 PAT leader Dr Muhammad Tahir-ul-Qadri has said that intervention of foreign powers in the internal affairs of Pakistan is a bitter reality and the corrupt rulers are responsible for this unwarranted intervention. He said that even directions to increase power and gas tariff came from oversees. He promised that we would make every Pakistani a shareholder in powers and resources and eliminate injustice meted out to overseas Pakistanis at every level.
Dr Tahir-ul-Qadri expressed these views while talking to delegations of Pakistani community belonging to different walks of life in Canada. He said that the revolution sit-in created awareness among the people about their constitutional and political rights. He said that it was for the first time that there was a talk of giving relief to the people in the form of reduction of prices of POL products as a result of immense pressure of sit-in.
Dr Qadri made it clear that as long as this corrupt and obsolete system stayed intact, no foreign investor would even think of investing his money in Pakistan. He explained that the PAT struggle was aimed at dismantling this very system, which was responsible for multiple predicaments the country was facing. He said that the sit-in also emboldened the dissident members of PML-N who were now talking about forming 'Go Nawaz Go' blocks and the people of Pakistan were protesting lawlessness of the rulers. He said that we had established a tradition of raising effective and peaceful voice for our rights and we would certainly take it to logical conclusion.
PAT chief said that it augurs well for the country that Pakistani expatriate community was now more determined than ever before to work for elimination of corrupt and exploitatives system. He said that overseas Pakistanis including doctors, intellectuals, scientists, engineers, professors and civil society activists were playing a significant role in revolutionary struggle.
The delegates paid rich tributes to Dr Tahir-ul-Qadri for his political struggle. They said that his revolutionary movement had created a ray of hope and they were hopeful that things would change for the better in their motherland.
According to schedule announced by PAT central secretariat, Dr Tahir-ul-Qadri would address Pakistani community in New York, business and professional community in Dallas, and a big Convention in Huston on November 7, 8 and 9 respectively. The Convention in Houston will be attended by doctors, engineers, traders, industrialists, members of Pakistani community, human rights activists and leading figures of civil society.
Dr Tahir-ul-Qadri will apprise the Pakistani community living in the US about restoration and reorganization of PAT overseas chapters, effective role of PAT in Pakistani politics, and 10-point pro-people revolutionary agenda.