Govt lying about air ambulance for Dr. Tahir-ul-Qadri: Gandapur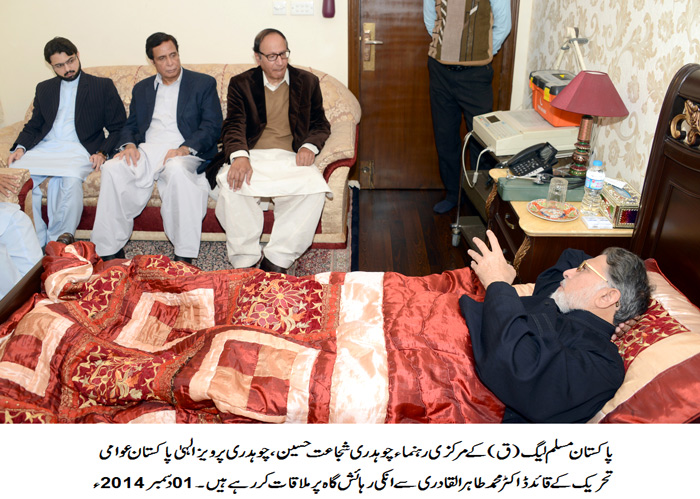 LAHORE: The Secretary of Pakistan Awami Tehreek Khurram Nawaz Gandapur has said that the government has released another blatant lie by saying that the government was providing an air ambulance for PAT Chief Dr. Tahir-ul-Qadri. He said this on Monday while talking to the media along with PML-Q leaders Ch Shujaat Hussain, Ch Pervaiz Ellahi and JI chief Siraj-ul-Haq and JI secretary Liaquat Baloch.
He said that the actual position is that a government hospital had refused to admit Dr Tahir-ul-Qadri for treatment. He said it was our courage and mental ability to control the infuriated PAT workers when they wanted to react on the daily misguiding statements and inhuman attitude being meted out on our workers by the government. He said we have not seen such incompetent, lying, inhuman and anti-people rulers before in our life.
Gandapur said that the PAT chief Dr. Tahir-ul-Qadri never had a telephonic conversation with Pakistan Tehreek-e-Insaf leader Imran Khan and all such reports in the media are false and misguiding. He said no telephonic conversation took place between the two leaders.
He said that the future line of action would be announced after the PAT chief recovers. He said today the JI leaders and the PML-Q leaders visited Dr. Tahir-ul-Qadri to inquire about his health and well-being. He said the PAT offices were receiving thousands of phone call, both from within the country and from abroad, inquiring about the health of the PAT chief. He said thousands of people are sending flowers in respect of their leader. Dr. Tahir-ul-Qadri thanked all those well-wisher who had either called or had sent flower and were praying for his quick recovery.