PAT urges Ulama, Mashaykh & civil society to play their role for elimination of terrorism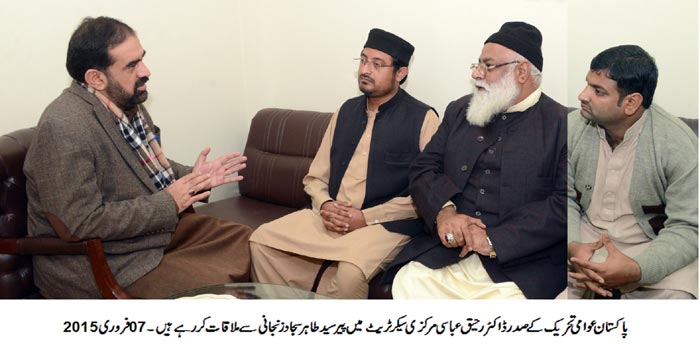 Talking to the delegation led by Pir Syed Tahir Sajjad Zanjani, Sajjad-a-Nasheen of shrine of Zanjana Abad Khanoharni sharif that called on him in the central secretariat of the party on February 07, PAT President Dr Raheeq Ahmad Abbasi has said that the decline of the Muslim world in general and the Pakistani nation in particular is the outcome of internal rifts and dissentions and deprivation of pious and competent leadership. He told the delegation that serious and effective efforts are not being made to replace decline with rise with the result that the nation is being further divided into more factions, adding that this has encouraged the enemies of Pakistan to accuse it of sponsoring terrorism and extremism. He appealed to the religious scholars and Mashaykh to come out of their abodes and play their due role in elimination of terrorism.
Allama Syed Farhat Hussain Shah, Allama Asif Akbar Mir, Raja Nadeem, Jawad Hamid, Sajid Mahmood Bhatti, and others were also present on the occasion.
Dr Raheeq Abbasi said that another reason of the Muslims' decline in the world is their negligence of pursuits in the field of knowledge and research. He said that Dr Tahir-ul-Qadri has rightly diagnosed the ailment afflicting the Muslims and established a network of educational institutions and Islamic cultural centres for treatment of the ailment. He said that Dr Tahir-ul-Qadri is engaged in the efforts to produce such a class of religious scholars who are not only equipped with conviction of ideology and belief, follow their foregathers in their footsteps but also have the ability to have fresh look at the contemporary problems and offer similar solutions in compliance with the spirit of Islamic reconstruction. He said there is a need to create unity and balance between faith and world and east and west.
The PAT President said that the current rulers are not representing Pakistan's viewpoint correctly before the world. He asked the religious scholars, Mashaykh, civil society leaders, and political parties to come out of their inertia and support Dr Tahir-ul-Qadri to present Pakistan's point of view before the world community.
Speaking on the occasion, Pir Tahir Zanjani said that the heart of every Pakistani is heavy due to unending scourge of terrorism, political instability, and economic meltdown. He said that Dr Tahir-ul-Qadri is playing an important and effective role in allaying confusions and misperceptions of the world community about Islam and highlighting its concept of peace, harmony. He said that both the Muslim world and the Pakistani people hold these contributions in high esteem. He said that research-based and scholarly work of Dr Tahir-ul-Qadri is playing a significant role in projecting real face of Islam against terrorism, extremism and narrow-mindedness. He said that MQI has the biggest network from organizational point of view and millions of people are attached with it and they are playing their role in promoting peace and interfaith harmony in the world.